Whether you are new to the renal diet or you are very familiar with it, adjusting to a diabetic diet at any stage of kidney disease can seem daunting. I'm here to help make that transition easier with some basic tips and sample recipes that satisfy the requirements for both a renal safe and healthy diet plan!
What Is a Renal Diabetic Diet?
A renal diabetic diet is a diet that takes the nutritional, general dietary, and other restrictions of the renal diet and the diabetic diet and puts them into one. So, essentially, this type of diet is the perfect thing for those who are diabetic and people with kidney disease. This type of kidney diet will take into account low carbs, low sugar, low sodium, low potassium, and other restrictions and adjustments that are characteristic of both diets.
Who Needs To Eat a Renal Diabetic Diet?
Anyone can use this diet and these diet plan samples if they want to, but those who benefit the most from it are individuals who have diabetes and who deal with chronic kidney disease. While this is not a dialysis-specific diet, many of the recipe examples and the diet itself could still be beneficial to show recipes for dialysis patients with diabetes, with a few adjustments and watchfulness of liquid intake.
Renal Diabetic Diet Menu Ideas
When formatting your renal diabetic diet, it is important to speak with your physician and your dietician in order to make sure you cover all of your needed restrictions for your current condition and to find a daily routine. Some of the basics for a diabetic diet are to stick to vegetables and lean proteins that are heart healthy. You'll want to include foods with a good source of fiber and healthy fats. For a renal diet, the most common types of food to include are low sodium, low potassium, low phosphorus, and low calcium foods.
The renal diet is more focused on the mineral and nutritional content in the foods themselves rather than specific subsections of foods, which can make it difficult to find things that work for you. However, it is also a good thing because it allows you to easily find options that will cover both the diabetic and renal diet requirements.
Things You Can't Eat On a Renal Diabetic Diet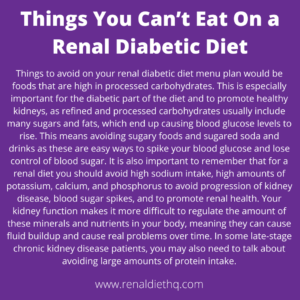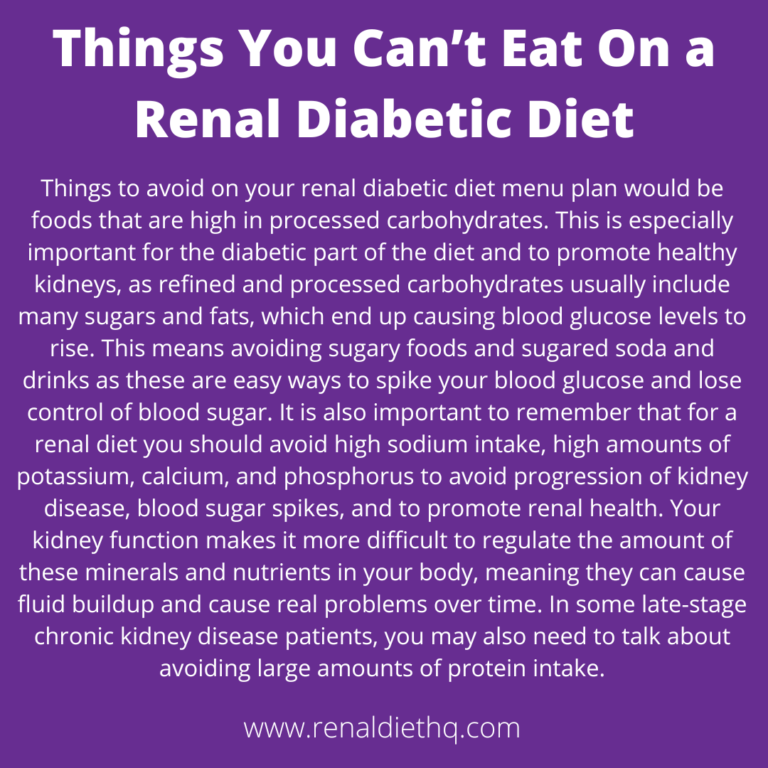 Things to avoid on your renal diabetic diet menu plan would be foods that are high in processed carbohydrates. This is especially important for the diabetic part of the diet and to promote healthy kidneys, as refined and processed carbohydrates usually include many sugars and fats, which end up causing blood glucose levels to rise. This means avoiding sugary foods and sugared soda and drinks as these are easy ways to spike your blood glucose and lose control of blood sugar. It is also important to remember that for a renal diet you should avoid high sodium intake, high amounts of potassium, calcium, and phosphorus to avoid progression of kidney disease, blood sugar spikes, and to promote renal health. Your kidney function makes it more difficult to regulate the amount of these minerals and nutrients in your body, meaning they can cause fluid buildup and cause real problems over time. In some late-stage chronic kidney disease patients, you may also need to talk about avoiding large amounts of protein intake.
Sample Renal Diabetic Diet Menu Plans
Breakfast
A nice way to start off your day is with this Arugula Portobello and Feta Frittata Vegetarian Breakfast renal diabetic diet menu plan recipe for good kidney health. It includes all the good things you want in a breakfast and keeps in mind the restrictions of both diets. It contains very few carbs and complex carbs and is made with eggs, vegetables, and cheese!
Other similar options can be found here. A good thing to remember is that eggs are a great source of protein without the negative effects of red meats.
Lunch
Lunch may be a time some of us forget but it is an essential part of our day. One way to enjoy your lunch while sticking to a renal diabetic diet menu plan is to use this Vegetarian Sloppy Joe Wrap recipe. Low in carbs because we replace the tortilla with lettuce, it is perfect for a diabetic diet. It also includes various vegetables and a protein of your choice; ground beef works well. The spices used are salt-free, gluten-free, and have no GMOs.
Dinner
Good dinner options and healthy meals for renal diabetic menu plans and kidney patients usually consist of lean protein, vegetables, and possibly some other source of low carbohydrate content or fiber. A good example for your plan is this Herbed Chicken and Veggies recipe. This recipe is low in carbs and uses spices that are salt-free, gluten-free, and have zero GMOs. You can use many variations of this style of dinner option and make it with other lean proteins such as fish, which are a great source of healthy fats.
Snacks
Snack foods are an important aspect of our day and can help to create better eating habits throughout the day. A few simple snack ideas include fruit, and can be found here. While an excess of fruit is not ideal for diabetics because of their natural sugars, it is a better option than those processed chips or ice cream bars. Grilled peaches are a wonderful and easy snack to prepare, and frozen fruit can give you that same cold treat sensation, without the additional sugars and dairy. A few more options of snack foods include grilled vegetables like Parmesan Zucchini Logs. These delicious foods are low in carbs, super tasty, and include lean protein in the form of turkey bacon.
Renal Diet Menu Plan PDF
If you would like more ideas like these to complete full weeks of meal planning then download this Renal Diabetic Diet Menu Plan PDF.
Recipes For Dialysis Patients With Diabetes
Low Sodium Stuffed Spaghetti Squash
As I mentioned previously, some of these recipes can be used for those on dialysis as well. One of these recipes is the Low Sodium Stuffed Spaghetti Squash. This recipe is great for diabetics because it uses shredded spaghetti squash rather than rice which can be high in processed carbs depending on the kind. The rest of the ingredients include vegetables and proteins like ground beef. The seasonings on all of these are kidney safe and even safe for those on dialysis as they are only 15 mg of sodium per packet on the nutrition label.
Top Renal Diabetic Diet Grocery List Items
For proteins, if you are shopping for a renal diabetic diet menu plan, your best options are: turkey, chicken, and fish. You can occasionally include ground beef, but it is best to stick to lean and healthy meats.

For snacks and additions to your other dishes, you want to look for fruits like berries, peaches, grapes, and apples. You can also include no sodium nuts or seeds.

Vegetables like zucchini, cauliflower, garlic, bell peppers, and cabbage. There are many more you can include but you just have to make sure they are low in phosphorus, potassium, and sodium.
Use these renal diabetic diet sample menus to help make eating this kind of diet as a dialysis patient with diabetes a little bit easier.
If you are transitioning to a diabetic version of the renal diet menu plan, or you are trying to start out with both, then these recipes are perfect for you to start with. These simple, delicious recipes can help you build a meal plan that works for you.