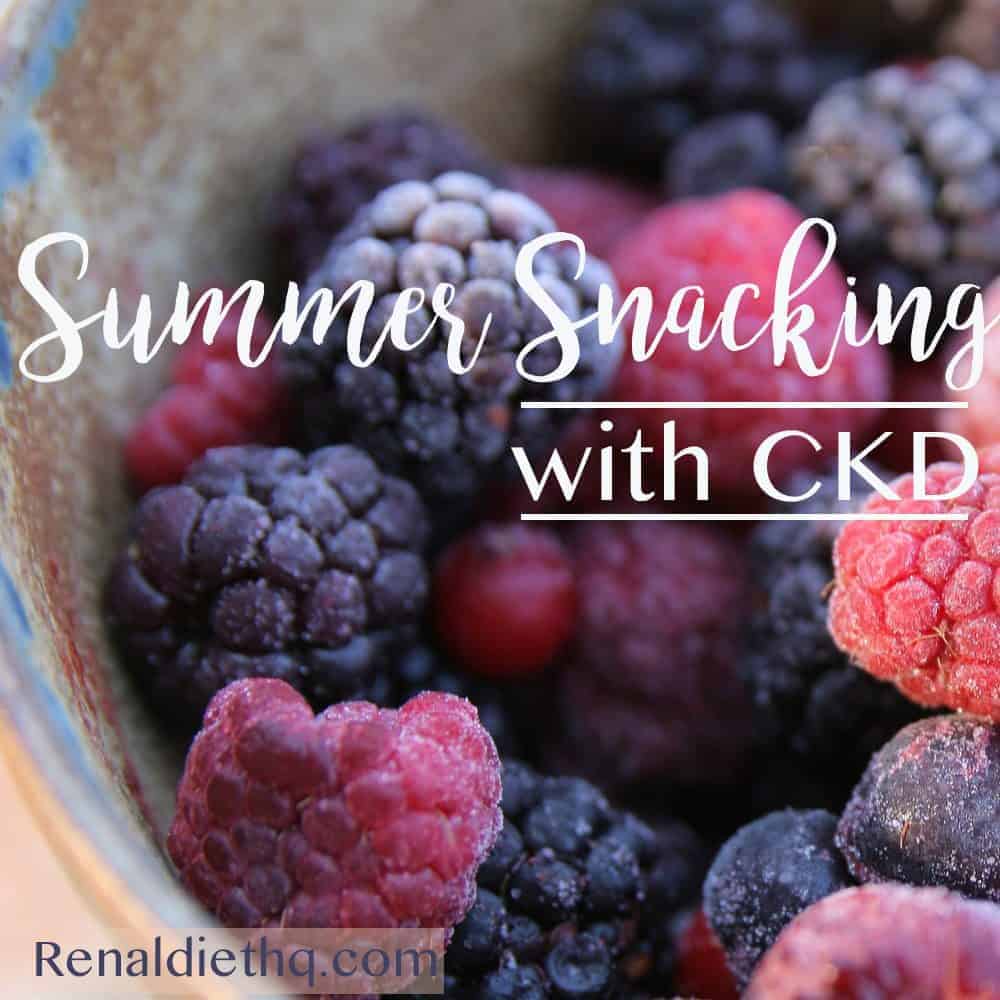 A vast majority of chronic health problems are greatly affected by what you eat. Chronic kidney disease is a strong example of how the foods you eat can improve or worsen your symptoms. This is because everything you ingest is ultimately processed through your kidneys.
It is no wonder that many people who are living with chronic kidney disease have a hard time knowing what to eat. So while grabbing a summer snack may be no big deal to some, choosing the right options is important to people with renal disease. Here are some tips on choosing kidney friendly summer snacks: 
 Simple Snacking
One key to making the healthiest choices for everyone, not just those with kidney disease, is to keep your foods simple. Foods that are good on their own, like fruits and vegetables especially, are going to be your best choices.
Foods that come in packages and have lots of ingredients, specifically ingredients you can't pronounce, should be avoided. These are the foods that typically are full of preservatives, artificial sweeteners, and tons of excess sugar and sodium that no one needs.
 Grilled Goodies
Summer time is the best time to make the most of the warm weather and break out the grill. There are so many delicious and healthy meals and snacks that you can make on the grill, each more delicious than the last. Grilling is a delicious, healthy, and insanely easy way to cook food.
Grilled Peaches: Simply peel and halve a small peach and remove the pit. Grill on all sides, for around a minute each. The heat makes the peach taste even sweeter and the grill gives the peach a smoky flavor that is out of this world.
Baked Apples on the Grill: Peel, halve, and core a small apple of your choice. Red delicious are great apples to use for this, or Granny Smith apples are great to use if you like more tartness. Stick a few cloves into the apple halves, and sprinkle with cinnamon and nutmeg. If you like the smoky flavor of the char marks, grill directly. Or you can fold the apples into sheets of aluminum foil. Cook until warmed through and slightly soft.
Cool Comfort
Nothing is better than a cool treat on a hot day. Many people find choosing healthy cold treats to be difficult, but these sweet alternatives with help you realize that you still have plenty of delicious and refreshing options to snack on this summer.
Frozen Fruit: Frozen berries are cool, refreshing, and taste like candy. Wash, separate, and pat dry some grapes, raspberries, and blueberries. Put them in a baggie or other sealed container and freeze overnight. Bring this portable snack with you anywhere, from the park to the pool.
Sugar Free Shivers: Ice cream might not be the best option for you, and that can be a letdown during the summer months, but there is an alternative that is cool and delicious. Make your own low sugar, dairy free cool treats with a few simple ingredients.
Here is a recipe you can try:
Ingredients:
1 Cup Egg Beaters
1/2 Cup Sugar
2 Cups Liquid Non-dairy Creamer Any Flavor
1 Tablespoon Vanilla Extract
Rock Salt and Ice (if needed for ice cream machine)
Directions:
Using a 1-quart, microwavable bowl, beat egg product and sugar until well blended.
Stir in non-dairy creamer and microwave for 1 minute, or until mixture thickens.
Remove from heat. When cool, stir in vanilla. Pour mixture into center container of the ice cream machine. Layer ice and rock salt around container, alternating layers until bucket is full.
Then process according to manufacturer's instructions for your particular ice cream machine.
During the summer, you can find inexpensive ice cream machines just about everywhere. If you do not have an ice cream machine, you can turn this cool treat into a fun activity as well, and make ice cream using freezer bags.
It can be difficult to know what to eat when you are living with chronic kidney disease, especially at first. Once you get used to eating healthier, however, it will become second nature. It is good to know that you can still enjoy some delicious summer treats as part of your healthy kidney friendly diet.
Need more help learning what to eat and not to eat? Click here.