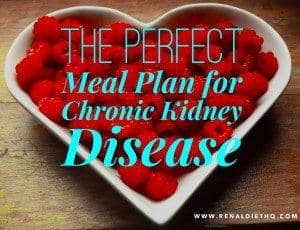 Living with chronic kidney disease isn't exactly an everyday picnic. It can sometimes be tough, tiring, and even painful. What and how you eat, however, can seriously improve your symptoms and even effectively slow the progression of kidney disease.
Building the perfect meal plan will vary from patient to patient depending on what stage of chronic kidney disease you are in. In the later stages, you might have fluid restrictions as well as tougher restrictions on what you can eat. It is always best to discuss any dietary changes or plans with your physicians and nutritionists. They are familiar with your specific case and needs and are the best to give you advice.
That being said, putting together the perfect meal plan for chronic kidney disease starts with the very best building blocks. These are the bones that are the frame of your diet, and will help you build every meal and snack, day by day. Starting with these building blocks will help you to better understand and fulfill a healthy and balanced kidney friendly diet.
Breakfast
To start your day you want to balance carbohydrates for energy, fiber for sustenance, and protein for strength.
Example: Two egg whites or ¼ cup of egg substitute scrambled with diced red and yellow bell peppers and onion. Serve with half an English muffin with low sugar fruit spread or margarine and a small sliced peach.
Late Morning Snack
Snacks help you keep your energy up throughout the day, so it's a good idea to have a snack in between each meal. It doesn't take much.
Example: One small apple.
Lunch
Lunch is an important meal of the day just like breakfast is. Keep everything balanced and healthy to maintain your well-being through the day.
Example: 3 ounces of grilled chicken breast strips, two teaspoons mayonnaise, one teaspoon mustard, lettuce and shredded carrot wrapped in a flour tortilla. Serve with a small serving of grapes.
Late Afternoon Snack
Example: Half an English muffin with 2 tablespoons of low fat cream cheese.
Dinner
The end to your day should be comforting and satisfying as well as balanced and nutritious.
Example: 4 ounces of baked fish served over a bed of white rice, topped with two teaspoons of tartar sauce and freshly squeezed lemon juice. Lemon juice is a great alternative to salt, especially on fish and poultry. Serve with steamed green beans and a side salad of lettuce, cucumber, radish, and carrot with balsamic vinaigrette dressing.
Dessert
Desserts should really be saved for special occasions, but everyone gets a sweet tooth now and then. If you keep your portions small and avoid the foods and ingredients that you aren't supposed to have, you can indulge now and then. A good idea is to stick to fruit based foods like a small bowl of sliced strawberries with a little sweetener sprinkled over the top.
Late Night Snack
Example: A handful of fresh baby carrots.
This example of a healthy meal plan can help you build your everyday perfect meal plan for your kidney disease diet. Remember to avoid sodium at all costs, and watch your potassium, phosphorus, and protein intake depending on your doctor's orders. With these ideas you can learn to build a meal plan for chronic kidney disease.  Click here for other ways to create a meal plan.