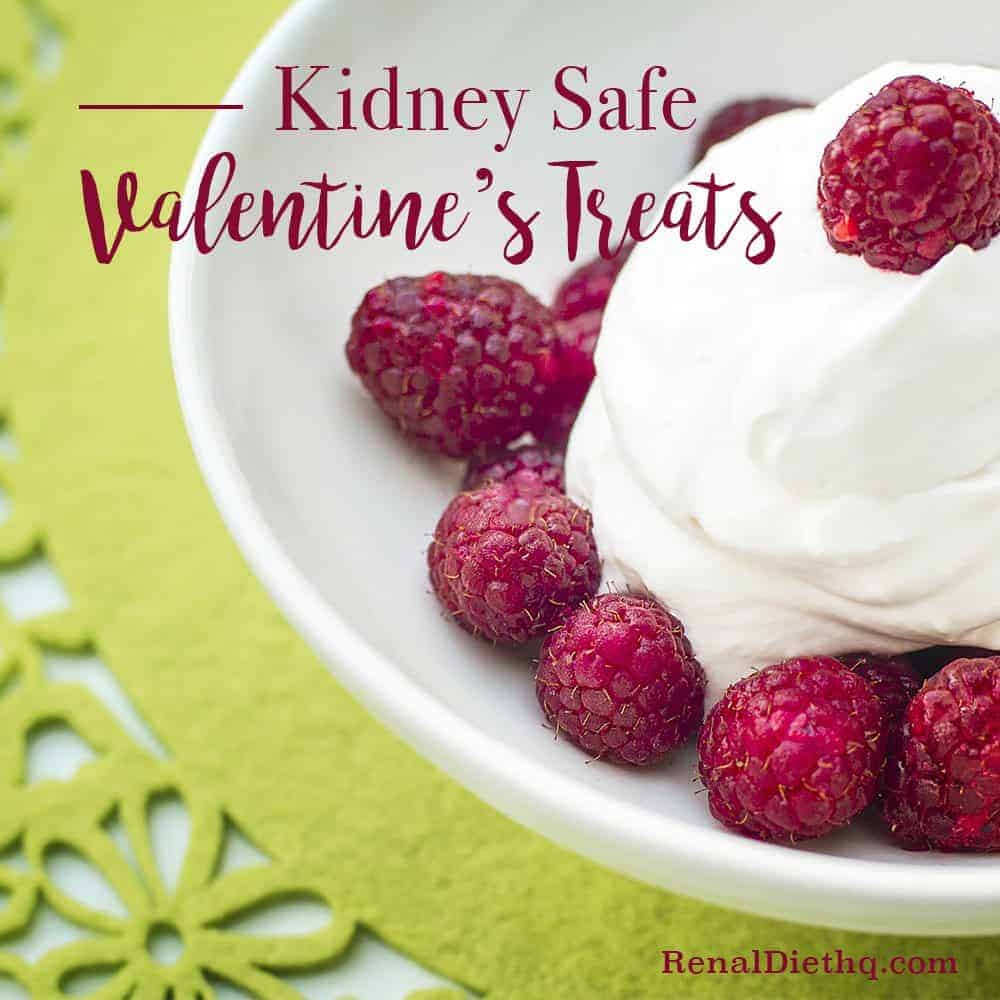 It seems like every time you turn around there is another sweet holiday, which usually amounts to just another excuse to eat extra treats – especially for Valentine's Day. When you have a chronic health condition, all of these treats can actually be dangerous. You can still have treats if you can find versions or substitutions that are safe for your condition.
With chronic kidney disease, you need to watch out for excess sodium first and foremost. Since metabolic diseases like renal disease are usually accompanied by other chronic illnesses such as diabetes and hypertension, you should also be careful about your sugar intake. Also be sure to be cognizant of preservatives, potassium, phosphorus, and hidden chemical additives.
Here are some ideas for Valentine's treats that you can enjoy even with chronic kidney disease:
Berries and Cream
Considering how sweet they are, berries have a surprisingly low sugar content. They also are packed full of good stuff like vitamins and antioxidants. Perhaps most importantly, they taste amazing. Especially when topped with a generous dollop of sugar-free whipped topping.
Baked Treats
You can bake your own healthier versions of brownies, cookies, and cakes. Simply make substitutions where necessary to cut down on the sugar and other ingredients that you need to be vigilant about. You can use Splenda instead of sugar. Often, you can even cut the amount of sweetener you use in half and replace some of it with unsweetened applesauce.
Cherry Cobbler
You can make a simple no-sugar-added version of cherry cobbler without much effort at all. Simply pit and halve cherries and place them in a casserole or baking dish. Make a crumble by cutting a couple tablespoons of cold butter into oats and a flour. Sprinkle it over the top and bake at 350 degrees until the topping is golden brown and the cherries are hot and juicy. This goes great with a scoop of low sugar vanilla ice cream.
Rice Crispy Treats
Rice crispy treats are a great option for people with kidney disease because they do not have much in them that could hurt you. Do be aware of the sugar if you are also diabetic, and remember to eat them in moderation of course.
Candies
Sugar-free candies are always an option and are often recommended for kidney disease patients that are having trouble with fluid restrictions. You can find sugar free versions of just about every hard candy you can imagine.
Kidney disease does not mean that you cannot enjoy a treat now and then. The key, as always, is moderation and finding the right substitutions for foods that are no longer safe for you to eat. Discuss this list of treats with your healthcare provider to be sure you are choosing the best foods for your kidney safe diet.