Living with kidney disease is hard enough for the patient that has to endure with the symptoms and dietary restrictions that come along with it. Not having people around that understand this struggle only makes things more difficult.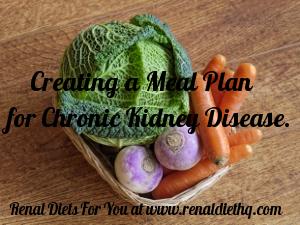 Care-giving is an entirely different struggle, one that can also be quite challenging. If you are a caregiver or have a loved one that is dealing with chronic kidney disease, you might feel helpless to help them. One small way that many people choose to help their friends and loved ones that are dealing with hardship is to cook or create meal plans for that person.
Chronic kidney disease comes with a pretty long list of dietary restrictions. Some of the most notable restrictions are sodium, potassium, and phosphorus. Patients in the later stages of renal disease and those that are going through dialysis might also have fluid restrictions. Considering that so many of the foods we eat have many of these very ingredients in them naturally, it can be hard to know what to include in meal plans.
Creating meal plans for those on dialysis gets easier as you get use to the restrictions. It helps to keep in mind all of the foods that are still available for the patient to eat. Focusing on what can be eaten, and not just on the restrictions, makes putting together meal plans much easier.
Here is a small example of foods that most people on dialysis can eat:
Carbohydrates: Cream of Rice cereal, most white breads and bagels, low sodium corn chips, unsalted pretzels, puffed rice cereal, English muffins, white pastas, and rice (brown or white).
Proteins: Chicken, turkey, most seafood, fish, eggs and egg substitutes.
Fruits: Apples, grapes, canned peaches and pears, lemons, and pretty much any kind of berry.
Vegetables: Cabbage, cauliflower, carrots, garlic, onion, mushrooms, peas, zucchini, yellow squash, green beans, bell peppers (green, red, yellow), jalapeno peppers, and eggplant.
Beverages: Water, cranberry juice, clear sodas, lemonade, root beer, ginger ale, and tea.
Fats: Use nondairy alternatives such as nondairy creamers, nut milks, etc. Olive oil is the best fat to use when cooking and offers good flavor to recipes. Mayonnaise and low sodium dressings are okay, as is a small amount of butter or margarine.
All of these and more are foods that you can build each meal with. There are plenty more foods out there that are safe for kidney disease patients undergoing dialysis, too. Do keep in mind fluid restrictions. Especially if the patient's doctor has put them on a very strict fluid restriction, even the foods that the patient eats can count towards fluid intake.
As a good rule of thumb, each meal should include a bit of each of the above listed food groups, and as usual fats should be limited to small amounts. Start with a base, like rice or a bread option, then choose a protein and supplement with lots of fruits and vegetables. Avoid canned vegetables when you can, as they often have lots of added sodium.
With this information, you are now on your way to providing delicious and healthy kidney safe meals for a person on dialysis.
If you need more help with a creating meal plans for a dialysis diet, Click Here!