"Are You Preparing To Start Kidney Dialysis or Already on Dialysis, and Are Confused About What To Eat? 
Or Is There A Member Of Your Family That You Have To Care For That Has Renal Disease And Is Dealing With Kidney Dialysis? "
You may not know what to do, and it's understandable to be concerned,
but it doesn't have to be a problem !!
It really hit home for me when I got in the back of a taxi cab and I was riding from the airport to my hotel for a conference.
The interaction went something like this:
Him: "What are you in town for?"
Me: "I am going to a conference at the Marriott for Registered Dietitians"
Him: "Oh, you dietitians don't know anything.  You don't understand that white bread is just like sugar.  And you don't care about what I have to do to eat healthy in my job.  You have your plans, your charts, and your fake foods but you don't even listen to what we say.  You don't understand that I can't always eat perfect and I need to know how to make choices in a lot of situations"
Me: "Umm, Okay."
I was stunned, as I did not even know this person but he obviously felt I was part of a group of people who have not been helpful to him!
I had an Aha! moment, medical professionals really do make it hard for people to control their diet while living in the real world and trying to get by in day to day life.  A taxi driver can't just stop and eat lunch and have all the right foods.  He has to have choices to make a better plan.  It's important to help people find a renal diet meal plan that fits around real life and time constraints – he can't eat regular meals, he has strange hours and must eat on the run.
Having, or caring for someone who has stage 5 kidney disease – and who is preparing or has started hemodialysis, is a difficult place to be.  What do you do when the doctor says – "Follow a high protein and low salt diet"?  It's not like they explain to you how to do that, and dialysis is almost the complete opposite of pre-dialysis diets because you have a more relaxed (in some ways) restriction.  You are not alone, and other people have found a way past this difficult time as they head into dialysis.  They have found a way to control their diet with a modest amount of protein yet still be satisfied.  And controlling for fluid and other nutrients is the key part of this diet.  Simple rules like – Stop eating red meat or eat more vegetables are nice guidelines but not really clear enough to follow for a long time.
After I got read the riot act by the taxi driver, I knew I had to make this plan that would help you and your family to eat better and follow what was needed to do to get meals and eating under control.
The Solution…..
Designed as a renal diet meal plan for real people living in the REAL WORLD who need the flexibility of being able to adjust to their circumstances on a daily basis.  It meets the "guidelines" to make it a renal or kidney dialysis diet, but it does not limit you to only certain foods.
Designed specifically for you or your family member that you may be caring for, this meal plan will meet your needs to control your nutrient intake and feel full all day!
We understand and have created your kidney dialysis diet meal plans to meet your need for a variety of foods, shopping lists, nutritional information, and diet compliance!  We have meal patterns for the entire day – and lists of choices for breakfast, lunch and snacks.  Then we have dinner recipes that are new every week.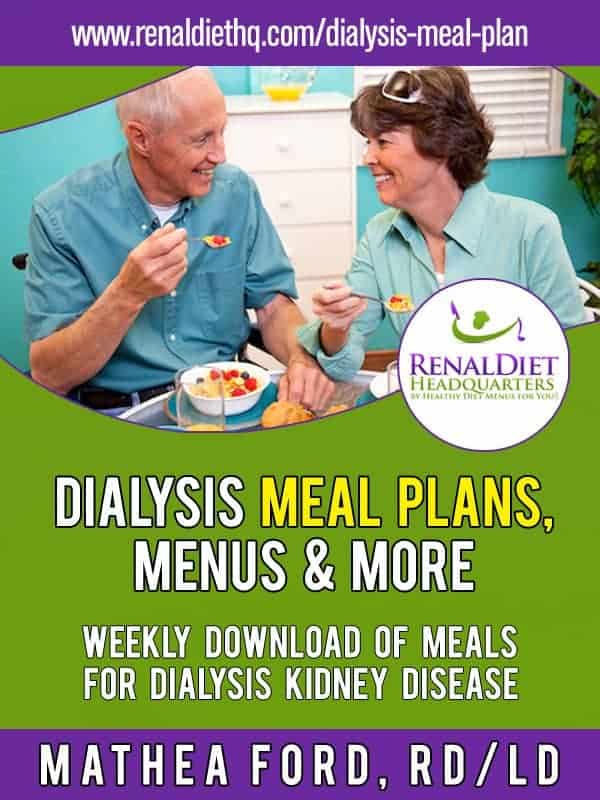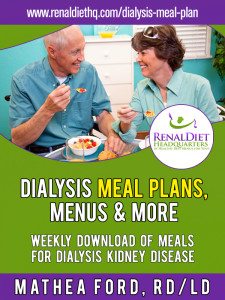 By following a renal dialysis diet menu, you can make your doctor happy (and your family too!) and help meet your medical care goals – which should mean less complications and medications in the long run.  It will save you time – it will give you the items you need to eat to succeed at controlling your blood urea nitrogen (BUN) and creatinine as well as manage to have a healthy and delicious time eating while on dialysis.
What Do I Get With The Meal Plan and Recipes? All This Every Week!!
Meal Patterns For Your Entire Day in 2 Different Calorie Levels – 2,000 calories or 3,000 calories
Breakfast Meal Pattern – Portions and Choices To Build Your Meal Easily and Quickly
Lunch Meal Pattern – A Complete Meal Listing And Options To Make A Tasty Meal You Want
Snack Listing – Choices To Keep You Full All Day Between Meals
Grocery List For The Week of Meals By Section Of The Grocery Store – Easy to Use By You Or Someone Who Shops For You!
Grocery List By Meal – When You Just Want To Make A Few Of The Meals – Easy To Gather The Ingredients For Your Meal Quickly
7 Dinner Meals And Recipes New Every Week!
Recipes For The Entrees and Side Dishes For The Dinner Meals (A complete meal every day!)
A Variety of Entrees – Beef, Fish, Chicken, Turkey, Pork and Vegetarian
Nutritional Information For Meals Including – calories, protein, carbohydrate, potassium, phosphorus, sodium and more!
Bonus Items
Low Potassium Food Grocery List to Expand Your Options With Meals
High Potassium Foods Grocery List- Items To Choose Less Often To Improve Your Kidney Health-Foods to Avoid
What Do The Meal Plan Patterns And Recipes Look Like?
Click on any sample image to view independently!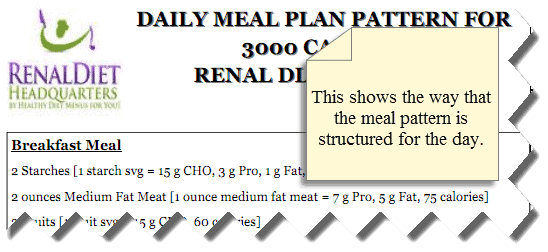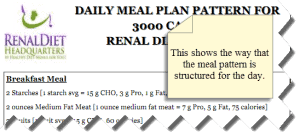 How do you know what to eat for breakfast, snacks and lunches?  You get a meal pattern that gives you the flexibility of choosing from the different food types (fruits for example) and create your meals for the day.
Add those items to the shopping list, and you are ready for the week.
You won't be bored, we have new recipes every week and a variety of meals – beef, chicken, turkey, vegetarian and fish.
It is done for you but it is done in a way to help you succeed – not the way that works for me – you get to make it into the way it works for you to CONTROL YOUR DIALYSIS KIDNEY DIET.  Even if you are caring for a family member, this can work for meals for everyone – which makes it very easy.
Wow, you might get some time back in your day to relax…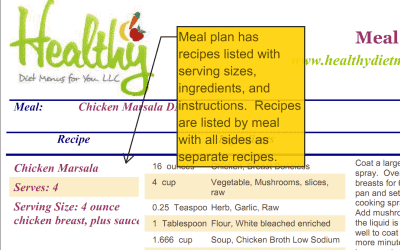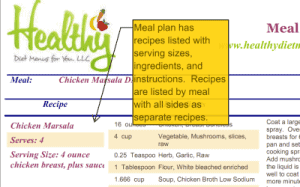 Best of all, it's not convenience foods that are the wrong things for your health – these are recipes that will make you healthier and keep you feeling great – as a FAMILY.  Not just special foods for one person, but food your entire family can eat.
If you want to know specifics, this plan gives you (at each dinner meal – which includes the entree and side dish(es)) a meal that contains less than 750 calories for the evening meal, less than 35 gm of protein, and less than 675 mg sodium and 1000 mg Potassium.  This provides the established appropriate amount for a renal dialysis diet to eat.  It follows the nationally recognized standards for your needs, and is what your doctor wants you to do!
Information on the meal plan is shown by recipe, and each grouping meets the restrictions for your renal dialysis diet meal plan you need to allow you to follow a moderately low protein diet.

When you get your meal plan every week, you also get an itemized grocery list for the meal plan which means you save gas from less trips to the grocery store because you have a list/plan to follow.
You also do not have to read all the labels and try to figure out right there in the store if something is OK for your diet – you save time.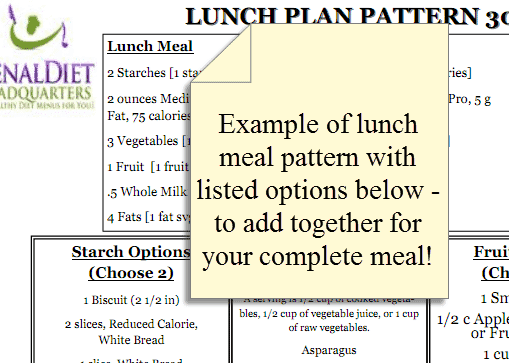 Our plans also include a pattern for the entire day with amounts of foods to eat in different categories, broken down into meals. In addition, to complete the plan – you get a meal pattern sheet with your breakfast and lunch meals that have suggested amounts and foods that fit into the different categories.
It's as simple as adding the meal together using the sheet and you are always ready to eat and keep your diet in check!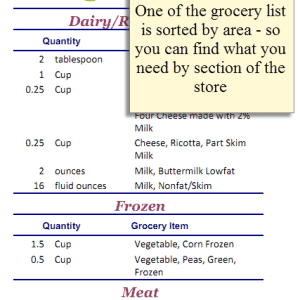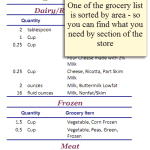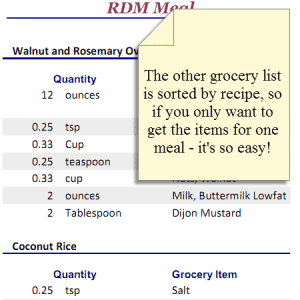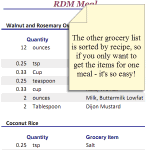 The shopping/grocery lists are easy for you to take to the store, or just give to someone to shop for you.  Cross out what you don't need and you have dinners for a week.  The only things you have to add are the items you plan to eat for breakfast, snacks, and lunches. Two grocery lists are provided, for each week.  One is arranged by store location and one is done by meal.  The first will allow you to shop for all 7 meals for the week and the second will give you the flexibility to choose just the meals you like and shop for those meals only.
RESULTS ORIENTED…Here is what just one of our members had to say….
"Simple and Got Results…"
Dear Mathea:  I just wanted to THANK YOU and let you know what happened.  My father has been following your diet plan for a couple of months now. My mom has been using the recipes I purchased from your website. They both agree that the recipes are easy to prepare and very tasty.  Here comes the best part….. my Dad, who was at a GFR level of 18 when he started your diet plan is now at a level 23. His creatine level dropped over 1 whole point and his A1C level is now in the blue zone having dropped from 6.8 to 5.7 – which the doctor says is terrific!!  My parents could not be happier!
My Dad is confident that he can avoid dialysis if he sticks with your diet plan. His doctors were so impressed, they asked for your information so they could share it with other patients.
If your diet plans work this well for a 78 year old man with high blood pressure, diabetes, kidney and heart disease, I can only imagine how well they would work for a younger person with less severe issues.  You are definitely providing a valuable service to people who would have been lost in trying to figure out a diet plan without your direction.
It's so nice to hear my Dad so excited about his blood results when only a few months ago he was frightened at the thought that he would have to go on dialysis. Please feel free to use me as a reference to anyone who questions whether or not your diet plans work. The results were amazing and we are hoping that my Dad's levels continue to improve as he remains on the diet.  Thanks again!!
– Kim Novachek
Your Renal Dialysis Diet Plan is 100% GUARANTEED  In the online world these days, you can't always be sure of the value and quality of products. We understand that, so……
If for any reason your Renal Dialysis Diet Plan subscription doesn't work out for you…All you have to do is let us know and we will promptly refund your remaining subscription amount.
No questions, no hassles – it's that simple.  We know that your purchase will be an excellent way for you to manage your complex problems with your diet, and if it isn't, then we will refund your current subscription for the remaining weeks.  So if you have 3 weeks left, we will refund you a prorated amount for the time that is left.  No questions asked!

Mathea Ford RD/LD
USA
How Do I Receive My Dialysis Meal Plan ?
Upon Joining Your Dialysis Meal Plan Family You Will Receive Two Emails To Your Specified Email Address
In One You Will Be Prompted To Access Our Membership Site With Your Receipt Number & Email Address
Once Access Has Been Established Your Meal Plans Will Be Accessible For Download & Printing
Then Just Enjoy, Learn and Follow The Plan
Yes, I want to make my life easier now!
I want to feel great and I want to eat delicious food!
Please Give Me INSTANT ACCESS To The Entire Dialysis Meal Plans, Patterns, and Recipes!
I understand I'll be downloading the entire Dialysis Renal Meal Plans and Patterns for a tiny investment of just $19.99/month when I act now!
Plus I will receive weekly meal plans and recipes every week as long as I am a member!
For only $19.99/month!
I also realize I have nothing to lose, since there is a 30 day money-back guarantee if I'm unsatisfied in any way.
An Unbelievable Value!

Order with confidence on 100% secure servers.
You know that this is important to your health because you have done the research and understand that not following a meal plan that is specially designed for your condition is detrimental!
I understand that it seems like an overwhelming task just to plan your meals – NO MORE!
If you don't sign up, you will go back to struggling every day and wondering if what you are eating is the right thing for you.
You can manage your dialysis much more quickly than if you did not follow a well planned renal dialysis diet.  And if you are trying to manage this for a loved one, you can bet this will make it easier.
You don't want to continue to spin your wheels and not move in the right direction to have a better quality of life, do you?
I certainly don't want you to!
Looking forward to your success,
Mathea Ford
P. S. If you could do one thing to make your days a little easier and your health better in the same actions, this would be it!  You can save time by having well-designed meals laid out for you, grocery lists that include all the things that you need (in case someone else does the shopping), and a whole lot of peace of mind that you are on the right path to helping your kidneys…  Get the renal dialysis diet meal plans and get started now!
Yes, I want to make my life easier now!
I want to feel great and I want to eat delicious food!
Please Give Me INSTANT ACCESS To The Entire Dialysis Meal Plans, Patterns, and Recipes!
I understand I'll be downloading the entire Dialysis Renal Meal Plans and Patterns for a tiny investment of just $19.99/month when I act now!
Plus I will receive weekly meal plans and recipes every week as long as I am a member!
For only $19.99/month!
I also realize I have nothing to lose, since there is a 30 day money-back guarantee if I'm unsatisfied in any way.
An Unbelievable Value!


Order with confidence on 100% secure servers.
FAQs
Q. What if I don't eat a certain food?
A. The food plans are completely customizable. If you don't like chicken or onions, no worries. There will still be plenty of options available for you.
Q. Is this the right program for me? 
A. We have three different menu plans.
Pre-Dialysis Menu Plan. Choose this option if you want a kidney healthy diet, are not on dialysis, and do not have diabetes. Even if you are pre-diabetic, this is the menu plan for you as eating a kidney healthy diet is also great for your blood sugar.
Renal Diabetic Menu Plan. This is for you if you are diabetic, want a healthy renal diet, and are not on dialysis. It is a more restrictive plan that should only be used by diabetic patients.
Dialysis Menu Plan. (The meal plan on this page) Only choose the dialysis menu plan if you are currently on dialysis.
Q: Mathea, I'm Not Interested In The Monthly Plan, But I AM Interested In Your Program To Improve My Kidney Health Now – Do You Have A One Time Purchase?
A. Yes, due to popular demand, we do have a ONE TIME "LITE" PURCHASE option for you – For $47, you can get 8 weeks of dinner meals, meal patterns for a 2,000 calorie or 3,000 calorie renal dialysis diet and a listing of the low potassium and high potassium foods.
You will get all the items from the monthly membership and 8 weeks of meal plans, and you don't have a recurring cost.  Click here to order the "Lite" version of the Dialysis Menu Plans.
Q. I'm not sure about this program. Is it easy to cancel? 
A. Of course! All you have to do is log into your account and you can cancel in there at any time. If you need help, simply contact us.
If you have additional questions about this program, please let us know by using the form below.