Kidney Disease, Fruits and Facts You Need to Know
 Whether or not you have kidney disease, fruits are in important part of your daily diet. They contain important vitamins, minerals, and nutrients that help the human body meet the many demands it faces throughout the day. However, for people who have kidney disease, fruits take on a completely different importance as some fruits can have positive effects on health and well-being while others could have seriously negative consequences.
 The body doesn't function the way it once did when you have kidney disease. Things the average person takes for granted, such as the ability to urinate essentially on demand, are no longer possible. This means you have to pay close attention to the amount of liquids and certain minerals you introduce to your body.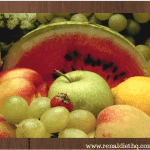 For instance, most people understand that high-sodium diets are off the table once kidney problems begin. However, most people are surprised to learn that protein, potassium, and phosphorus must also be limited on diets suitable for someone with renal failure of kidney disease.
 The one caveat is that everyone is a little different. It's always wisest to work closely with your physician to find out which restrictions are most important in your situation. These are among the most common restrictions, however, you must consider when it comes to kidney disease, fruits, and more.
Phosphorus Limitations
 Avoid high phosphorous foods including dried fruits when working with a diet suitable for kidney disease. Fruits that have been dried are higher in phosphorus, which the body can no longer clean from the blood once the kidneys aren't functioning properly. High levels of phosphorus lead to changes in the body that remove calcium from bones and deposit them in the eyes, lungs, and heart.
Potassium Limitations
 Potassium is traditionally voided from the body through the urination process. Kidney disease patients urinate less frequently, if at all, and are unable to remove excess potassium from the blood. That's why with kidney disease, fruits like oranges, bananas, papayas, prunes, cantaloupe, honeydew melons, and tomatoes  must be limited. When you have kidney disease, fruits are not the only potassium problem. You should consume no more than 2000 mg of potassium per day.
Kidney Disease Fruits that are Encouraged
 Not all fruits are restricted for people on a kidney-friendly diet. In fact, there is a nice long list of kidney disease fruits that are encouraged in moderation. This list includes many popular fruit offerings such as:
Apples

Applesauce

Cherries

Plums

Raspberries

Strawberries

Lemons

Grapefruits

Fruit cocktail

Peaches

Grapes

Cranberries

Blackberries

Apricots

Tangerines
It's important to remember though, that while these fruits are not restricted, juice intake is restricted. Apple juice, cranberry juice, and other fruit juice choices are still highly restricted. Moderation should also be exercised when consuming fruits. As important as they are to health and the human body, you can have too much of a good thing.
 Be diligent in your attention to your adherence to kidney diet fruit restrictions. Paying careful attention to the food you eat in the course of your day may very well prolong your life and your quality of life when you have kidney disease.
 If you have any questions about your Kidney Disease and Renal Diet, Click here for more information.