Renal Diet Friendly Meals you can Freeze for Busy Nights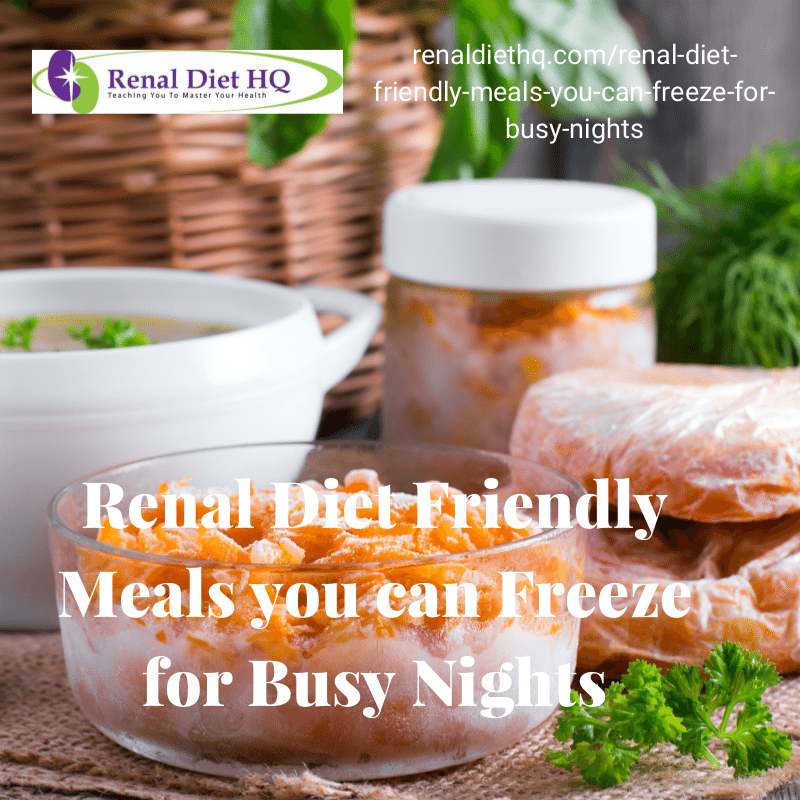 Being on a renal diet can sound daunting for those with a busy life. You may think you can't possibly stick to your dietary restrictions when you are on the go. Maybe you have children – or grandchildren – to raise or you still work full-time among other commitments.
One solution you can use to keep up with your renal diet is freezer meals. Not the processed frozen dinners you buy at the store, but real, healthy meals that you prepare ahead of time and then place in the freezer for those busy nights when you don't have the time or energy to cook.
With these renal diet friendly freezer recipes, you can stick to your restrictions and not be tempted to hit the fast food drive-thru. It will take just as much time and effort to come home, microwave a plate and sit down to eat.
Renal Diet Friendly Meals you can Freeze for Busy Nights
We have taken the time to develop a list of renal diet meals you can freeze for those busy nights. Cook these over the weekend to prepare yourself for your busy schedule.
Renal Friendly Homemade Sausage Patties – This recipe from Genius Kitchen could be used for a quick breakfast or dinner. With the meat already cooked, you can reheat it while throwing sides together for a quick and healthy meal.
Chicken and Vegetable Bake – This DaVita.com recipe gives you 6 portions! It would be great for dinner a couple nights during a busy week. With meat and produce already in the bake, all you need to do is heat up this dish and serve it alone.
King Ranch Casserole – Casseroles may be the ULTIMATE in freezer meals for busy nights. They are easy to prepare, and you have all the ingredients you need inside the single dish. No sides required!
This renal diet casserole is one of many slow-cooker recipes included in a downloadable Renal Friendly Recipes cookbook from Children's Dialysis of Central Texas in Austin. Find it on page 5!
Kidney Diet Friendly Chicken Noodle Soup – Our very own chicken noodle soup is perfect for a make-ahead meal! Just prepare the soup and put it in containers in the freezer, than reheat when you're hungry. These six servings will go far on a renal diet!
Turkey Vegetable Chili – Chili is another favorite freezer recipe for many, so we had to include a renal diet version for busy people! This chili counts as 2 servings of vegetables, making it easier to hit your goals without all that time or effort!
As you can see there are many renal diet friendly freezer meals you can use for your busiest days. We all have those days where we don't feel like cooking. With a little preparation over the weekend, you can still eat a healthy diet that includes your dietary restrictions without slaving over the stove for 1-2 hours!