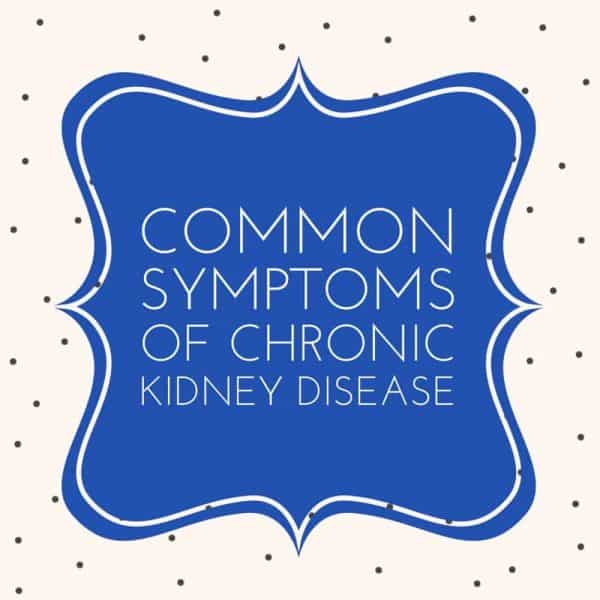 Everything that you eat and drink affects your body, especially when you are living with chronic kidney disease. Many of the common symptoms of chronic kidney disease can be made worse or better simply with the foods you eat. Effective meal planning can help you manage your symptoms.
What are some common symptoms of chronic kidney disease?
There are multiple stages of chronic kidney disease, and so the symptoms and severity of those symptoms will vary based on how early or late stage your disease is. The very earliest stage of chronic kidney disease often has no symptoms, which is why seeing your doctor for regular checkups is important for early detection.
As the disease progresses, symptoms can include frequent urination, pain with urination, the inability to urinate, back pain, dizziness, fatigue, blood in the urine, swelling, and more. The more progressed the disease gets, the worse the symptoms get and the more symptoms pop up. At end stage renal disease, or kidney failure, dialysis is needed to replace the function of the kidneys. Otherwise, the body cannot function without the many essential functions of the kidneys.
How does meal planning help manage symptoms?
As mentioned before, what you eat and drink can severely affect your body, especially with chronic kidney disease. Sensible meal planning can not only help make many of your symptoms easier to manage, but it could actually help to stop the progression of kidney disease and ultimately prevent kidney failure.
Meal planning is effective because it takes the guess work out of figuring out what to eat, when to eat it, and how to prepare for each meal. It is very much like an instructional manual that you put together yourself and follow. If you meal plan effectively, you are a lot more likely to stick to a healthy and kidney safe diet.
The best meal plans start with research. This research can be done in a library or on the Internet, and varies from simply learning more about kidney disease and which foods are and are not good for you to finding great recipes to keep your kidney safe diet more interesting. It is a simple fact that if you are bored with your diet you will find it harder to stick to it, and will be more likely to stray. Using that research, you make a plan of what you will eat for each meal and snacks, for up to a week at a time. Keeping recipes and plans simple will also help you stick to the plan. Once you have your plan, do all of your preparations such as grocery shopping and any prep work that will make each meal easier. Again, the easier you make things the more likely you will be to stick to the plan that you have make.
With effective meal planning, you can lessen many of the most uncomfortable symptoms of chronic kidney disease. Meal planning helps you make the smartest decisions for your condition, and since what you eat directly affects your kidney function, you will notice a big difference. As always, talk to your doctor before making any big changes to your diet or lifestyle.
For more of my blogs on chronic kidney disease click here.