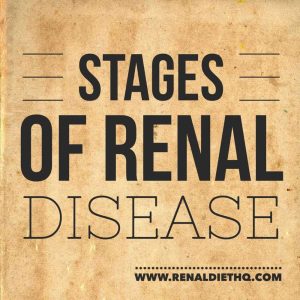 It can be very easy to get lost in all of the medical jargon and rhetoric when it comes to medical diagnosis. Often, everything your doctor says comes out sounding like another language. Understanding renal disease can help you to better understand your treatment and lifestyle recommendations. In fact, if you better understand your diagnosis you might feel better able to follow through with your physician's orders.
There are five stages of renal disease. These stages represent the different levels of kidney function lost, and each stage comes with recommendations and restrictions to follow. What stage of renal disease you are in is determined by measuring your kidney function.
Kidney function is typically measured using a formula referred to as the glomerular filtration rate, or GFR. Your doctor will take some blood to tests to determine what your GFR values are. The GFR values are determined using your creatinine levels, obtained through blood work, along with factors such as your age, race, and gender. These demographic values are used because the rate of renal disease is markedly higher in some demographic groups than others, so it helps to calculate your overall risk. The creatinine level is a value that comes up in your blood work, and it measures the amount of waste product in your blood. Higher creatinine levels point to lowered kidney function.
Stages of kidney disease are measured by the GFR value. The lower the GFR, the less the kidneys are functioning, and therefore the closer to end stage renal disease.
Stage 1: Normal, GFR over 90
Stage one of chronic kidney disease is almost always asymptomatic. The kidneys may not be functioning at 100%, but they are still working pretty well. Stage 1 renal disease is typically only diagnosed through blood work, which is one reason why regular checkups and physicals are very important. Catching kidney disease this early can make a huge impact on your future. Typically it can be treated with some simple diet changes.
Stage 2: Mild, GFR 89-60
Like stage one, stage two chronic kidney disease often has no symptoms. It is usually diagnosed when someone comes in for a checkup due to another illness, such as diabetes. Certain conditions, such as diabetes and high blood pressure, are strong indicators of kidney disease. At stage two, chronic kidney disease may show up in medical scans like MRI and CT scans. Diet and lifestyle changes will be prescribed.
Stage 3: Moderate, GFR 59-30
Stage three chronic kidney disease is pretty varied, and is sometimes broken into two groups based on the GFR (mild-moderate and moderate-severe). At this point, patients have symptoms starting with fatigue, fluid retention, and changes in their urination patterns. Patients can also have back pain and muscle cramps in the legs at this stage of renal disease. Strict dietary restrictions are made at this point, and patients will often see a professional dietitian to help put together a meal plan. Medications are also prescribed.
Stage 4: Severe, GFR 29-15
Symptoms in stage four of chronic kidney disease can be pretty uncomfortable. They include swelling in the extremities, nausea and vomiting, nerve and cognitive problems, and pain. At this point, not only is diet strictly regulated, but fluids are limited due to the kidneys being unable to process excess fluid.
Stage 5: End Stage, GFR less than 15
Stage five kidney disease is also referred to as "end stage renal disease". At this point, dialysis or transplant is necessary.
The good news is that with a strict diet and healthy lifestyle, you have the potential to stop the progression of kidney disease. Once the function is lost, it can never be recovered, but you can halt the progression and ultimately avoid end stage renal disease. This, as well as your comfort and overall health, is why maintaining a proper diet and following your physician's orders is so important.
Wondering how to eat better once you find out that you are in one of the stages of kidney disease?  Check out our Renal Diet Starter Kit.
Join my email list and get your FREE 3 day meal planner for your needs?  What is nice is you can select from Predialysis, Predialysis/Diabetic or Dialysis when getting your FREE selections! In addition you get great free information from me and our team each week…Click Here to get your FREEBIES..