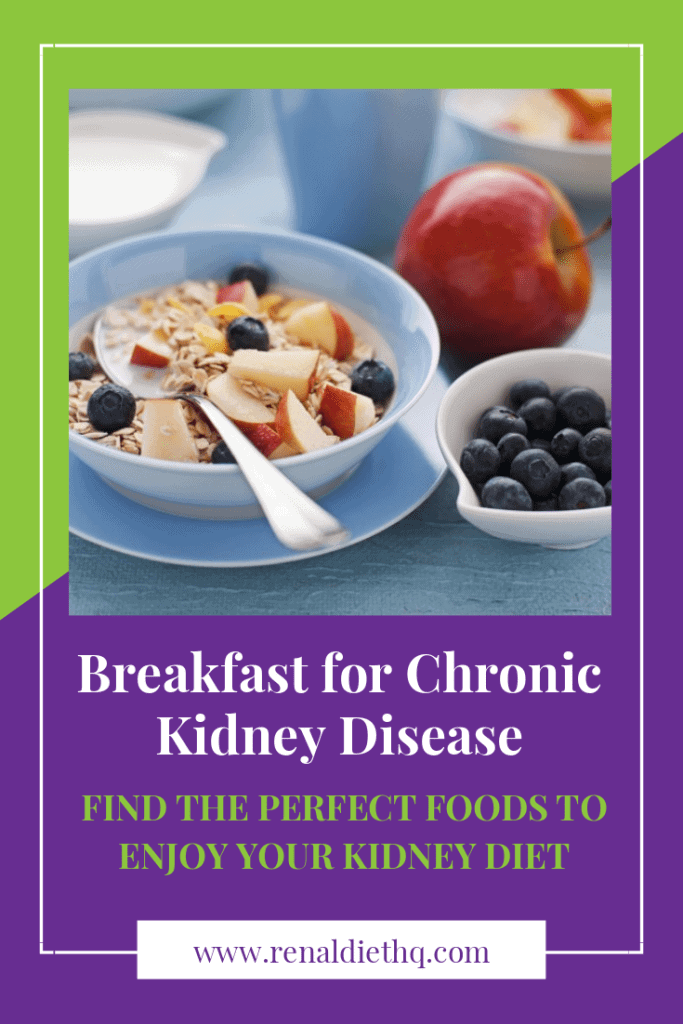 Eating a healthy, kidney-friendly breakfast is one of the most recommended treatments for chronic kidney disease. Although there are medications that can help with the symptoms of kidney disease, nothing seems as effective for treating the uncomfortable symptoms and helping stop the progressive damage of kidney disease as when you follow a CKD breakfast regimen.
You can find great kidney recipes just about everywhere, from magazines and books to the Internet. It seems, however, that many of those recipes are focused on dinner meals with very few options for breakfast. This is a shame, because breakfast is obviously a very important meal, and a lot of people tend to make poor choices when it comes to breakfast due to being in a hurry. Also, it's hard not to love all of the sweet, salty, greasy options breakfast can have to offer.
If you are looking for a set of 7 dinner meals for your stage of kidney disease, sign up here: 7 Dinner Meals For Any Stage CKD.
Starting your day with a healthy, kidney-friendly breakfast can set the tone for your entire day. A good breakfast, of course, keeps your blood sugar leveled and gives you the energy you need to get started. It also helps sustain you until your next meal.  Imagine how you eat now with your diagnosis and how many renal diet breakfast foods that are healthy and delicious you can enjoy once you realize eating your breakfast for kidney patients results in better outcomes.  You are trying to maintain your kidney health and want to improve your diet.  Look for some low cholesterol foods on the breakfast menu, like fruits and vegetables.  You should definitely eat low sodium breakfast meals because part of controlling CKD Stage 3 is eating less salt.  Low salt breakfast foods can be hard to determine because much of the processed meat has a high sodium content.  Read your labels for the best information on a particular product.
With chronic kidney disease, you likely have dietary restrictions that need to be followed closely. If you are unsure about what you can and cannot eat, you should talk to your doctor to get a list of foods he or she recommends, including restrictions.
Here are some breakfast recipes for pre-dialysis kidney disease that are easy to make and enjoyable:
Omelets
Omelets are great, delicious, easy options for a pre-dialysis kidney diet breakfast. You can use whole eggs if your doctor is okay with it, or egg whites for a healthier version. The trick is using non-dairy creamer instead of milk. You can use just onions and peppers, or you can add in your favorite vegetables.
2 eggs
2 tablespoons non-dairy creamer
Diced onions and bell peppers
Fresh ground pepper
Paprika
1 tablespoon shredded cheddar cheese
Prepare a small non-stick skillet with some non-stick spray. In a bowl, beat eggs, spices, and non-dairy creamer until frothy. In the pan, heat to medium, saute your onion and peppers until cooked through. Pour egg mixture over onions and peppers. Tilt pan to allow egg mixture to move and cook evenly. Allow to set halfway before sprinkling with cheese. Once omelet has set, fold in half and serve with a slice of toast.
French Toast
You can still have some of your favorite sweet beginnings, too. The secret is making the right substitutions and omissions to keep your meal as healthy as possible.
2 slices white bread
2 egg whites
1 tablespoon non-dairy creamer
Cinnamon
1 tablespoon pure maple syrup
¼ cup fresh berries
Prepare a skillet with non-stick spray and heat to medium. While the pan is heating, beat the egg whites and creamer with cinnamon. Place bread in the egg mixture and allow it to coat both sides of each slice. Place coated bread on the skillet and cook until golden brown on both sides. Drizzle with maple syrup and top with fresh berries such as blueberries or strawberries.
There you have two very different examples of popular breakfast foods that are kidney safe. With simple substitutions, you can make almost every recipe kidney safe.
For more recipes and ideas, Join my email community CLICK HERE  and get your free recipes.
If you are already on Dialysis, head over to Amazon and get my breakfast cookbook for dialysis – all the recipes are perfect for those on dialysis and struggling with ideas for a kidney-friendly breakfast.