Can I Have Coffee on a Renal Diet?
Coffee is a delightful morning beverage that is enjoyed by many Americans. According to the Huffington Post, the U.S. drinks 400 million cups of coffee per day, making our country the world leader in coffee consumption.
But what if you have chronic kidney disease (CKD)? It's important to consider how the relationship between coffee consumption and Chronic Kidney Disease might affect your health.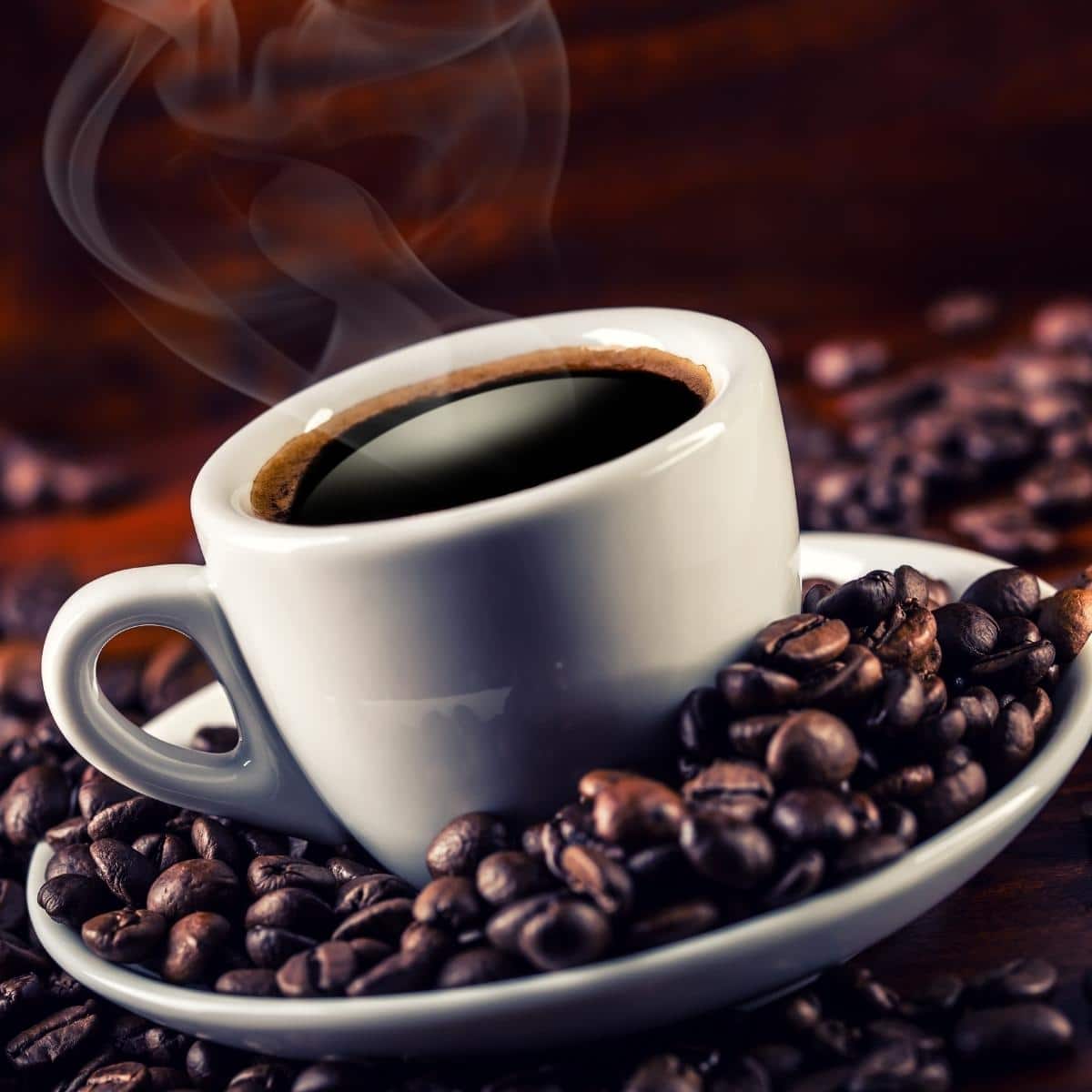 If you have been diagnosed with CKD, you may be wondering if you can still have your daily cup (or two) of Joe.
There are some precautions to consider when continuing to drink coffee, but overall, most CKD patients can keep up their morning routine of sipping some coffee from a cute mug. Feel free to check out this cookbook for CKD patients.
Consumption of coffee is not harmful to anyone in small quantities and should not increase your level of risk of kidney disease.
We'll look at both the pros and cons of regular coffee consumption when living with CKD, exploring recent findings as well as other considerations such as lifestyle factors like diet and exercise.
By understanding these issues better, individuals affected by CKD can make empowered choices regarding their own coffee intake - helping them stay healthy while enjoying one of life's greatest pleasures!
Jump to:
What Is Coffee?
Coffee is like a powerful elixir that can energize and awaken the soul. Brewing coffee is an art form, with various types of beans being used to create different flavors and aromas. Coffee has been around for centuries, originating in Ethiopia before spreading all over the world.
Brewing coffee starts with selecting the right type of bean or blend, depending on what flavor you are looking for. Different regions produce distinctive varieties of coffee, ranging from light and fruity to dark and bold.
The brewing process also depends on what type of machine you use - whether it be French press, pour-over, espresso maker, etc. All these methods have unique characteristics and will yield a different cup of joe every time.
Coffee has long been consumed as a stimulant, with some stories of its origin dating back to 9th century Ethiopia. Over the last several years, there have been previous studies done to determine the nutritional benefits of the coffee bean.
Coffee contains powerful antioxidants, which help to reduce the risk of certain cancers as well as Alzheimer's disease. Studies also show that coffee can help lower the risk of Type 2 Diabetes.
An 8-ounce cup of black coffee contains only two calories and zero fat. Therefore, even if you are trying to lose weight you can enjoy a cup or two of coffee each day.
You'll want to be aware of how many cups per day you consume and the nutritional content of the additives you use such as milk and cream, but don't worry, you can look up how the perfect cup of coffee is made depending on your nutritional needs.
Does coffee damage kidneys? No matter how you prefer your cup of java, one thing's certain: if made correctly and understanding the association between coffee consumption and risk factors, there's nothing quite like sipping a hot cup of freshly brewed goodness!
Whether you're drinking it alone or sharing it with friends, having a good quality cup of coffee can make any moment special.
For More Recipes and Ideas --->> Get Your Free Meals and Recipes That Are Perfect for Pre-Dialysis Diets, Pre-Dialysis with Diabetes, or Dialysis Diets.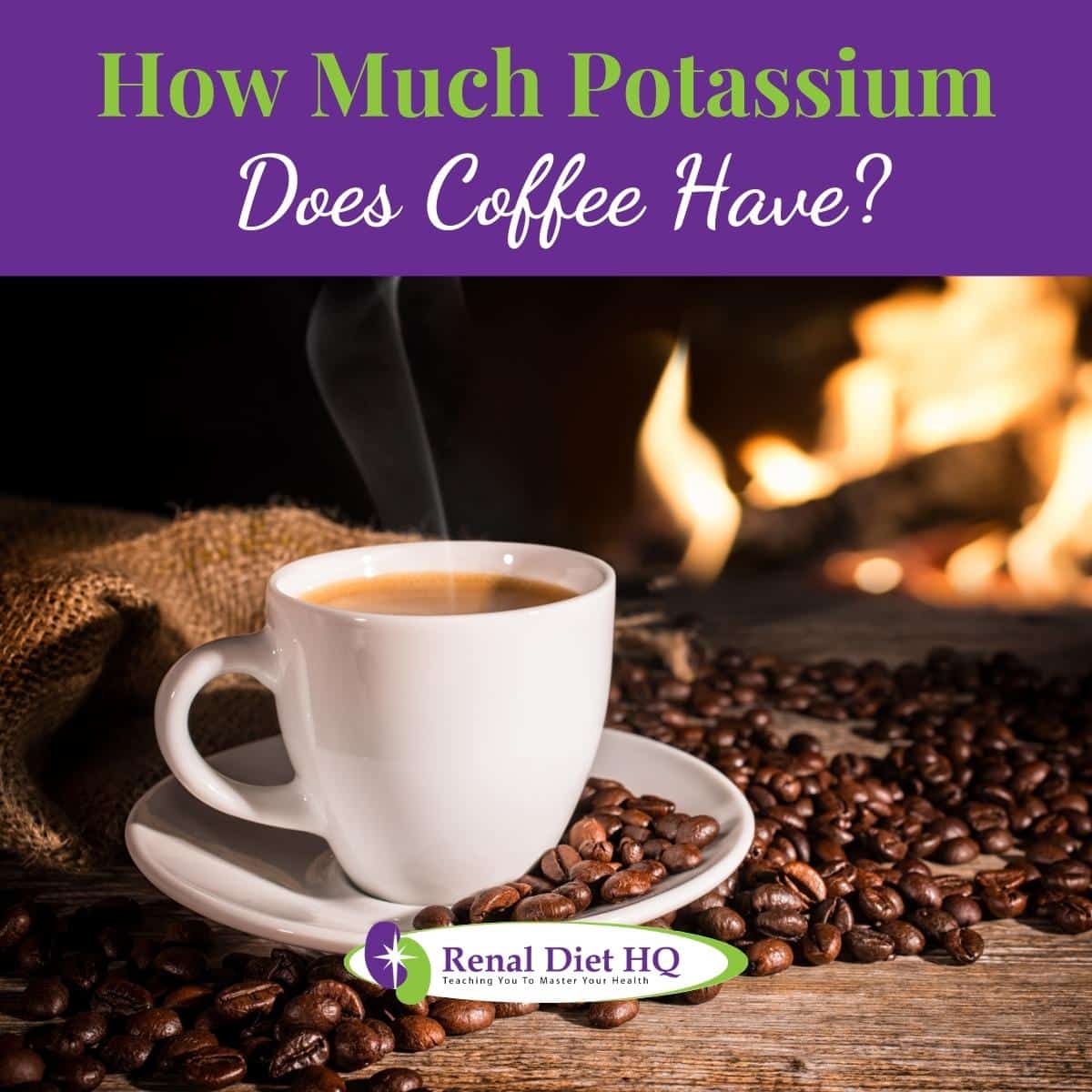 How Much Potassium Does Coffee Have?
Coffee is a popular beverage, cherished by many around the world. But have you ever wondered how much potassium coffee contains? This article will explore this question and provide some interesting facts about Chronic Kidney Disease, how to decrease markers of kidney dysfunction, and its link between coffee.
The amount of potassium contents in your coffee varies depending on the type of beans used. Generally speaking, espresso has more potassium than regular brewed coffee.
It's worth noting that most types of instant coffees have very low levels of potassium due to their processing method. Other ingredients like milk or cream can also alter the amount of potassium present in your cup of joe.
When it comes to CKD, there is no clear scientific consensus, current guidelines, or clinical studies that determine whether drinking coffee affects renal health negatively or positively.
However, research, confounding factors, and a current study suggests that coffee in moderation may be beneficial for individuals with mild-to-moderate CKD symptoms. Here are some key points to consider:
* Moderate caffeine intake may help reduce inflammation associated with CKD
* Coffee contains antioxidants which may protect against oxidative damage caused by CKD
* High doses of caffeine could potentially worsen kidney function over time.
It's important to consult your doctor before making any changes to your diet if you're living with CKD and want to evaluate the concern with caffeine and dietary factors.
While evidence regarding the potential benefits or risks of consuming coffee remains inconclusive, understanding what goes into each cup can help equip you with knowledge so that you can make an informed decision about incorporating this beloved beverage into your lifestyle.
Is It Better To Drink Decaf With CKD?
But what about decaf? Is it safe for those with CKD to partake in decaffeinated coffee consumption? Let's look at the facts, so you can make an educated decision on whether decaf is right for you and the different stages of kidney disease and chronic disease. You can view the renal diet restrictions by stage of CKD.
Decaffeinated coffees are generally considered safe for individuals living with CKD as long as they do not contain added sugar or other ingredients that could be harmful to one's health.
In addition to being lower in caffeine than regular coffee, drinking decaf may also provide certain benefits when it comes to kidney health. Caffeine has been linked to increasing urine output which can cause dehydration.
However, since decaf does not contain any caffeine, its consumption would not lead to increased urinary losses.
Additionally, some research and studies on coffee suggests that moderate consumption of non-caffeinated coffee may protect against developing more advanced stages of CKD and produce a decrease in risk of further kidney damage or renal failure due to the antioxidants in coffee.
Decaf drinkers still need to be mindful of potential risks associated with consuming too much coffee.
Even without the caffeine content, such as elevated blood acidity and interference with iron absorption, which is particularly important for CKD patients, as these patients are typically anemic and can cause a decline of kidney function (smoothies to improve kidney function).
Ultimately though, each individual needs to weigh out these pros and cons of the association between coffee intake and CKD before deciding if having a cup of joe sans jolt is worth it for them. That way they can sip wisely while staying healthy!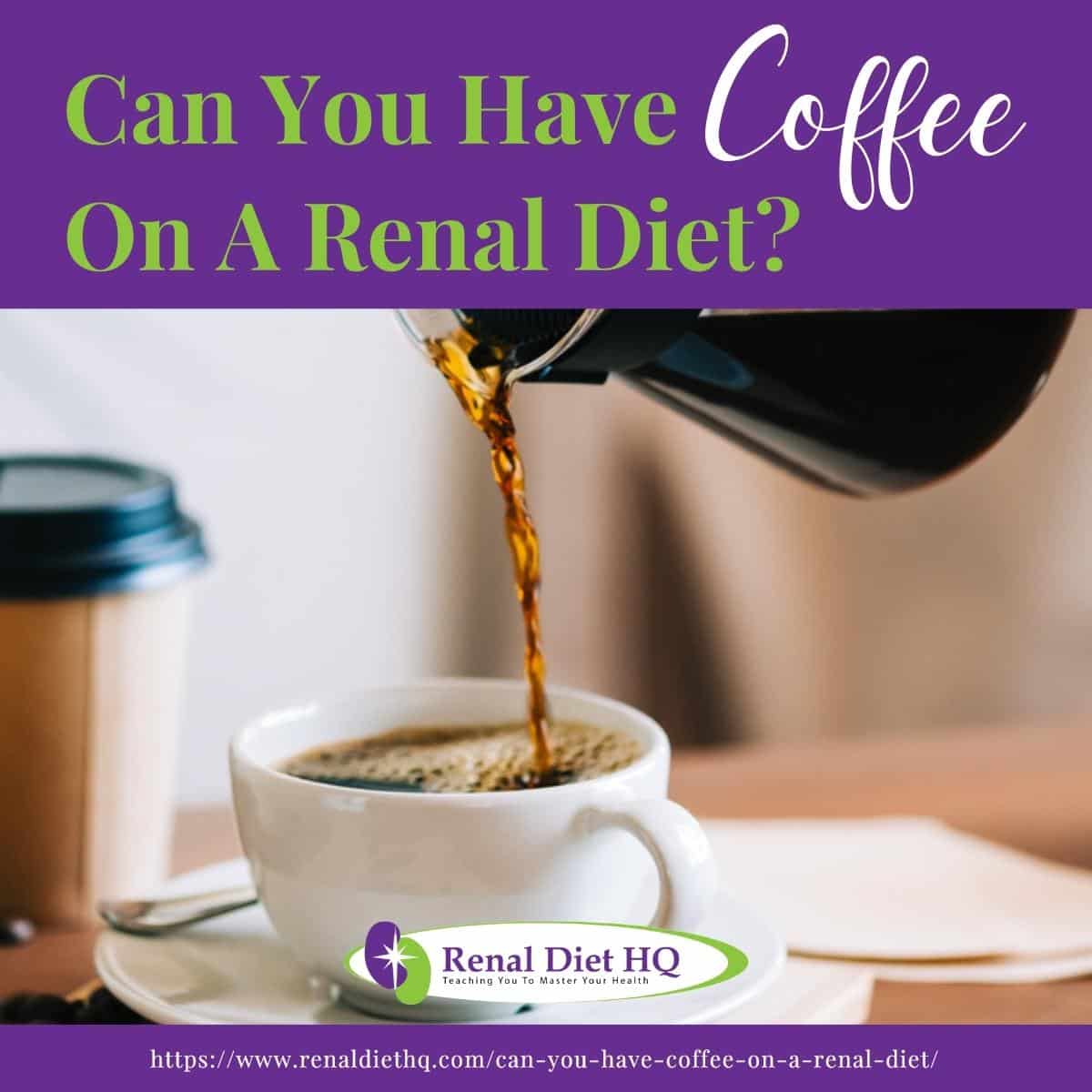 Is Coffee Good For CKD?
Coffee is a popular drink that many of us enjoy on a daily basis. But for those living with CKD , the effects of this beverage can be more complicated than one might think. To help clarify, let's look at the pros and cons of drinking coffee when managing CKD.
| | |
| --- | --- |
| Pros | Cons |
| Potential Health Benefits - May reduce inflammation - May improve kidney function - May lower risk of stroke & heart attack | Caffeine Content - High caffeine content may worsen symptoms such as high blood pressure & insomnia |
| Fluid Intake - Does not dehydrate like other caffeinated beverages do | High Potassium Levels - Coffee contains potassium which could be dangerous in high amounts if suffering from low kidney function or taking certain medications |
Weighing up these benefits and risks carefully is key to ensuring your well being while enjoying a cup of joe.
A moderate consumption should not pose any real danger to individuals with stage 3 or 4 CKD; however, it's important to check with your doctor about what amount would be safe for you specifically.
Knowing how much caffeine you take in each day is also essential, so consider tracking your intake by writing down how many cups you're drinking every day to prevent a too heavy coffee intake.
With careful monitoring and moderation, there are potential health benefits associated with drinking coffee such as the antioxidant effects that make it an enjoyable experience for those living with CKD.
How Much Phosphorus Is In Coffee?
When it comes to coffee intake habits, many people are unaware of the phosphorus content. The amount of phosphorus in coffee can vary depending on where it's sourced from and how much is brewed.
Here's a quick look at some key points about coffee phosphorus levels:
Coffee contains small amounts of naturally occurring phosphorus
Most home brewing methods will use 1 - 2 tablespoons per cup which results in lower total phosphorus contents
Decaffeinated coffee still retains its original nutrient profile including phosphorus
It's important to note that while there may be some variation in the overall phosphate content of different types of coffee, they all contain relatively low quantities when compared to other food sources.
So if you're looking for an easy way to get your daily quota of minerals, then don't forget about drinking your morning joe!
How Much Caffeine Is Safe For CKD Patients?
Leaving aside the composition of coffee and its potassium and phosphorus contents, we turn our attention to how much caffeine is safe for CKD patients.
Previously, it was thought that because caffeine has a diuretic effect, it can lead CKD patients to become dehydrated more quickly than normal.
However, in moderate amounts, the water content of coffee compensates any increased water loss through urine due to its diuretic effect. It may also be helpful to track the cups of coffee consumed daily to avoid increased chronic caffeine consumption.
| | |
| --- | --- |
| Type | Safe Amount (mgs per day) |
| Healthy Adults | 400 |
| Pregnant Women | 200 |
| CKD Patients | 100-200 |
Does coffee damage kidneys? The consensus among medical professionals is that healthy adults should not consume more than 400 milligrams of caffeine per day, while pregnant women should strive to stay below 200 milligrams due to an elevated risk in effects of coffee intake.
For those with CKD, however, the amount of caffeine consumption needs to be monitored in order to avoid dehydration or other health complications. The range suggested by most doctors lies between 100 and 200 milligrams per day. Any more could cause unnecessary harm due to dehydration concerns and any other negative effects.
In addition to being mindful of the quantity consumed each day, it's also important for CKD patients to consider where their caffeine comes from as well.
Coffee and tea are two popular beverages with a boost of energy containing varying amounts; understanding these differences can help narrow down what sources are best suited for one's own personal tolerance level.
With this knowledge, people living with CKD can better prepare themselves before indulging in their favorite caffeinated beverage.
Role Of Coffee In Kidney Health
When it comes to kidney health, coffee can play an important role. Moderate caffeine intake has been linked to decreased risk of developing CKD.
Research studies have shown that drinking one or two cups of coffee per day may reduce your risk for CKD. The beneficial effects are thought to be due in part to the antioxidants contained in coffee, which help prevent damage and inflammation in the kidneys and promote renal function.
Caffeine itself helps boost circulation and keep blood vessels healthy when consumed in moderation.
On the other hand, excessive caffeine intake - more than four cups a day - could lead to headaches, insomnia, and nervousness. Therefore, if you're looking to get the most benefit from your daily brews, aim for no more than two servings each day. Doing so will give you all the perks without any detrimental effects on your overall health.
The key is striking the right balance between enough coffee for enjoyment while avoiding too much caffeine intake that could potentially harm your kidneys over time and heighten risk of kidney dysfunction.
Other Dietary Adjustments For People With CKD
People with CKD must make other important dietary adjustments to keep their kidneys healthy. A renal diet is a special eating plan that helps slow down the progression of CKD and can help improve kidney function.
It's important for individuals with CKD to work closely with their healthcare provider or nutritionist to determine which foods will best support their health.
A renal diet typically limits sodium, potassium, phosphorus, excess protein, and fluids. As such, it's recommended that people with CKD avoid processed and fast food as well as certain fruits and vegetables high in these minerals.
High-sodium canned soups, sauces, dressings, frozen meals, chips and other snacks should also be avoided.
Instead of unhealthy snacks like chips or fast food options like pizza and burgers, CKD patients are encouraged to opt for healthier alternatives including
Fresh fruit and vegetables low in potassium
Lean proteins like fish or chicken
Whole grains such as quinoa
Oats or wild rice; legumes
Nuts; seeds
Dairy products low in fat
Herbs and spices instead of salt for flavor
Sugar substitutes like stevia or xylitol instead of sugar; and beverages without added sugar.
Making small changes over time can add up to big differences in overall health and wellbeing!
FAQs for Coffee on a Renal Diet
Enjoy Coffee With Your Renal Diet
It's understandable to be concerned about the effect of coffee on kidney health. Ultimately, it is best to discuss this issue with a doctor or dietician who knows your specific condition and can advise you accordingly.
Generally speaking, moderate amounts of coffee may not have an adverse impact on people with CKD; however, heavy coffee drinkers drinking large quantities could increase their risk for developing further complications. Also, you must remember that coffee counts as a fluid (fluid restriction guidelines for CKD).
If you have to monitor your fluid intake and fluid allowance, you'll want to adjust the amount of coffee you drink a day so you aren't giving your kidneys too much work and exceeding your fluid restriction.
Overall, coffee itself has not been found to accelerate kidney function decline in those with kidney disease. As always, it pays to listen to your body and what works best for you.
If you decide to drink coffee while living with CKD, try using low-fat milk or almond milk instead of creamers and consider avoiding artificial sweeteners if possible. Remember - everything in moderation!