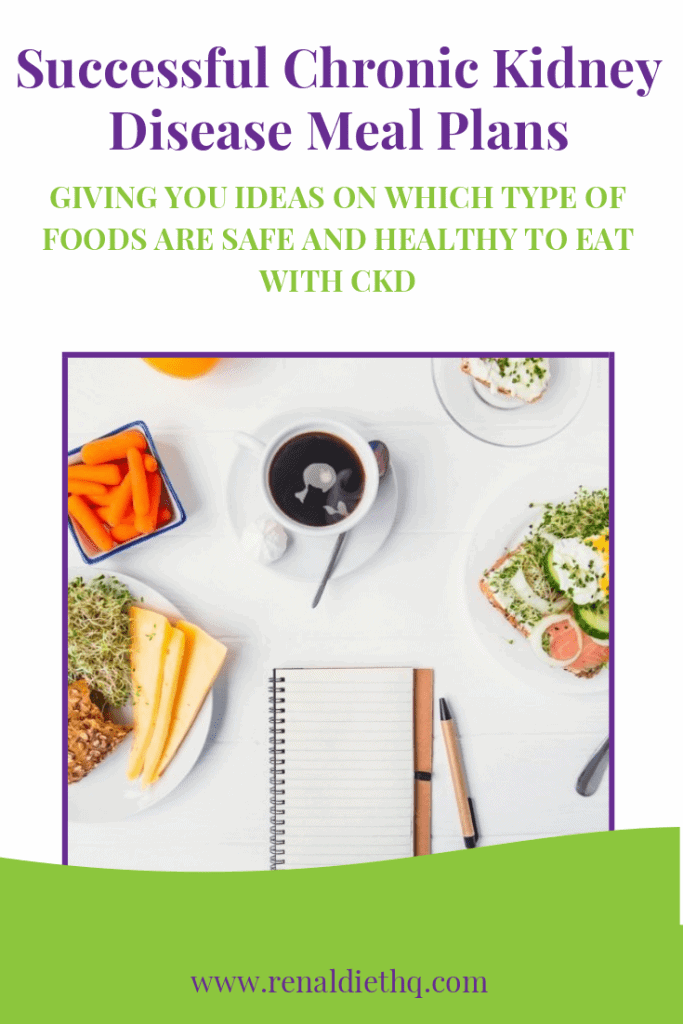 Knowing what to eat when you are living with a chronic disease such as chronic kidney disease can be a daunting idea but it does not have to be. Although your diet, depending on what stage of kidney disease you are in, may be somewhat restrictive, there are still plenty of foods you can eat and enjoy. Seeing a renal diet menu example might help you to get an idea of what type of foods are safe and healthy to eat with chronic kidney disease.
Thinking about making your own meal plan for kidney disease?  Start here and check out our free set of 7 dinner meal recipes that will get your meal planning started – Free 7 Dinner Meals for CKD
Begin by thinking about what food you like to eat and how it can fit into a renal diet.  Making a CKD diet plan menu can be easier than you think.
Here is a two-day example menu to get you started:
Day One
Breakfast: One serving of egg substitute, scrambled with fresh chopped onion and red and green bell peppers. Pair with one slice of white toast with one or two teaspoons of cream cheese and a small bowl (about a ½ cup) of fresh strawberries.
Snack: One apple, medium in size.
Lunch: Cabbage rolls- use two or three large, crisp, cabbage leaves to roll up shredded baked chicken, chopped apple, onions, a little bit of mayonnaise, and a sprinkle of honey mustard vinaigrette (made by whisking together apple cider vinegar, yellow mustard, and honey). Serve with a serving of unsalted pretzels.
Snack: One serving of baby carrots, with homemade, low sodium hummus or ranch dressing.
Dinner: Low sodium turkey and vegetable chili, topped with a small dollop of low fat sour cream. Serve with five unsalted crackers.
Dessert: Small slice of angel food cake with fresh strawberries and low fat, non dairy whipped cream.
Day Two
Breakfast: One English muffin with one teaspoon of cream cheese and one teaspoon of sugar-free fruit preserve. Side with a ½ cup of yellow grits and a small bowl of mixed berries.
Snack: One small bunch of grapes.
Lunch: ½ cup Cauliflower and ¼ cup chopped red bell pepper, sauteed in1 tbsp olive oil with garlic and chopped onion. Toss with ½ cup of cooked noodles. Sprinkle with grated Parmesan cheese.
Snack: ½ cup peach slices with ¼ cup cottage cheese.
Dinner: Two chicken tacos, topped with a small amount of natural shredded cheese, chopped onions, and shredded cabbage. Serve with ½ cup of rice, seasoned with cilantro and lime juice.
Dessert: One medium apple, sliced and baked with cinnamon.
Overall, what you want to pay the most attention to is sodium content. To combat this issue, always read labels and wherever possible, make your foods homemade to avoid added salt and other ingredients. Depending on what stage of kidney disease you are in, you may need to limit phosphorus and potassium as well.  That was a great 2-day meal plan for kidney disease that you can use to get started cooking and eating healthier.
This meal plan accounts for all three of these issues. In fact, this meal plan also focuses on some of the top recommended foods for kidney disease patients, such as cabbage, bell peppers, onions, and berries. You can easily use this as a base example of what foods are good for you to eat, including snacks and even desserts so that you can build a successful kidney disease meal plan from here.
For more Successful Chronic Kidney Disease Meal Plans click here!