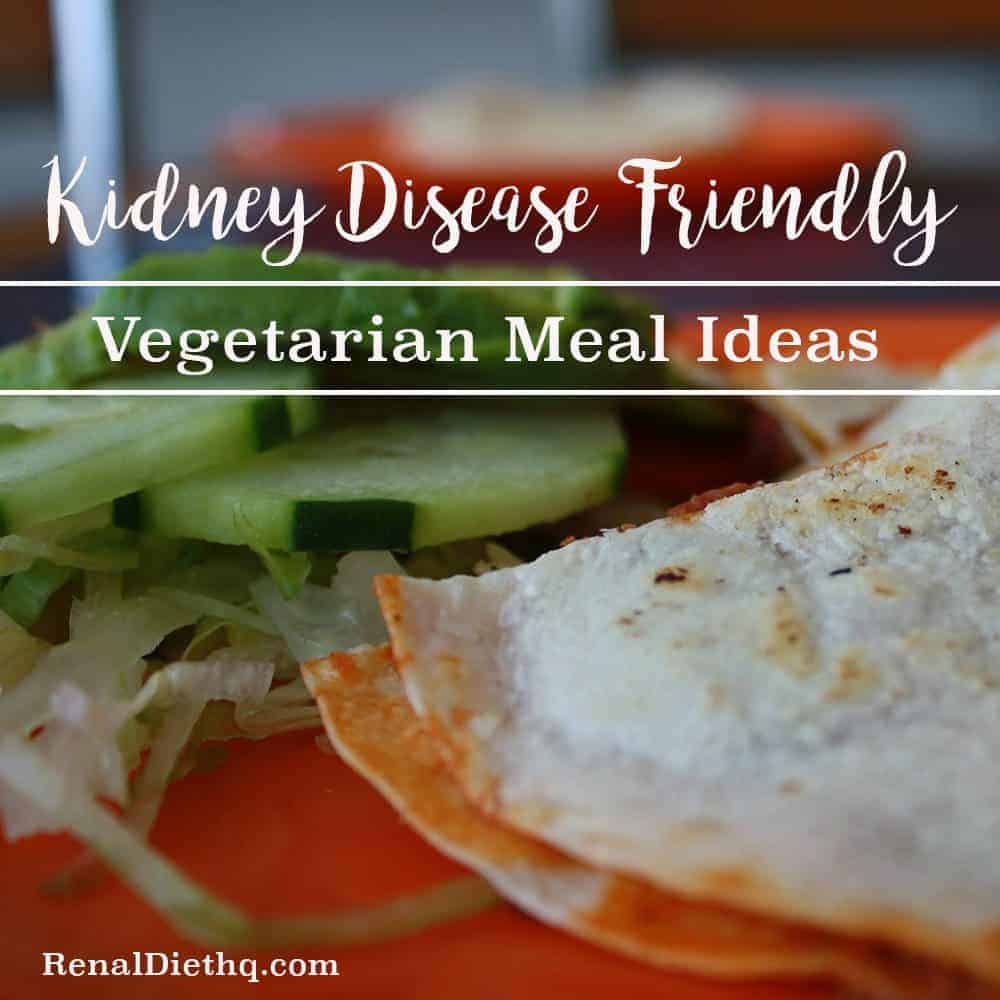 Living with kidney disease usually, means big changes to your diet and lifestyle. What you eat affects your health, especially your kidney health, more than you might realize. This is because everything you eat and drink is broken down and processed through your kidneys.
Eating a vegetarian diet can be beneficial for people with kidney disease. There are many benefits to a vegetarian diet, including less protein in the urine, improved lipids in the blood, and a slow in the progression of damage to the kidneys. Many people are concerned that a vegetarian diet would not include enough protein to be healthy, but actually, there are plenty of plant-based proteins. Plant based proteins are actually easier for your body to process, and can help create less kidney tissue damage.
There are lots of easy and delicious vegetarian meal ideas that are great for kidney disease. For all of these recipes, you can use fresh or frozen vegetables. If your doctor or nutritionist does not object, you can sometimes use canned ingredients if you make sure to drain and rinse them really well. For canned beans, you can even soak them to extract extra sodium.
Easy Meal Ideas
Vegetarian Chili
Chili and soup are some of the easiest vegetarian meals. They make great delicious comfort meals and take almost no effort at all to cook.
Start by chopping up and prepping your ingredients. Some great additions are onions, bell peppers, garlic, and different kinds of beans such as kidney beans, pinto beans, and navy beans. If you don't have any dietary restrictions for potassium and your doctor says it is okay, you can also add tomatoes. Whatever vegetables you like can be added to your chili. You can even crumble up tofu into your chili or use meat substitute ground "beef".
Now all you have to do is to add all of your ingredients into a big pot or slow cooker. Add in your favorite chili spices like cayenne pepper, cumin, paprika, garlic powder, onion powder, and oregano, all added to your taste. Let everything simmer for a few hours or all day for even more flavor.
Fajitas
Another delicious and easy vegetarian meal is fajitas. You can use any of your favorite vegetables, but the best ones are onions, bell peppers, mushrooms, broccoli, and cauliflower. Serve with flour tortillas and cilantro rice and beans.
Prep your ingredients by chopping them and slicing them into strips. Simply heat some olive oil in a large pan and throw your vegetables in the pan. Sautee the veggies until they are cooked to your liking and then season with chili or cayenne pepper, paprika, onion and garlic powder, and cumin.
Make cilantro rice and beans by simply mixing cooked white rice with cooked black beans and some fresh chopped cilantro.
Pesto Pasta with Roasted Asparagus
A deliciously simple pasta dish takes little to no time to come out impressive. For this dish, chop some asparagus into one-inch pieces. Toss them in a small amount of olive oil and lay them out on a pan. Roast in an oven preheated to 500 degrees for about ten minutes. You can add in other vegetables that you love also.
For the pesto sauce, you will need a handful of fresh basil, two cloves of garlic, and about half a teaspoon of lemon juice. Use a blender or food processor to blend the ingredients together and you have your sauce.
Toss your vegetables, pasta, and sauce together and enjoy a light and refreshing, delicious pasta.
These three simple recipes are not only delicious and kidney-friendly, but they can be modified to use your favorite ingredients, spices, and other additions. You can use these recipes every night with a few changes and never grow bored of your kidney safe vegetarian diet.