Low Potassium Diet Menu For Kidney Disease
Living with chronic kidney disease (CKD) or end-stage renal disease (ESRD) can be a difficult and challenging experience. To help manage your condition, it is important to understand the importance of maintaining healthy potassium levels and creating a low potassium renal diet menu.
Most people adjusting to low potassium diets have a hard time understanding which foods are good for them to eat when their potassium levels start to rise.
Many foods that are generally good for the average person suddenly have negative repercussions, such as potential risk of abnormal heart rhythms and cardiac arrest.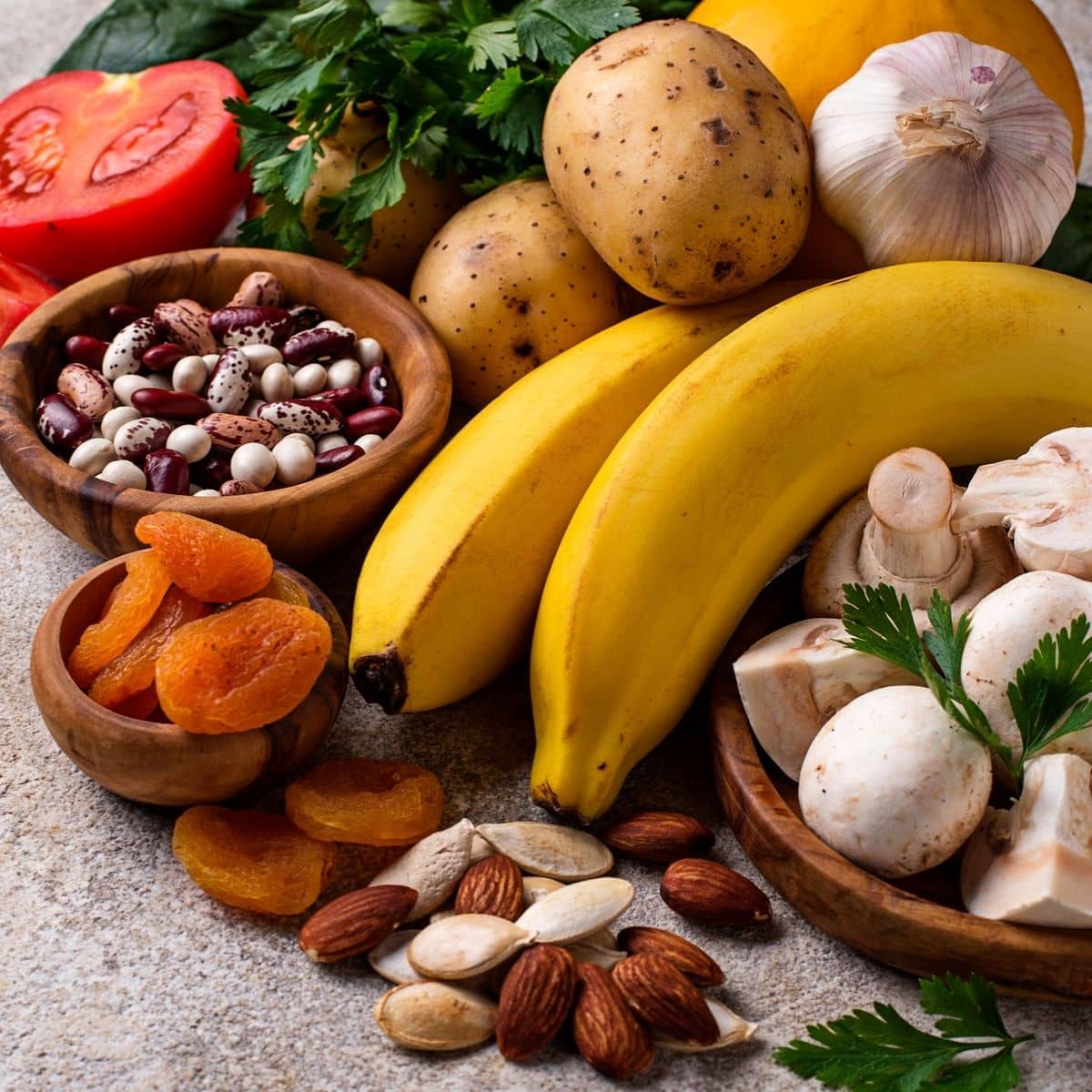 If you're one of the many facing renal failure and turning to a low potassium diet as a result, this should answer some of your questions about what to eat when potassium levels are high.
We hope that by understanding the basics of creating a low potassium kidney-friendly diet menu you'll be better equipped to manage your condition so you can live healthier and happier!
Jump to:
Kidney Disease And Potassium
Kidney disease can affect the body's ability to regulate potassium levels. Potassium is an important mineral that helps to regulate the heartbeat, muscle function, and nerve function.
When the kidneys are not functioning properly, they may not be able to remove excess potassium from the body, leading to a condition called hyperkalemia, which is characterized by high levels of potassium in the blood.
For More Recipes and Ideas --->> Get Your Free Meals and Recipes That Are Perfect for Pre-Dialysis Diets, Pre-Dialysis with Diabetes, or Dialysis Diets.
When Should You Limit Potassium?
If you're managing a chronic condition, it's important to pay attention to potassium levels and know when it's time to limit your intake. High potassium levels can cause symptoms like muscle weakness, numbness, nausea, vomiting, palpitations, shortness of breath, and chest pain.
If these signs are present or if lab results indicate high potassium levels in the blood, dietary restrictions may be necessary (chronic kidney disease laboratory tests). Limiting high-potassium foods and monitoring intake of other potassium-rich foods is important for maintaining normal levels in the body.
Additionally, there are certain medicines that your doctor might prescribe to lower your potassium level like water pills and potassium binders.
It's recommended to consult with a healthcare provider or dietitian before making any significant changes to your diet. A renal dietician has specialized knowledge on how different foods affect kidney disease and can provide personalized recommendations for managing your potassium intake.
In addition to reducing the amount of potassium-rich foods consumed each day, it's important to pay attention to serving size when adjusting your diet. Controlling your portion sizes throughout the day can help you maintain healthy levels of potassium.
Working with a healthcare provider or renal dietitian experienced in chronic conditions will also ensure that any dietary adjustments made fit into an overall healthy lifestyle plan that works for you specifically.
Causes and Risk Factors
You may be at risk of elevated potassium levels if your kidneys aren't functioning properly. Medical conditions like diabetes, dietary habits, and using certain medications can also play a role in the development of high potassium levels in people with kidney disease.
It's important to discuss any changes to your diet or lifestyle with a healthcare professional (kidney disease lifestyle changes) before making modifications to ensure they're appropriate for you.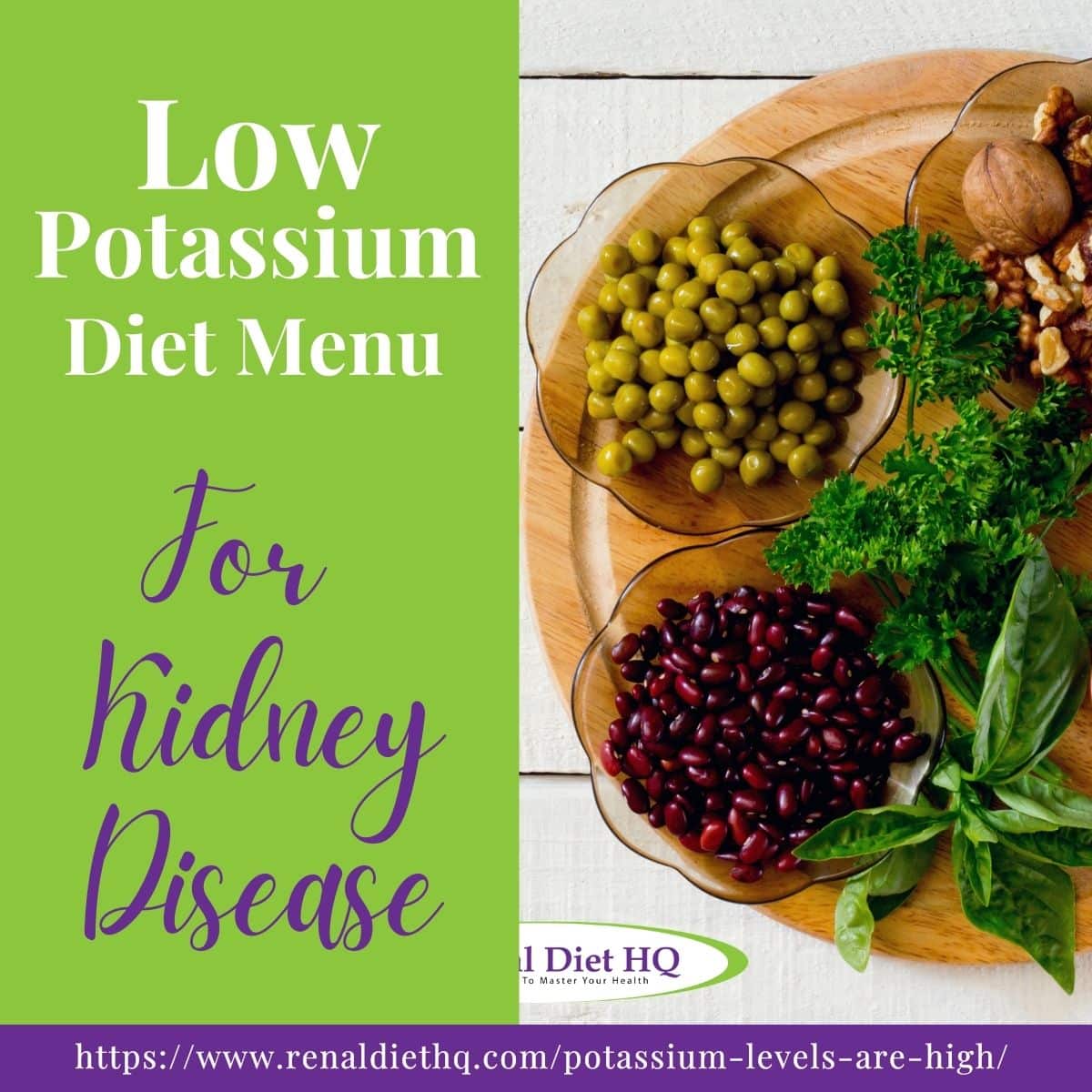 Potassium Levels
Maintaining healthy potassium levels is essential for those with chronic health conditions, as illustrated in the case of a patient with diabetes and cirrhosis of the liver who needed to regulate their intake of electrolytes.
Potassium management involves dietary restrictions, monitoring potassium levels through testing, and possibly supplementation.
Here are some tips for managing potassium levels:
Dietary Restrictions:
Avoid high-potassium foods such as bananas, potatoes, spinach, nuts, seeds, and dried fruit. Low-potassium fruits include apples, pears, and berries. Low-potassium vegetables include broccoli, cauliflower, and cabbage.
Limit salt substitutes or seasonings with added potassium chloride. Additionally, discarding liquids from canned fruits or vegetables always helps reduce the amount of excess potassium ingested.
Potassium Testing:
Regular testing is recommended as part of regular check-up to monitor changes in electrolyte balance, including high or low levels of potassium. Consulting a doctor or renal dietitian regularly is key to making sure these tests are completed on time.
These tests will also be helpful when creating an individualized plan for dietary modifications that will be most beneficial for each person according to their medical history and current health status.
Surprising Foods that are High in Potassium
From the start, it's important to identify the foods you shouldn't eat if lower potassium is your nutrition goal. Many foods that have been good for you most of your life, are suddenly not so wise to eat.
Instead of figuring out what to eat when potassium levels are high from the beginning, it's a good idea to figure out why your potassium levels are high in the first place.
Certain fruits and vegetables, for instance, are suddenly off the menu when you begin following a low potassium diet. The following fruits are very high in potassium:
There are other fruits that are high in potassium. These are a few of the primary culprits however and are good to avoid. Orange juice and pomegranate juice are also high in potassium and should be avoided when trying to lower your potassium levels.
There are plenty of vegetables on the list as well. While vegetables are almost always good dietary choices, this isn't the case when you're avoiding potassium.
This includes spinach, okra, and artichoke. Pumpkins, tomatoes (including juices, sauces, etc.), and squash are on the chopping block too as they contain more potassium than is safe for you to consume.
It is also important to pay attention to food labels when determining how much potassium is in a particular food item; many packaged foods contain added ingredients with higher levels of potassium than natural sources. Additionally, salt substitutes and seasonings with added potassium chloride should be avoided.
Paying attention to serving sizes can also help manage the amount of potassium consumed daily. Finally, it's important to consult with your doctor or dietitian regarding which high-potassium foods are best for you according to your medical history and lab results.
They'll provide personalized recommendations based on your individual needs to keep your potassium levels in check. You can also learn how to season food without salt.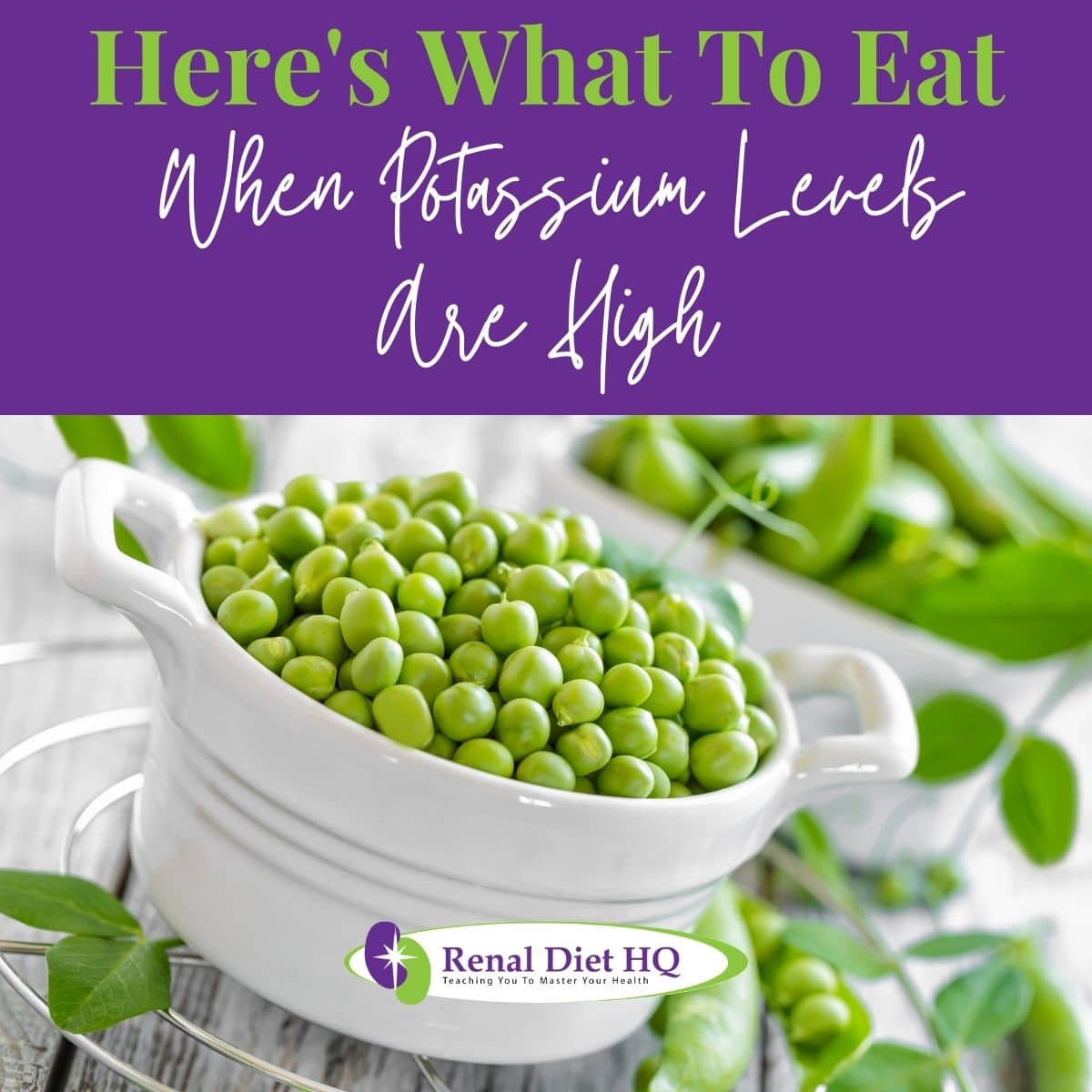 Here's What To Eat When Potassium Levels Are High
These are a healthy options that fit under the category of "what to eat when potassium levels are high." They're good choices because of their low levels of potassium and you can have them on the menu far more often than alternatives. The potassium content of these foods are in the low-potassium foods range of less than 200 mg of potassium per serving.
Apples, cranberries, grapes, blueberries, pineapple, strawberries, raspberries, and more are great fruits to have handy when your sweet tooth attacks as they are lower in potassium than other fruit options. Juices that are low potassium are apple juice, grape juice, and pineapple juice that make great beverages for chronic kidney disease patients.
Great vegetables that are great for what to eat when potassium levels are high include peppers, radish, lettuce, cucumbers, corn, cabbage, green beans, and celery because their potassium content is low.
Aside from fruits and vegetables there are other food choices to consider when exploring what to eat when potassium levels are high. They include bread, rice, and pasta (pasta and kidney disease). Most of the time you can drink non-dairy milks like rice milk and soy milk.
Meal Planning
Crafting a balanced meal plan can be challenging for those with chronic health issues, but with the right guidance and resources, it's possible to create delicious meals that support overall health.
People living with CKD have special dietary needs that must be considered when designing a meal plan for kidney disease. It is essential to follow a low potassium kidney diet menu in order to maintain healthy levels of this critical mineral in the body.
Meal prep tips such as planning ahead, using leftovers, and shopping on a budget are important strategies for staying on top of your nutrition goals.
Grocery shopping strategies include prepping lists ahead of time and focusing on fresh produce and low potassium options such as lean proteins, grains, fruits and vegetables. Snack ideas (renal diet snacks) may include nuts or seeds paired with crunchy veggies or dairy-free yogurt topped with fresh berries.
Symptoms of Low Potassium
We have talked about how having too much potassium in your diet can lead to symptoms like muscle weakness, nausea, vomiting, palpitations, and shortness of breath.
However, it's important to keep in mind that having very low potassium can also cause health problems, so it's also essential to be aware of the warning signs. Symptoms of low potassium levels include the following:
Keeping a close watch on your diet is key to maintaining a healthy potassium level. If you have kidney disease, you should work with your healthcare provider or registered dietitian nutritionist (RDN) to develop an individualized healthy eating plan that takes into account your medical needs and lifestyle.
Foods like apples, berries, and broccoli are all great sources of low-potassium nutrition. It's important to pay attention to serving sizes when monitoring your intake of these foods. It's important for those with kidney disease to monitor their lab results regularly since medications may also affect potassium levels.
By following a healthy eating pattern that is tailored towards individual needs and that incorporates mostly low-potassium foods while avoiding high-potassium foods when necessary, you can ensure proper management of symptoms associated with low potassium levels and improved overall health for those living with kidney disease.
Treatment Options For High Potassium Levels
Now let's explore different ways to manage hyperkalemia.
| | | |
| --- | --- | --- |
| Treatment | Pros | Cons |
| Potassium Lowering Medications | Quickly reduces serum potassium levels and prevents further elevation; May be used for both acute and chronic treatment. | Potential side effects including nausea, vomiting, diarrhea, and abdominal pain. |
| Dietary Potassium Restriction & Monitoring | Can be used in combination with other treatments; No adverse effects. | Requires strict adherence to dietary restrictions; Potassium levels may not decrease significantly without additional interventions such as medication or dialysis. |
| Alternative Treatments (ex: leaching vegetables) | Low cost option; Can help maintain low serum potassium levels without needing medications or dialysis. | Requires specialized knowledge about types of foods that can be eaten and preparation techniques; Not a suitable solution for all cases. |
When it comes to dietary interventions for managing high potassium levels in people with renal failure, there are several options available.
A renal dietitian can provide personalized recommendations that are tailored to individual needs and preferences while helping patients manage their kidney health and maintain healthy blood levels of potassium.
Replacing high-potassium foods with low-potassium alternatives is often recommended as part of a successful treatment plan for managing elevated levels of this mineral within the body.
In addition to eating a low potassium menu and meal plan, you should also find out how to avoid getting your potassium levels so high in the first place.
Common sense things like eating foods that are low in potassium and avoiding those that are high in potassium isn't always enough. You should also practice moderation when eating any foods and go for variety when exploring your menu options. A typical low potassium diet has less than 2000 mg of potassium per day.
Ask your doctor about your medications and if they can be affecting your potassium levels. The diet can help but if your medication is increasing your potassium levels or causing you to retain more potassium then see if other medications can be used that are not as likely to affect your potassium blood levels.
Your doctor might prescribe a potassium binder that keeps you from absorbing as much potassium with meals. You can also check out these renal failure diets.
Potassium Binders
One way to lower your blood potassium level is through the use of a potassium binder. A potassium binder binds with dietary potassium and prevents it from entering your blood stream. This helps reduce elevated potassium levels in people with CKD or ESRD.
Potassium binders are one way to help maintain healthy serum potassium levels, but they should not be used alone as they do not address the underlying cause of hyperkalemia.
It is important to work closely with your healthcare provider on an individualized plan that includes monitoring your diet and electrolyte levels regularly as well as exploring alternative treatments where necessary. With careful management, you can ensure optimal health while living with CKD or ESRD (ESRD Prognosis).
Frequently Asked Questions
Following A Low Potassium Diet Can Help Manage Your Kidney Disease
By limiting the intake of high-potassium foods, kidney patients can help prevent dangerous levels of potassium from building up in their bodies.
A low potassium diet can also help reduce the risk of other complications associated with kidney disease, such as high blood pressure and heart disease.
It's important to work with a dietitian to develop a meal plan that meets your individual needs and to follow your healthcare provider's recommendations for managing your kidney disease.
With the right diet and medical care, kidney patients can lead healthy and fulfilling lives. You'll be able to enjoy delicious meals while still managing your health - it's like having your cake and eating it too!