Can I Eat Eggs on a Renal Failure Diet?
You'll find yourself asking questions along the lines of can you eat eggs with renal failure regularly as you adjust to life after renal failure. For some people, this is a limiting and restrictive diet. However, if you learn to approach the diet by focusing on the awesome foods you can have, you'll find that you enjoy life, and food, so much more than if you spend all your time focusing on the things you love but cannot eat.
So, Can You Eat

Eggs with Renal Failure

?
The truth is that protein, is a tricky element when in renal failure. Protein is important to the body. It helps fight off infections, build muscles, heal wounds, and serves as a vital source of energy for the body. Keep this in mind as you ask, "Can you eat eggs with renal failure?" and other critical questions.
The other side of the coin, though, is that when protein is broken down it causes urea to build up in the bloodstream. Since your kidneys are not functioning properly, there's no way to get rid of the excess and it makes you sick. Reducing protein in your diet can help with that.
Despite this truth, protein remains necessary in the human diet. Your doctor may restrict your daily protein intake seven or eight ounces of protein a day (or even less in some cases). That's where eggs come into the picture.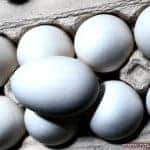 Can you eat eggs with renal failure? Absolutely!
In certain instances, eggs are an excellent choice. It's easy to practice portion control with eggs, for instance. One egg contains one ounce of protein. Can you eat eggs with renal failure? You better believe it's one of the best choices to eat for your daily dose of protein.
How Can You Eat

Eggs with Renal Failure

?
The good news is that eggs are quite versatile. You can do so many things with them. These are just a few ways you can cook eggs that answer how can you eat eggs with renal failure — pretty much any way you want them.
Omelets – especially vegetable omelets with asparagus, cauliflower, mushrooms, parsley, sweet peppers, and water chestnuts

Scrambled

Sunny-side up

Boiled (though you may want to do this in moderation or eat the egg whites only as the yolks of boiled eggs tend to make you thirsty)

In tuna salad

In other recipes

 
The key is to avoid adding stuff that isn't kidney friendly like salt, high-fat cheese, milk, etc. to the eggs.
For more information on what you can eat when you have Renal Failure, click here.