Can You Eat Eggs on a Renal Diet
Whether it's breakfast scrambles or deviled eggs for dinner, they're an essential part of many people's meals. But if you follow a renal diet menu due to chronic kidney disease (CKD), can you still enjoy them?
When faced with Chronic Kidney Disease, your doctor may put you on a special renal diet to help manage symptoms and protect your kidneys from further damage.
This diet limits protein, sodium, phosphorus, and potassium intake – all of which are found in high concentrations in eggs. So, what does this mean for egg lovers who must adhere to a renal diet?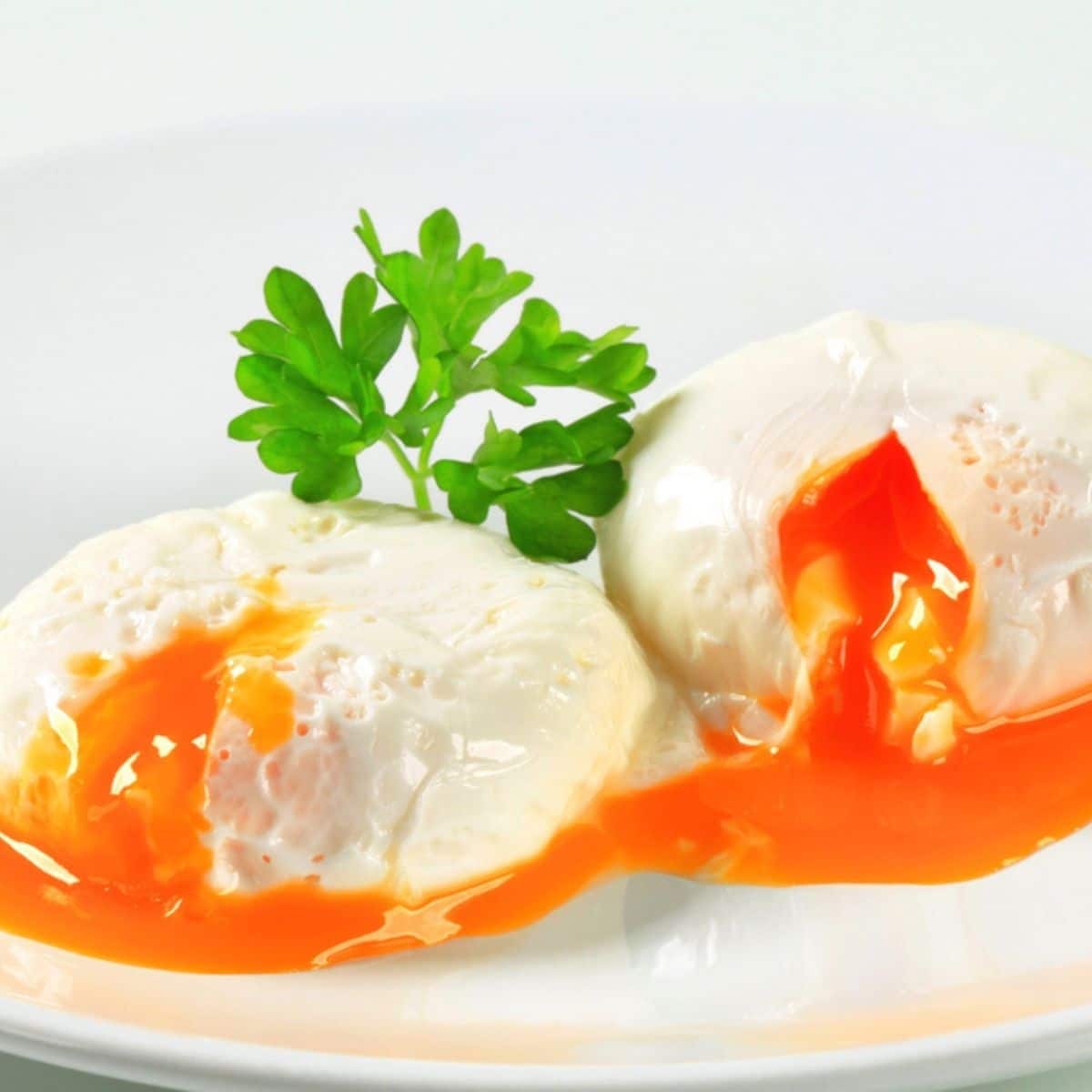 The answer is not as simple as you might think. While some types of eggs are not allowed to be eaten if you follow a renal diet, others can be enjoyed.
In this article, we'll discuss whether patients with CKD can eat eggs and how much is safe to consume. We'll also provide tips on finding egg alternatives that won't tax weakened kidneys yet still provide satisfying nutrition.
Jump to:
Nutritional Information For Different Types Of Eggs
Eggs are an excellent source of nutrition, packed with protein and essential amino acids and vitamins. For those on a renal diet, however, eggs can be tricky to incorporate into daily meals due to potential dietary restrictions.
It is important to consider the type of egg as well as serving size when deciding if they should be included in your meal plan.
Eggs provide a great way for those following a CKD or a renal diet to obtain their daily protein requirements and other nutrients such as iron, zinc, selenium and B vitamins.
Eggs also provide healthy fatty acids which can help maintain heart health. When served as part of a balanced meal these fats make up only a small portion of overall calorie intake.
People with kidney disease should limit their dietary phosphorus intake and therefore should consider opting for egg whites rather than whole eggs since most of the phosphorus present in eggs is found within the yolk. Egg whites are also naturally low in fat and calories yet provide high quality proteins.
Whatever kind of egg you choose to include in your meal plan it's important to remember that moderation is key; aim for 2-3 servings per week depending on individual needs.
By taking into consideration any dietary limitations set out by your healthcare provider you can easily find ways to fit this nutritious food into your lifestyle!
For More Recipes and Ideas --->> Get Your Free Meals and Recipes That Are Perfect for Pre-Dialysis Diets, Pre-Dialysis with Diabetes, or Dialysis Diets.
Benefits Of Eating Eggs On A Renal Diet
Eating eggs can be beneficial to your overall health and kidney function if done in moderation. Here are four key benefits to eating eggs on a renal diet:
1. Eggs provide essential proteins - Proteins are necessary for the body's organs to work properly. Eggs are an affordable source of high-quality proteins which aid in cell repair, growth, and maintenance.
2. Eggs have healthy fats - Fats such as Omega-3 fatty acids found in egg yolks help promote heart health by reducing cholesterol blood levels and providing energy.
3. Eggs contain important vitamins and minerals - Egg whites are rich with B-vitamins like riboflavin (B2) and folate (B9). Both of these play an important role in producing red blood cells, protecting nerve cells from damage, and regulating metabolism.
Egg yolk also contains Vitamins A & D along with iron, zinc, calcium, and magnesium — all of which support normal organ functions including kidney function.
4. Egg whites are low in phosphorus – Phosphorus is known to cause problems for people with CKD or end stage renal disease (ESRD) because it cannot be processed effectively through their kidneys; however egg whites contain very little phosphorus making them ideal for anyone following a renal diet.
5. Eggs are relatively less expensive - although prices vary, eggs are an affordable protein that provides high biological value proteins to the CKD patient.
Risks Associated With Eating Eggs On A Renal Diet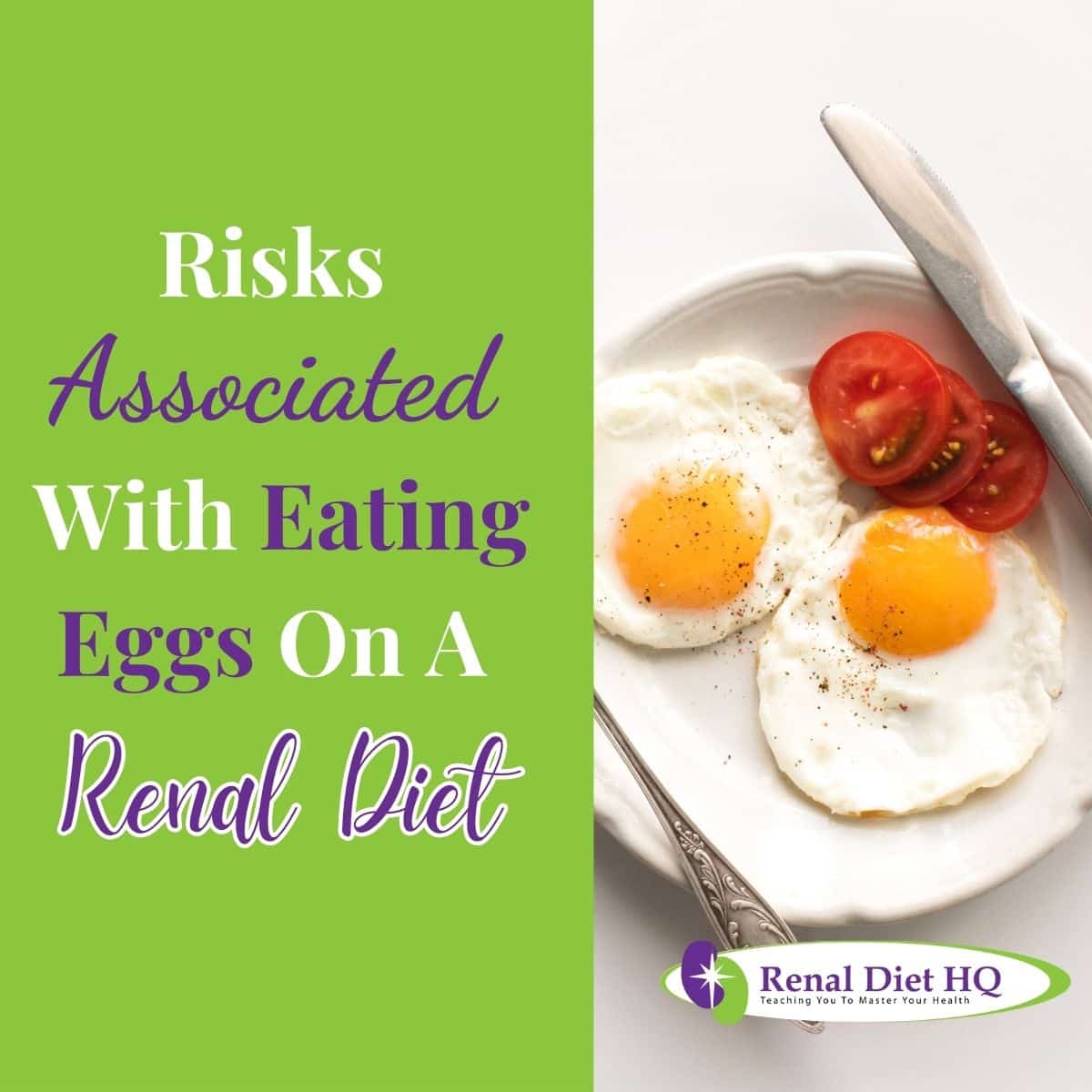 When it comes to deciding whether you should include eggs in your diet while managing a chronic condition like CKD/ESRD there is much to consider but ultimately if eaten correctly they can be beneficial when included as part of a balanced meal plan tailored specifically for your needs.
Eggs contain 12 grams of protein per servings, which is difficult for an impaired kidney to process. When eaten regularly they may cause an accumulation of toxins such as blood urea nitrogen, creatinine, and phosphorus that can further complicate kidney function.
Kidney patients should limit their intake of high protein foods, such as eggs, fish, and meat, to 8-10 ounces per day. What fish is good for kidneys?
Additionally, it is also a great idea to only eat the whites since these contain less phosphorus fat and cholesterol than the yolks.
It is also important to note that some individuals have allergies or sensitivities to egg proteins that can worsen existing symptoms related to their condition. Before beginning any new dietary regimen involving eggs, consulting a healthcare professional familiar with your individual needs is recommended.
After all, there are many alternative sources of high-quality sources of protein available for those on a renal diet that pose fewer health risks than consuming eggs does.
How Many Eggs Can A Kidney Patient Eat Per Day?
Eggs are a great source of protein, vitamins, and minerals. However, those with kidney disease have to be careful when it comes to eating eggs because the high amounts of phosphorus and potassium in them can be harmful.
The amount of eggs that a person on a renal diet can eat per day depends on their stage of kidney disease.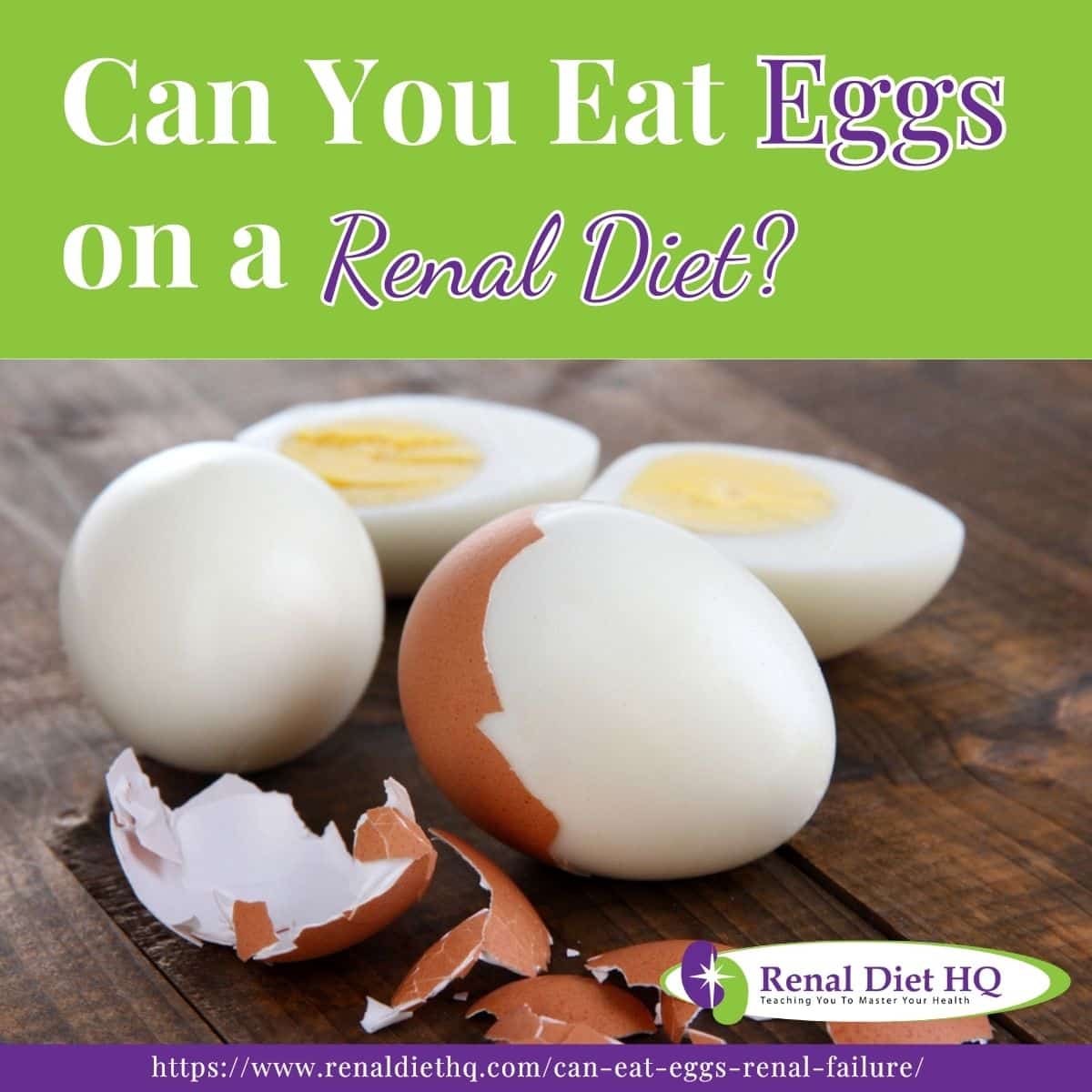 For early stages of kidney disease, patients may still be able to eat one or two whole eggs each day as part of an overall healthy diet.
It's important for these individuals to monitor how much phosphorus they're getting from other dietary sources so that total nutrient intake doesn't exceed recommended levels.
Eggs should also not be eaten more than once or twice a week if someone has advanced kidney disease due to their higher potassium content.
Other egg-based dishes like omelets and scrambled eggs can also be added to your diet in moderation depending on the type and quantity of ingredients used. You can get a good idea of how a low potassium diet menu works by looking at a sample one.
Alternatives To Eating Eggs On A Renal Diet
For people with kidney disease, eating eggs can be a tricky proposition. While some renal patients may still enjoy an occasional egg dish, for others it might even be best to avoid them entirely due to their high phosphorus content and the risk of overburdening your kidneys.
But what are the alternatives? Fortunately there are plenty of tasty dishes that won't put too much strain on your body while still providing you with all the nutrition you need.
First up are tofu-based dishes. Renal diet tofu is low in phosphorus and packed full of high-quality protein, making it a great alternative to eggs. You could try out a stir-fry or even make breakfast tacos with scrambled tofu instead of eggs! If you're looking for something more savory, why not give quinoa a try?
A versatile grain rich source of iron and magnesium, quinoa makes a delicious addition to any meal. It's also incredibly easy to cook - just add water and simmer until fluffy!
Finally, nuts and seeds are excellent sources of minerals such as zinc, calcium and selenium which have been known to aid in kidney health.
Try incorporating walnuts into salads or sprinkling pumpkin seeds onto toast for added crunchy goodness! With these options in mind, there's no reason why anyone with renal complications needs to miss out on flavorful meals.
Impact Of Egg Consumption On Blood Pressure And Cholesterol Levels
Consuming eggs on a renal diet is like walking a tightrope; it can be beneficial in some ways and detrimental in others.
Therefore, it's important to understand the impact of egg consumption on blood pressure and cholesterol plasma levels when making dietary decisions for kidney patients.
Firstly, let's talk about blood pressure. Recent research found that consuming eggs did not significantly affect systolic blood pressure, but may actually result in a reduction in diastolic blood. This means that eggs may actually have a beneficial effect on blood pressure, which is great news for egg lovers!
Now, let's move on to cholesterol. Eggs are a significant source of dietary cholesterol, which has long been associated with an increased risk of heart disease.
However, more recent research has suggested that the impact of dietary cholesterol intake on blood cholesterol levels may not be as significant as once thought.
While consuming eggs does raise blood cholesterol levels, it appears to primarily increase levels of high-density lipoprotein (HDL), or "good" cholesterol, rather than low-density lipoprotein (LDL), or "bad" cholesterol.
However, it's worth noting that the impact of egg consumption on blood pressure and cholesterol levels is complex and appears to be influenced by a variety of factors, including an individual's overall diet and genetic factors.
But for most individuals, moderate egg consumption as part of a healthy diet is unlikely to have a significant negative impact on blood pressure or cholesterol levels.
Therefore, for those with normal kidney function and healthy blood pressure and cholesterol levels, modest amounts of egg yolk may still offer health benefits while being mindful not to eat too many eggs due to potential adverse effects on the kidneys over time.
Potential Interactions With Prescription Medications
It's important to consider potential interactions between certain medications and egg consumption when deciding if they are appropriate for someone on a renal diet.
Some prescription medications, such as statins, are used to lower cholesterol levels in the blood. Eggs are a dietary source of cholesterol, so some people may worry that consuming eggs while taking cholesterol-lowering medications could interfere with the medication's effectiveness.
However, research suggests that dietary cholesterol has a minimal impact on blood cholesterol levels for most people.
Antibiotics are a class of drugs used to treat bacterial infections. Research suggests that there is no known interaction between eggs and antibiotics, so consuming eggs while taking these medications is generally safe.
However, if you are taking antibiotics for an infection, it is important to eat a balanced and nutritious diet to support your immune system and help your body fight off the infection.
Warfarin is a blood thinner drug that is often prescribed to people with CKD to prevent blood clots. Warfarin works by reducing the amount of vitamin K in the human body, a nutrient that is involved in blood clotting.
Some people may be concerned that consuming eggs, which contain vitamin K, could interfere with the effectiveness of warfarin.
However, research suggests that dietary vitamin K does not significantly impact the action of blood thinners, and in fact, a consistent dietary intake of vitamin K can help stabilize blood coagulation levels.
For other medications commonly used by patients with kidney disease, such as Prograf or Epogen (which help regulate electrolytes), there does not appear to be any interaction risk associated with adding eggs back into one's diet.
In fact, many doctors recommend adding more protein sources such as lean meats and fish – including some moderate amounts of eggs – back into their diets after treatment begins.
Therefore, if you have been advised against consuming eggs due to a kidney condition but are interested in reincorporating them into your diet plan, be sure to speak with your doctor first about the possible risks..
FAQs About Eggs and CKD
Eggs Can Be a Healthy Addition to Your Renal Diet
The answer to whether you can eat eggs on a renal diet is yes—but with caution. Eating boiled and cooked eggs in moderation is generally safe for people with kidney issues.
However, eating raw or undercooked eggs is not recommended due to the potential risk of salmonella poisoning. Additionally, egg consumption may increase your risk of developing kidney stones if you have pre-existing problems such as high calcium levels in your urine.
It's important to remember that everyone's dietary needs are different according to their individual health situation. If you're taking dialysis treatments, it's best to talk with your doctor about what type of egg intake would be most appropriate for you. They'll be able to provide personalized advice based on your medical history and current condition.
At the end of the day, there's no one size fits all approach when it comes to managing a kidney disorder through diet; however, by exercising prudence and understanding what foods are safe (and unsafe) for your particular situation, you can safely include eggs into your renal diet—like a pearl among oysters!