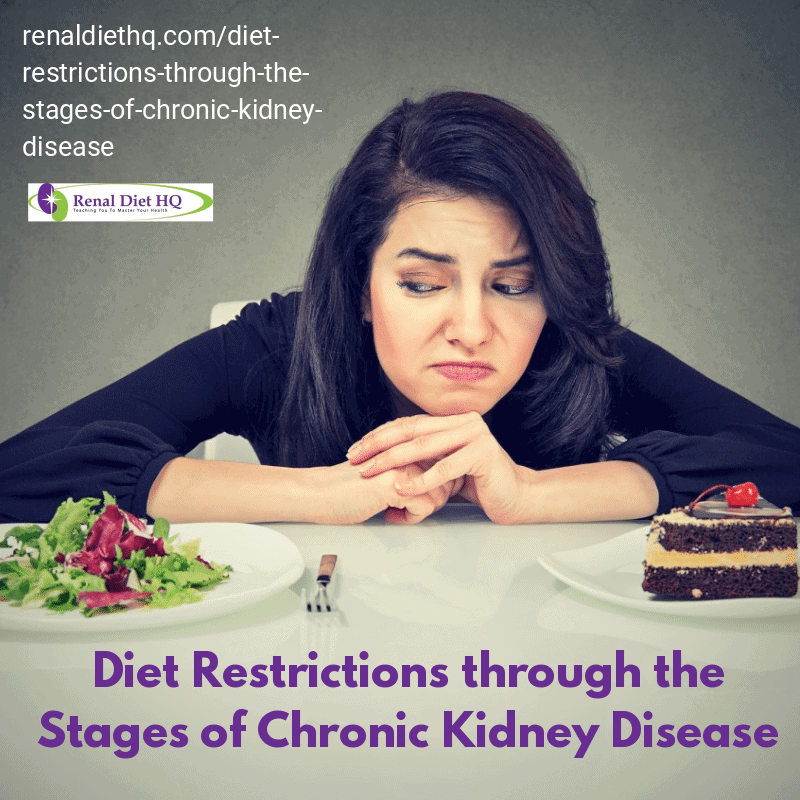 Chronic kidney disease typically means a lot of lifestyle changes. Your diet especially will need a complete overhaul to make sure that you are maintaining the healthiest diet for your condition. This is because diet is one of the most important factors in treating chronic kidney disease.
Dietary restrictions are often some of the most daunting changes to a person's lifestyle. Many people are not sure what they should or should not eat to help themselves live their healthiest lives. Understanding dietary restrictions are of the utmost importance, however, as it makes a huge difference in the treatment and progression of chronic kidney disease.
Here is a basic breakdown of some of the dietary restrictions you may face through each stage of chronic kidney disease:
Stage 1
Except for people who are diagnosed during routine checkups, most people are not even aware that they have chronic kidney disease during the first stage. Most often, kidney disease is diagnosed in the second or third stage. If you are lucky enough to be diagnosed in the first stage, your doctor will likely recommend a healthy, low sodium diet but not too many other dietary restrictions.
 Stage 2
At stage 2, people are more likely to have been diagnosed through routine screening, although symptoms are not likely to be obvious yet. At this point, your healthcare provider is likely to put you on a more strict low sodium diet or even a renal, kidney-healthy diet.
Stage 3
At the third stage of kidney disease, you are more likely to have symptoms such as urinary retention and fatigue. So it might help you to know that the strict restrictions your healthcare provider is likely to put on your diet are likely to help relieve many of those symptoms. Along with sodium restrictions, your healthcare provider may recommend potassium and/or phosphorus restrictions.
Stage 4
As chronic kidney disease progresses, so too can the symptoms and discomfort associated with the illness. During stage 4, your healthcare providers might ask you to start cutting down on your protein intake. This is because excess protein buildup in your body can cause even more work for your already taxed kidneys. Phosphorus becomes a common restriction at stage 4, and potassium restrictions are also more likely. Fluid restrictions can sometimes become necessary at this point as well.
Stage 5
Stage 5 chronic kidney disease is also often referred to as "end-stage renal disease". At this point, most patients will need either dialysis or a transplant to replace kidney function. As you reach kidney failure, your kidneys can do less and less, so you need to help them by maintaining a lot of dietary restrictions. All of the restrictions up until this point become even more strict and important, and often fluid restrictions need to be maintained as well. At the same time, it is important to eat enough calories to keep up your current weight and muscle mass.
Dietary restrictions can be tough to deal with, but they are a very important part of your treatment for chronic kidney disease. Your diet is so important, in fact, that strictly adhering to dietary restrictions and maintaining a healthy diet and lifestyle can help you to slow the progression of kidney disease, and could even prevent you from ever reaching end-stage renal disease. Talk to your doctor about your dietary restrictions and how you can better maintain a healthy diet and lifestyle with chronic kidney disease.