Low Sodium Fried Rice (CKD Diet)
Low Sodium Fried Rice (CKD Diet)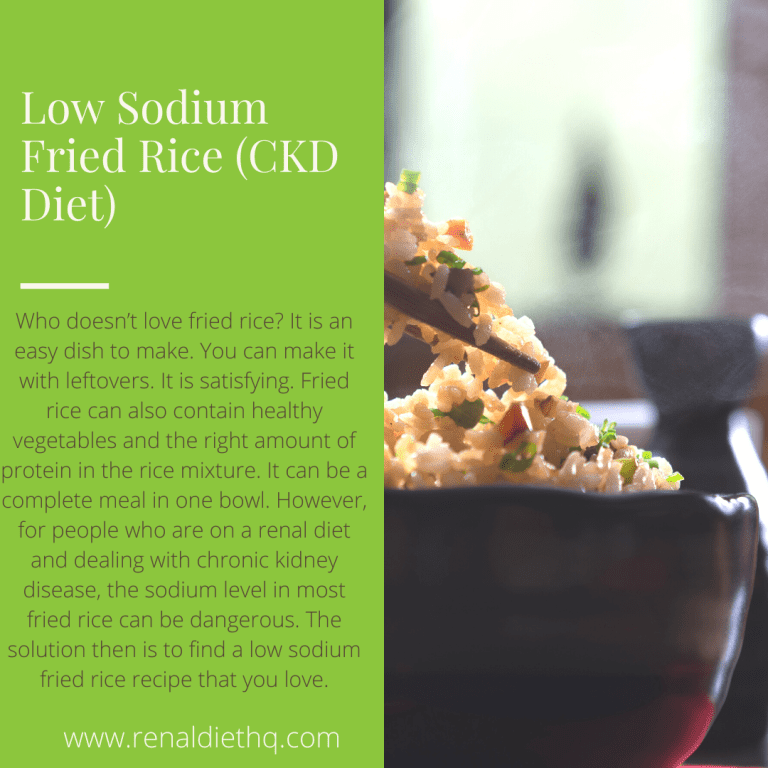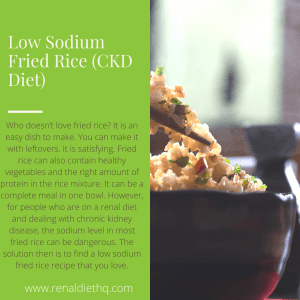 Who doesn't love fried rice? It is an easy dish to make. You can make it with leftovers. It is satisfying. Fried rice can also contain healthy vegetables and the right amount of protein in the rice mixture. It can be a complete meal in one bowl. However, for people who are on a renal diet and dealing with chronic kidney disease, the sodium level in most fried rice can be dangerous. The solution then is to find a low sodium fried rice recipe that you love.
Does Fried Rice Have a Lot of Sodium?
Typically, a cup of fried rice contains about 550-750 milligrams of sodium. If you are on a low sodium kidney diet, then you are likely limited to around 2000 milligrams a day. One cup of traditional fried rice is about 25% of your daily allotment.
Can I Make Fried Rice with Less Salt?
One of the easiest ways to make fried rice with less salt is to substitute balsamic vinegar compared to regular soy sauce. Soy sauce is one of the main ingredients in fried rice, but balsamic vinegar gives all the taste and minimal salt (4 mg/TBSP). There are low sodium soy sauces that have about 600 mg of sodium per tablespoon and still contain deep flavor, so if you want to use that you can. The average soy sauce has 1000mg. Bragg's liquid aminos is another option to use instead of soy sauce and it has about 900 milligrams per tablespoon.
Ingredients You Need to Make Healthy Low Salt Fried Rice
Low salt fried rice ingredients are simple. You need some leftover rice whether white rice, brown rice, or jasmine rice, a protein of your choice if you want to add meat. Then you'll want to add the veggies of your choice. Traditional vegetables include onions, peas, and carrots. Eggs scrambled in oil are often added at the end. Here's a list of the basic ingredients in fried rice.
Eggs

Olive oil

green onions

carrot

frozen peas

cold cooked rice

garlic powder

balsamic vinegar

sesame oil
Using the above ingredients, here are the steps to make low sodium fried rice:
On low heat place 1 tablespoon of olive oil in large saucepan or wok. Beat two eggs and cook in the hot oil. Set aside.
Add 2 tablespoons olive oil back to the pan. Add a cup of each: onions, carrot and peas and cook for two minutes.
Add cold rice to the pan along with balsamic vinegar, garlic powder, pepper flakes, and sesame oil. Mix together and cook for three minutes. If the mixture is dry, add a tablespoon or two of low sodium chicken broth. Add diced meat if you like, pork or chicken are good options, add egg for extra flavor and enjoy.
FAQ About Low Sodium Fried Rice
Even with the traditional recipe, and a low sodium option, you may have questions. Let's take a look at the most common questions.
Can I Eat Low Sodium Fried Rice If I Have CKD?
You can eat low sodium fried rice if you have CKD. Continue to track your sodium and make sure you stay within your prescribed limits.
Can I Make Low Sodium Fried Rice Without Soy Sauce?
YES! You can make low sodium fried rice without soy sauce. Try using spices and herbs with low sodium broth and balsamic vinegar instead of soy sauce.
What Brand(s) Should I Get for Low Sodium Soy Sauce?
Almost every major brand of soy sauce has a low sodium option. Kikkoman has a low sodium option that is popular and San-J as well. Both are readily found in your supermarket.
Can I Safely Add Shrimp, Pork, or Chicken to Low Sodium Fried Rice If I Have Kidney Disease?
You can add any protein of your choice. Tofu is another option to consider in addition to shrimp, pork or chicken. Dice it small and add a cup to your fried rice.
What Are Good Veggies to Add to Low Salt Fried Rice?
Onions, carrots, water chestnuts, bean sprouts, green onion, cloves garlic, and peas are common veggies that are added to your healthy fried rice. You can also add mushrooms, peppers, corn, and chopped green beans as well.
This easy low sodium fried rice recipe is a delicious and healthy meal for CKD patients. What are you waiting for? Try it out with your favorite recipes today!