Renal Diet Breakfast: Overnight Cream of Wheat with Rice Milk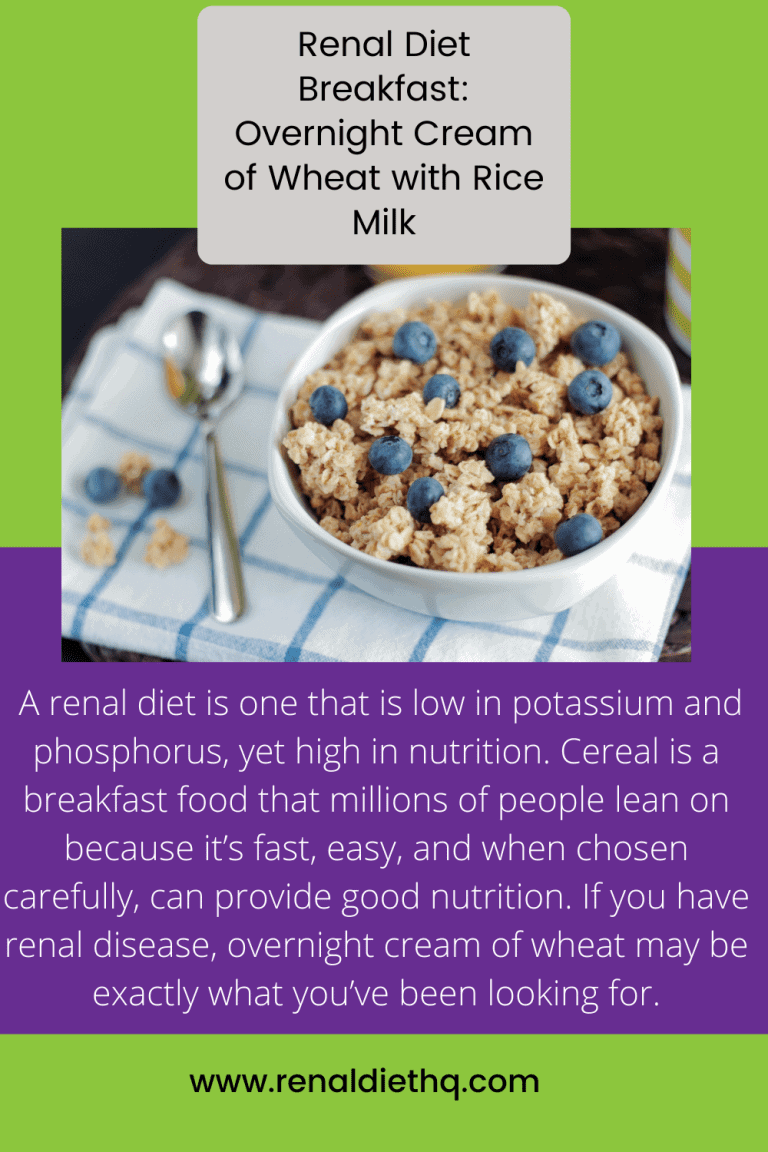 If you have kidney disease, there are many reasons why your breakfast matters. A renal diet is one that is low in potassium and phosphorus, yet high in nutrition. Cereal is a breakfast food that millions of people lean on because it's fast, easy, and when chosen carefully, can provide good nutrition. If you have renal disease, overnight cream of wheat may be exactly what you've been looking for.
Can You Eat Cream of Wheat on a Kidney Diet?
Cream of wheat is made from farina. Farina is a type of wheat made in America. It's made from the nutritious germ and endosperm of the wheat seed. A cup of cream of wheat made with water has less than 32 mg of both potassium and phosphorus. It also has about 3 grams of protein. Additionally, it's low sugar which means it's a better choice if you have Type II diabetes.
Where Can You Buy Cream of Wheat?
Cream of wheat can be purchased at just about any supermarket or grocery store around the country. It is a brand owned by B&G Foods. However, you can also buy farina in bulk at a bulk food store. And you can buy ground farina in the baking section of your supermarket. Bob's Red Mill makes a product called Creamy Wheat Hot Cereal. Look for it in your store's baking section.
What Else Can You Eat for Breakfast on a Renal Diet?
Cereal and hot cereal are excellent breakfast options. They're perfect for weekday breakfasts because they're quick and easy and have amazing health benefits. However, on the weekend you might want to linger over breakfast. Omelets, veggie scrambles, and even the occasional waffle may be a fun choice. These options are generally considered safe on a renal diet.
Are Cream of Wheat and Oatmeal the Same?
Cream of wheat and oatmeal are both hot cereals. Both can also be made overnight. All you have to do in the morning is heat it up and add your favorite toppings like brown sugar, fresh berries, and peanut butter. However, they are not the same hot cereal. Cream of wheat is made from wheat. Oatmeal is made from oats. They are different plants. Both are considered grains, but the consistency and nutrition are different. Cream of wheat is a smooth cereal, where oatmeal tends to have some chew to it, especially if you're eating steel cut oats.
Is Cream of Wheat as Good as Oatmeal?
Cream of wheat is actually better for people on a renal diet than oatmeal. Cream of wheat has less potassium than oatmeal. It also has less phosphorus. However, if you have early-stage kidney disease, it's okay to have oatmeal occasionally.
Can You Make or Soak Cream of Wheat Overnight?
The directions for overnight cream of wheat are simple. This makes it a wonderful alternative! To make overnight cream of wheat or hot farina, one easy option is to use a slow cooker. Put all of the ingredients in your slow cooker, set it to low, and wake up in the morning with a hot breakfast just waiting for you. You can also cook it on the stovetop over medium heat or in the microwave.
What Are the Best Kidney-Friendly, Non-Dairy Alternatives You Can Use in Cream of Wheat?
When making your hot cereal, you may be tempted to cook it with 1/2 cup milk. It does add a delicious creaminess to it. However, cow's milk isn't a good idea for people with chronic kidney disease. Cow's milk is high in phosphorus. You can prepare your cream of wheat in water. However, if you want that creaminess, there are other options.
Almond Milk
Almond milk is one of the best choices because it's so easy to find in the supermarket, there are a variety of options, and it's low in phosphorus. For example, a half cup of Almond Breeze has 25mg and Silk Vanilla Almond has 15mg.
Soy Milk
Soy milks vary widely on the amount of phosphorus they contain. It can range from 60-120 mg depending on the brand. Generally speaking, brands like Eden and Pacific are lower in phosphorus.
Rice Milk
Rice milk is one of the best options for people on a renal diet. Rice Dream is a good brand, and the classic has about 30 mg of phosphorus per half cup. Their enriched, however, has more than twice that. Make sure to read labels!
Overnight Rice Milk Cream of Wheat Ingredients for a Kidney Diet
uncooked cream of wheat or farina

rice milk
For extra flavoring you might want to add:
Half teaspoon of cinnamon and 2 tablespoons of applesauce

A half scoop of protein powder if you're on dialysis and need more protein and 4 ounces of vanilla soy or rice milk yogurt.
Renal friendly favorite toppings:
Blueberries

Butter

Toasted almonds

Diced apple
Add all of the above to a jar and put in the refrigerator overnight to allow moisture to absorb, then eat cold or hot in the morning.
Overnight Rice Milk Cream of Wheat Recipe
In a crockpot combine 2/3 of a cup of cream of wheat with 3 3/4 cups of rice milk and a 1/2 teaspoon of salt. Cover. Put on a low temperature and cook for 7-8 hours. If adding the applesauce and cinnamon or the yogurt and protein powder, add them to the cream of wheat and milk before you cook.
Is It Okay to Eat Cream of Wheat on a Renal Diet Every day?
If you are careful about your potassium, phosphorus, and protein intake then you can eat cream of wheat every day if you choose to. However, a balanced diet is easier to achieve with variety. You can of course vary your toppings. You can also have the occasional egg, smoothie, or cold cereal breakfast too.
Is It Safe to Reheat Cream of Wheat?
One of the benefits of the crockpot recipe is that you will have more than one serving of cream of wheat. You might consider storing the leftovers in single serving storage containers, jelly jars, or covered bowls. You can then simply reheat a serving in the microwave the next morning.
Overnight cream of wheat with rice milk is a very healthy option for a renal diet breakfast, go ahead and try it today. It's delicious, easy to make, and nutritious. Top it with your favorite berries, or just add a little unsalted butter. Enjoy!