You get the call, your eGFR is low. Now what? What is eGFR in a blood test? What does it mean for your health and what can you do about it? Does a low eGFR mean that you have kidney disease or is something else going on? Let's look at what this test is, what it measures, and what you can do to impact your test results for your kidney health.
What Is eGFR (Estimated Glomerular Filtration Rate)?
eGFR stands for estimated glomerular filtration rate. In a nutshell, it's an equation based on several factors, including a blood test, to determine your level of kidney function and your stage of kidney disease. eGFR estimates how much blood passes through the glomeruli each minute. Glomeruli are the tiny filters in the kidneys that filter waste from the blood. Your kidneys are a filtering organ. They remove waste and extra fluid from your body. In fact, they filter about 200 quarts of blood each day and through that process create up to two quarts of urine. The glomerulus is the key part of this filtration system. When you're evaluated for your filtration rate, it's estimating the effectiveness of your kidneys.
Is GFR the same as eGFR?
You may see two different terms or abbreviations used. They are GFR or Glomerular Filtration Rate and eGFR or Estimated Glomerular Filtration Rate. They are different terms to express kidney function and show if you have healthy kidneys. GFR is an indicator of renal function and may also be referred to as your kidney function. GFR represents the amount of blood filtered by your glomeruli each minute. eGFR is estimated GFR and is a mathematically derived entity based on your serum creatinine level, age, sex, and race.
Is eGFR The Only Test For Kidney Health?
Other tests that may be done to help detect kidney damage and/or evaluate kidney function are: Urine albumin (microalbumin) and albumin/creatinine ratio (ACR) used to screen people with chronic conditions, such as diabetes and hypertension, that put them at an increased risk of developing kidney disease; increased levels of albumin in the urine may indicate kidney damage. (labcorp.com)
What Are Some Of The Risk Factors For A Low GFR?
Risk factors include: Diabetes, high blood pressure, cardiovascular disease, and a family history of kidney failure all contribute to your risk of having kidney failure.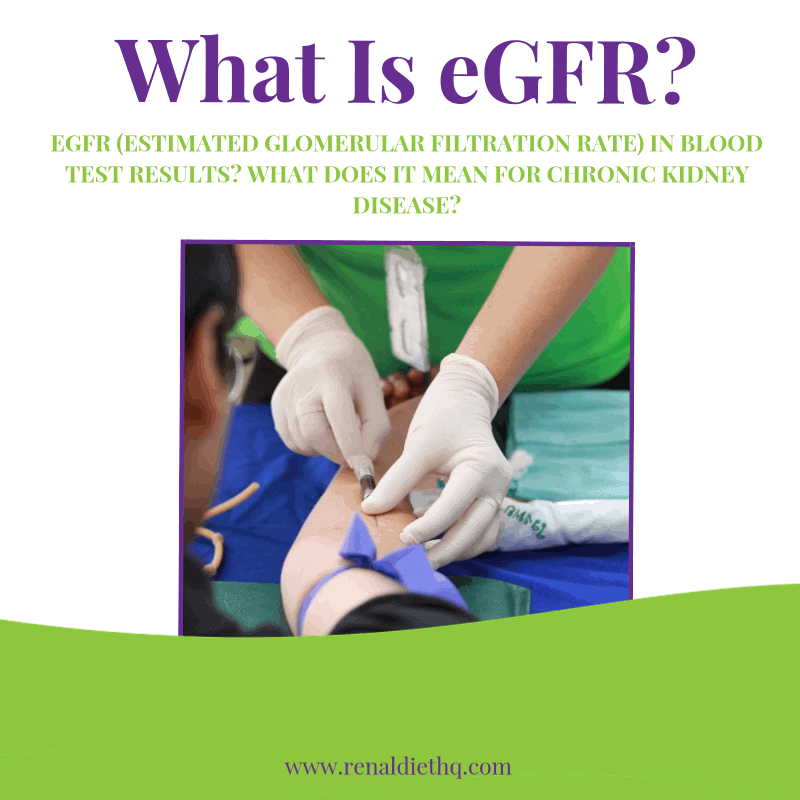 Why Take A eGFR Blood Test?
There are several important reasons to take an eGFR blood test. The blood test measures your serum creatinine level, which is part of the eGFR result. The test itself is simple. Your health care practitioner will collect a sample of blood. If you have a family history of kidney disease, it's important to have an eGFR blood test. Additionally, some conditions like Type II Diabetes and high blood pressure or hypertension, can cause kidney damage. If you get tested early, you can take steps to prevent further damage to your kidneys.
How accurate is the eGFR test?
Because eGFR is an estimate, some of the accuracy is dependent on your health care practitioner. Additionally, because creatinine is part of the mathematical equation to determine your eGFR, it's important to understand that your creatinine can vary. Creatinine isa waste product produced by muscles from the breakdown of a compound called creatine.
For example, if you are pregnant or very muscular, your creatinine may be higher than the average person. Urinary tract infections, dehydration, and some medications can also affect creatinine levels. Your doctor should perform a thorough assessment with you before your eGFR is calculated.
How often should GFR be checked?
The frequency of testing your kidney function or GFR depends largely on your health right now. If you have impaired kidney function, hypertension, or Type II Diabetes, your doctor may want you to get tested every 6 months or more frequently. If you have a normal to moderate eGFR, they may ask you to recheck annually.
What Are the Symptoms of Low GFR?
If chronic kidney disease runs in your family or you're concerned about kidney disease, look for some telltale symptoms including:
Fatigue
Fatigue or lethargy is a common symptom of impaired or poor kidney function. If your kidneys aren't able to properly filter waste, it can back up in your body and cause issues throughout your entire body.
Swelling and Inflammation
If you find that your face, your feet, or your ankles are more swollen than usual, you may be dealing with poor kidney function or low GFR.
Increased Urination
Increased urination, especially at night, is a common problem for many conditions. And it's a side effect of some medications that you may already be on. However, if you're experiencing increased urination along with fatigue and/or swelling, it's time to go to your doctor.
Other possible symptoms can be dry and itchy skin, trouble sleeping, poor appetite, trouble concentrating, and muscle cramps.
How The eGFR Test Works
The eGFR test is a mathematical equation that takes your age, race if you're black, gender, and creatinine levels into consideration. The creatinine levels are determined by taking a sample of your blood and measuring them.
Will drinking water increase my GFR?
Drinking water and being well hydrated will provide a more accurate blood sample for the test. When you're dehydrated, it can cause your creatinine levels to be higher. It's important to be properly hydrated not only for good kidney function but also for accurate test results.
What Is a Normal eGFR Blood Test Number?
Remembering that GFR levels are an indication of kidney function, there are several levels. A Stage 1 Kidney Function is when you have 90% kidney function. Your GFR then would be 90. Stage 2 Kidney Function would have a GFR of 60-89, meaning that your kidneys are functioning at 60-89% capacity. This is considered a mild loss of kidney function.
What Is an Abnormal eGFR Blood Test result?
GFR below 60 indicates kidney disease. These levels are broken down into 4 levels. Stage 3a is mild to moderate loss of kidney function and your GFR would be 45-59. Stage 3b is considered moderate to severe and has a GFR range of 30-44. Stage 4 kidney function is considered severe and has a range of 15-29. Anything below 15 is Stage 5 and is considered kidney failure, and you may need to be on dialysis or get a kidney transplant as recommended by your doctor.
What Does My eGFR Number Mean in A Blood Test?
As discussed earlier, your eGFR is calculated using an equation. The eGFR calculation is based on your gender, age, creatinine levels, and race. The portion of your blood test that factors into your eGFR is the creatinine levels. The normal range for creatinine levels are 0.74 to 1.35 mg/dL for adult men and for adult women, 0.59 to 1.04 mg/dL. Creatinine levels can be influenced by the amount of muscle mass a person has, and can affect the test results if a person has a lower or higher muscle mass than the average person, such as someone who is elderly or frail.

Can you have a low GFR and not have kidney disease?
It is possible to have a low GFR and not have kidney disease. There are some factors that can affect your creatinine levels, which is a factor in calculating your eGFR. Dehydration, urinary blockage, and some medications, can change your blood test results. If you have a low GFR, your doctor will likely perform a number of other diagnostic tests and have your blood tested again in a month.
What Happens If My eGFR Calculation Results Show I May Have Chronic Kidney Disease?
Generally speaking, if you have kidney disease, there are some lifestyle steps you can take that make a difference. Diet, exercise, lowering your blood pressure, and changing your sleep and stress management habits can go a long way toward managing kidney disease. Quitting smoking, cutting back on alcohol, and saying hydrated are also important lifestyle changes you can make.
Always Make Sure to Talk to Your Doctor If You're Concerned With eGFR Test Results And Any Treatments Necessary!
It's always important to talk with your doctor about options and to ask questions. They can help you navigate your diagnosis. Keep in mind that if you get an eGFR test result that indicated kidney disease, there are additional tests to take to confirm this diagnosis. You also have control in this process. Lifestyle habits make a significant impact on the quality of your life and the health of your kidneys.