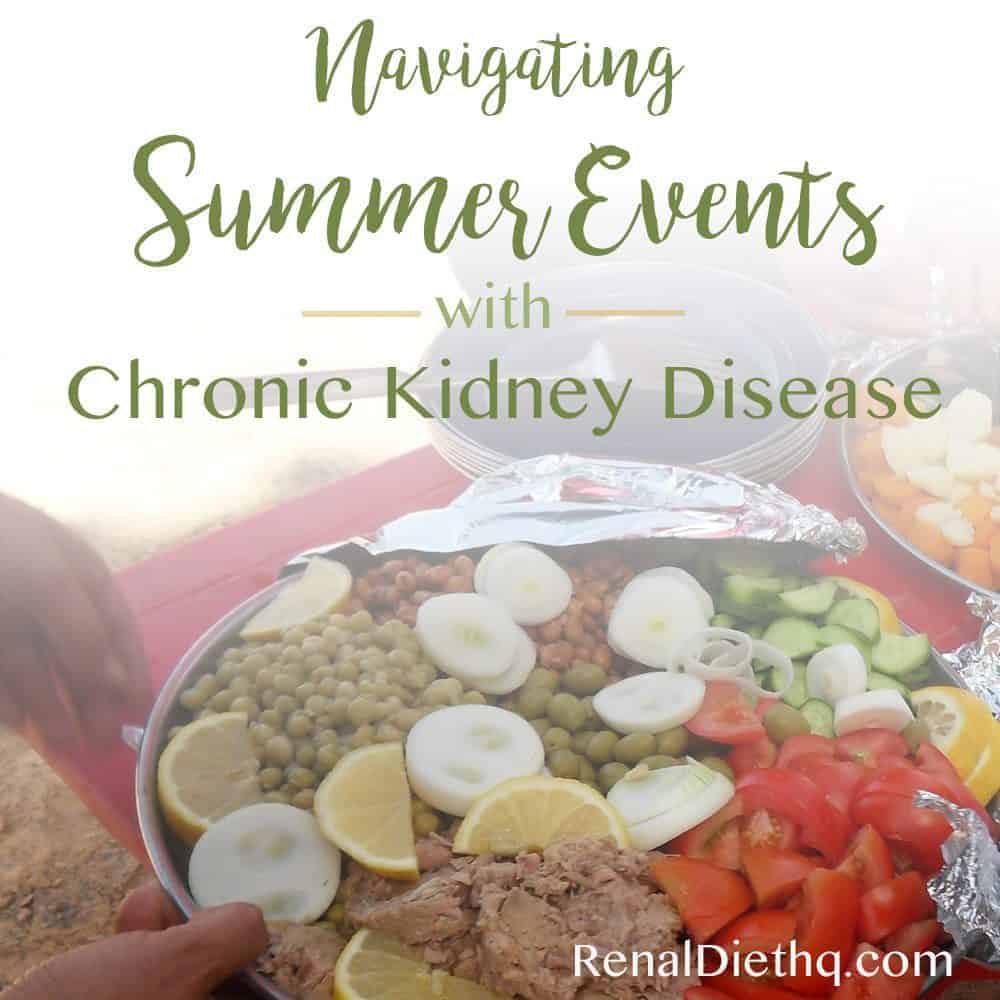 Summer is prime time for picnics, barbecues, camping, and outdoor parties. Living with a strict diet due to chronic kidney disease can put a damper on these festivities if you don't know what you can safely eat in these situations. To help you navigate all of the upcoming summer events, here are some common foods that you should be able to enjoy:
Picnics
Pasta Salad: Pasta salads typically come in two varieties- mayonnaise based, and vinegar based. The vinegar based, such as those made with Italian dressing, is the type that is best for you to eat. A simple pasta salad, made with noodles, carrots and other veggies, and Italian dressing is delicious and kidney friendly.
Fried Chicken: Fried chicken is not usually something you should eat on a renal diet, but it is a staple at picnics. If there are no other options for you, remove the skin and just eat the meat. It will be less greasy and salty, and therefore less of a danger to you.
Fruits and Veggies: Most picnics always have vegetable trays or salads. Make use of these offerings and fill your plate with mostly fresh veggies and some fruit.
Barbecues
Pulled Pork: Pulled pork is generally considered safe for kidney disease patients, especially as an alternative to burgers or especially the sodium bombs known as hot dogs. Go easy on the sauce, especially if it is the sweeter tomato based kind. If it is available, vinegar based sauce is best.
Grilled Chicken: Most backyard barbecues typically offer burgers, hot dogs, and chicken from the grill. Between the three, grilled chicken is the healthiest option. If there is no option for fish or chicken, a small burger would be okay but avoid hot dogs at all costs.
Coleslaw: Many side dish options at barbecues are either potato based or drenched in cheese or sauce. Pasta salad, coleslaw, and salads are your best options for kidney safe side dishes. If your doctor has not restricted potassium, you can also eat potato salad.
Camping
Fish: If you are fishing and camping, you are in luck because fish is a great option for you to eat. It is lean and full of protein and nutrients, so you can safely enjoy your catch. There is nothing better than fire grilled, fresh caught fish with a little lemon juice.
Rice: Sides can be tricky when camping, but you can pretty easily bring along some rice to cook over the fire. Minute rice is usually pretty easy, and won't be as bad for you as baked beans or other canned goods.
Hot Dogs: Hot dogs, as a general rule, should be avoided at all costs. However, they are a staple for campfire dinners. You can eat vegan hotdogs, which are nitrate free and made of meat alternatives. They actually taste pretty delicious too.
Pool Parties
Cool Drinks: Blend up some frozen sugar free lemonade or limeade for a frosty beverage that will keep you cool at a day at the pool.
Frozen Treats: When ice cream isn't an option, get creative. Blend up some frozen berries or peaches in a food processor instead of ice cream, or pour some fruit puree into ice pop molds and freeze.
Of course, you should always talk to your doctor about your particular diet and which foods you should seek out or avoid. Every person is different, and so your specific dietary restrictions may be different. Always keep these factors in mind, and it will be easier to enjoy your summer events.