How to Plan Kidney-Safe Meals the Whole Family Can Enjoy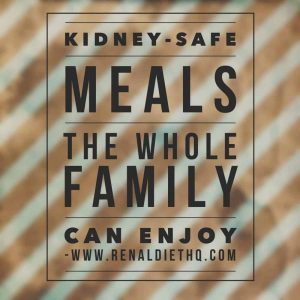 At any stage of kidney disease, meal planning is one of the most important factors to a healthy lifestyle. What you eat and drink has major implications to your health and comfort. If you are cooking to feed a family and not just yourself, you want to be able to make kidney safe meals that your whole family can enjoy. After all, you do not want to have to cook separate meals for yourself and your family. Not only that, but it is always a good idea to start your family eating healthier, especially with a history of illness in the family.
Planning Basics
Especially when you are cooking for a family, effective planning is your best bet for being able to maintain consistent healthy meals. Typically, it is when you are rushed and unprepared that you make poor decisions about what to cook or feed yourself and your family. Putting together a thorough meal plan, including all meals and snacks, and knowing what you will be eating for the next week or so will really help you to stick to the best and healthiest meals. You can plan what you want to eat, find healthy recipes, make shopping lists, and do prep work ahead of time to make things so much easier on yourself.
Simple Seasonings
One of the biggest issues that a lot of people have with kidney safe diets is avoiding certain additives, especially sodium, in cooking. Your best tool for tackling this problem is to avoid using salt, and rely on herbs and spices to flavor your food instead. You do not have to get real fancy or know a lot about cooking to make this a successful endeavor. There are even a lot of salt-free seasoning mixes that are ready to use available at most grocery stores. These make it easy to season foods perfectly so that everyone can enjoy a delicious meal without the added salt.
Fresh Offerings
It should come as no surprise that fresh vegetables, beans, and more taste so much better than canned. Your whole family will notice the difference when the food on their plate is fresh and delicious, and your health will fare better for it too. When you cannot find what you are looking for fresh, you can also turn to frozen as most of the vitamins and nutrients are preserved in freezing, and there are no extra preservatives like there are in canned. Whatever you can get that is the freshest, the better off you will all be.
Tasty Substitutions
Just because you are eating a healthy, kidney safe diet does not mean that you have to cut out all of your favorite foods completely. There are still some foods that you can enjoy on special occasions, and favorite foods that you can effectively recreate, with some simple and tasty substitutions. For example, you can replace most high fat dairy products with non-dairy replacements made with soy or from nuts or other sources. Another example is squeezing fresh lemon on top of dishes that might taste like they need more salt. The list of tasty substitutions just goes on, so you can make your family's favorite meals more kidney-safe for you.
Just because you are living with kidney disease or illness does not mean that you have to eat separately, or that you and your family cannot enjoy your meals together. There are plenty of kidney safe, family friendly meals that you can make. It all starts with a little planning. Learn more about kidney disease here.