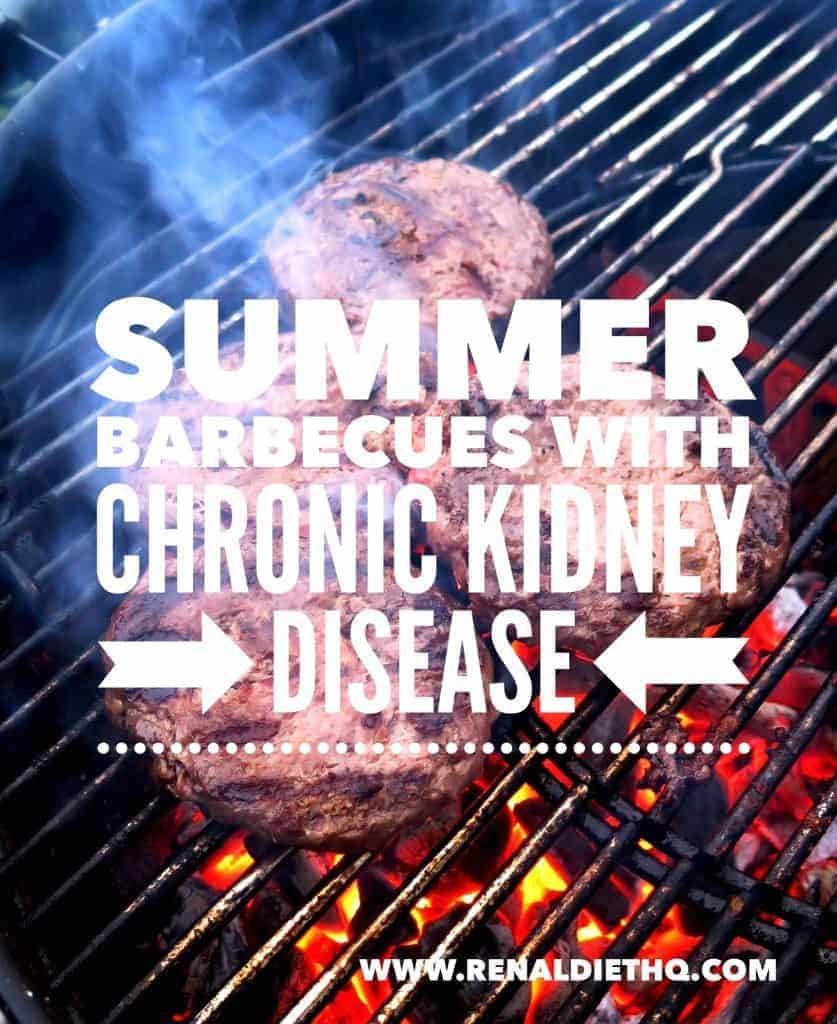 Navigating a party or other get-together when you are on a diet can sometimes be difficult. For people with chronic health conditions, like chronic kidney disease, it is not just a matter of your waistline that you maintain a healthy diet no matter what the situation. In these cases, it is a matter of your health and well-being.
Following a somewhat restrictive diet is part of living with chronic kidney disease. Your diet is often just as important as any medications you take. This is because your diet often has the most effect on your kidney function than anything else. After all, everything that goes into your body is eventually processed and filtered by your kidneys. So it is no wonder that what you eat is so important when it comes to renal disease.
Barbecues are a wonderful and often unavoidable part of summer. They are a fun way to bring friends and family together and enjoy the warm weather. Often barbecues take place in your very own backyard, or around a pool or lake, so people can enjoy all of the perks of summer. Barbecues are so great, you don't want to have your party ruined worrying constantly about what you can and cannot eat.
Here are some tips for navigating the summer festivities without botching your kidney safe diet:
Host or Bring a Dish
The easiest way to combat your fear of having nothing kidney safe to eat is to, of course, provide your own meal. You can do this a number of different ways. Of course, you could host the party yourself so you have more control over what gets cooked. If you are going to someone else's event, you can bring some items that you will be able to safely enjoy.
There are two ways to go about bringing your own food to a barbecue. You can bring a kidney safe dish that can be shared with everyone, or you can bring just enough for yourself. If you can, it is always best to bring enough to share. Otherwise, make sure to speak privately to the host and explain your situation so you don't come off as rude. Likely, the host will have no problems at all grilling up some vegetables and fish, or whatever you decide to bring.
Fending the Buffet
If you find yourself at someone else's event where you were unable to bring a kidney safe dish for yourself, you can still find plenty to eat. You just have to know what to look for and what to avoid.
Do your best to stick to lean protein options. Fish or shrimp would be optimal, but if there is a lean cut of another meat a small serving should be okay. If you find yourself tempted or faced with no other option than a hamburger, choose the smallest portion you can and focus on the best toppings possible. Mustard, lettuce, and mayonnaise are the most kidney friendly toppings.
Try to avoid anything that is swimming in a lot of sauce, as sauces are where tons of sodium tends to hide. Remember that no matter how delicious those fried pickles or ribs drowning in sweet barbecue sauce might smell, you could ultimately end up in a lot of pain. Do your best to make the good decisions for your health.
With vigilance and a little bit of self-control, you can navigate a summer barbecue just fine. Just keep in mind that this is all for your health, and enjoy the foods you can eat rather than focusing on what you might be missing out on. You can still have a very full life, click here for other ideas.