Strawberry Applesauce Jello Recipe with Sprite
Creating a great dessert can be hard for people with kidney failure.  This strawberry applesauce jello to the rescue - it's got a good deal of health to it and it tastes great.  Even if you don't feel well, you like to have some jello to soothe you.  
I found this recipe on a forum and decided to try it out, making adjustments based on chronic kidney disease. It's interesting because it has applesauce but it doesn't really taste like it. Tell me what you think!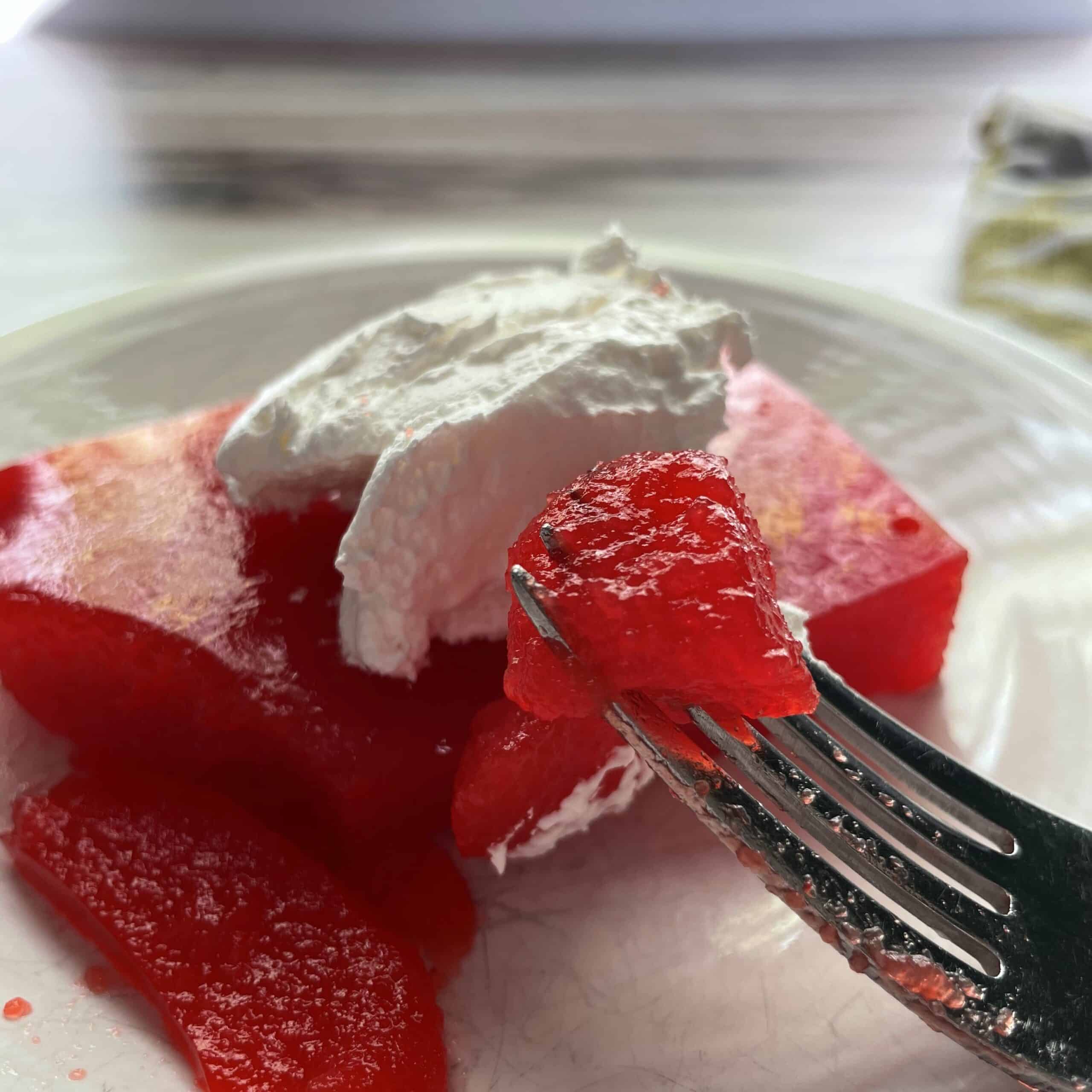 Gelatin desserts are a real winner for potlucks and buffets. They're a sweet treat you can feel good about, especially when watching what you eat.
Whether it's a holiday bash or a summer BBQ, you can jazz them up with different colors and flavors to fit the vibe. This strawberry applesauce jello made with sprite can easily be a red, white and blue (add some blueberries) dessert.
Plus, if you or someone you know has Chronic Kidney Disease (CKD), these desserts are a smart choice because they're low potassium and phosphorus. And hey, even on those not-so-great days when you're feeling under the weather, a bit of jiggly jello can be just the light pick-me-up you need.
Jump to:
Ingredients
I used the lemon lime soda to keep the phosphorus and potassium amounts in the recipe down, and you can easily use 7-up if you prefer. Using the applesauce keeps the gelatin moist and adds soluble fiber without adding much difference to the end product. And whipped topping makes it fun.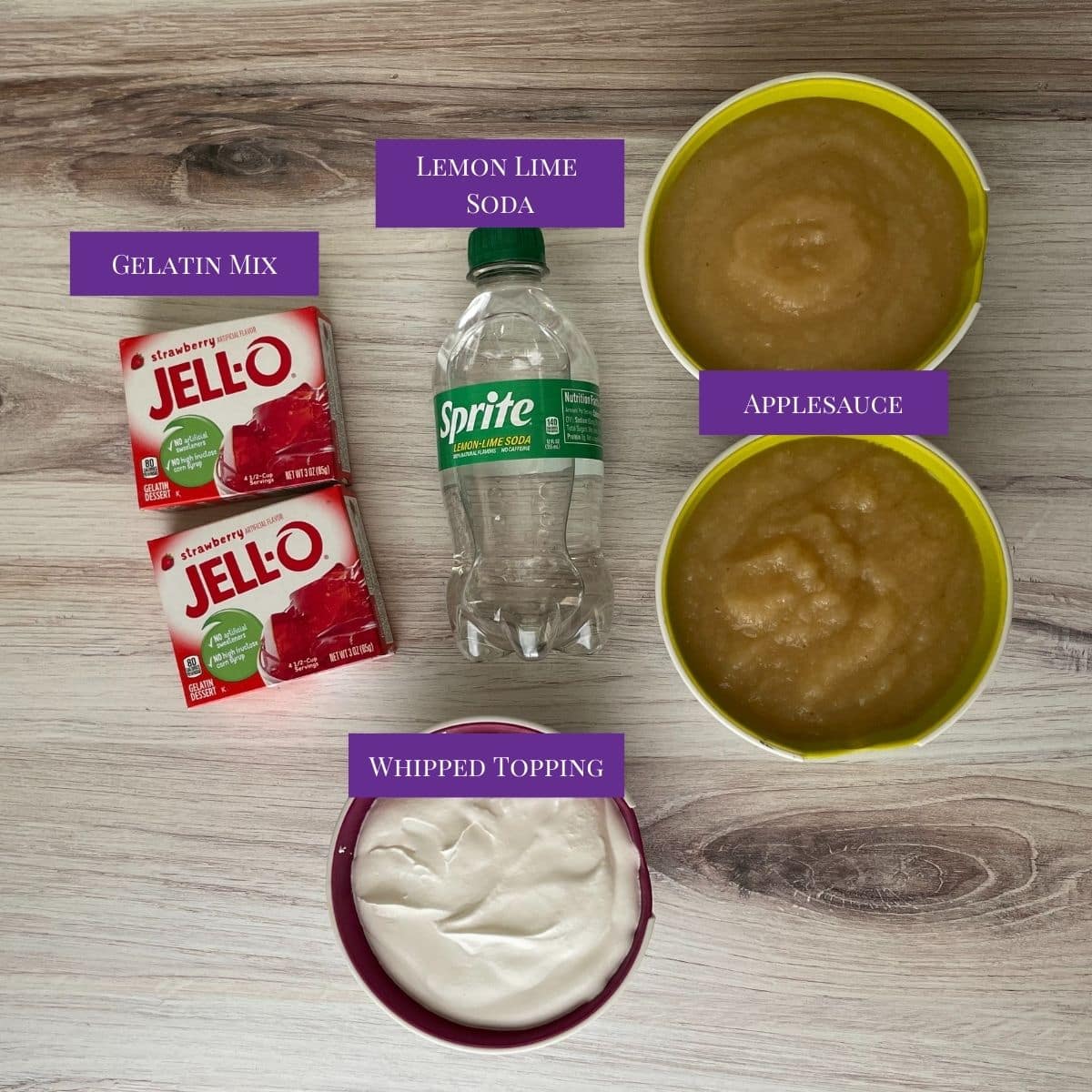 See recipe card for quantities.
Variations
An applesauce jello recipe made with gelatin, applesauce, and lemon lime soda (like sprite or 7UP) already combines the jiggly texture of gelatin with the fruity notes of applesauce and the carbonated zest of sodas. Here are some variations to enhance or modify the flavor and appearance of this dessert:
Fruit Additions:

Berries: Fresh or frozen raspberries, blueberries, or strawberries can add color and a burst of flavor.
Sliced Fruits: Thin slices of kiwi, banana, or peaches can offer a unique texture and taste.

Flavor Enhancements:

Spices: A dash of cinnamon, nutmeg, or allspice can pair well with applesauce.
Citrus Zest: Grated lemon, lime, or orange zest can elevate the fruity freshness.

Different Liquids:

Other Sodas: Consider ginger ale, or even flavored sparkling waters.
Fruit Juices: Replace part of the lemon lime soda with apple juice, cranberry juice, or grape juice for a more robust fruit flavor.

Layers:

Prepare the gelatin in layers, perhaps one layer with applesauce and another without, or alternate with different flavors or colors of gelatin.
Use clear and opaque layers to create a visually appealing effect.

Creamy Variation:

Introduce a layer or swirl of whipped cream, yogurt, or a non-dairy alternative to add a creamy texture and appearance.

Herbal Notes:

Fresh mint, basil, or rosemary can be infused into the mixture for a gourmet touch. Ensure to finely chop or remove after infusing.

Texture Variations:

Mix in or layer with granola or cookie crumbs for a contrasting texture.

Nutty Crunch:

Garnish with chopped toasted nuts like walnuts, almonds, or pecans for added crunch and flavor.

Sweet Add-ins:

Mini marshmallows, chocolate chips, or gummy bears can make the dessert more fun and kid-friendly.
When experimenting with variations, it's essential to consider how the added ingredients might interact with the gelatin setting. Always allow ample time for each layer to set if making a layered dessert.
Also remember that any changes would change the nutritional values of the recipe so be sure to account for that in your dessert.
Substitutions
If you don't want to add the whipped topping, it reduces the nutritional values by 14 calories, 4 mg sodium, 6 mg potassium, and 4 mg phosphorus.
Instructions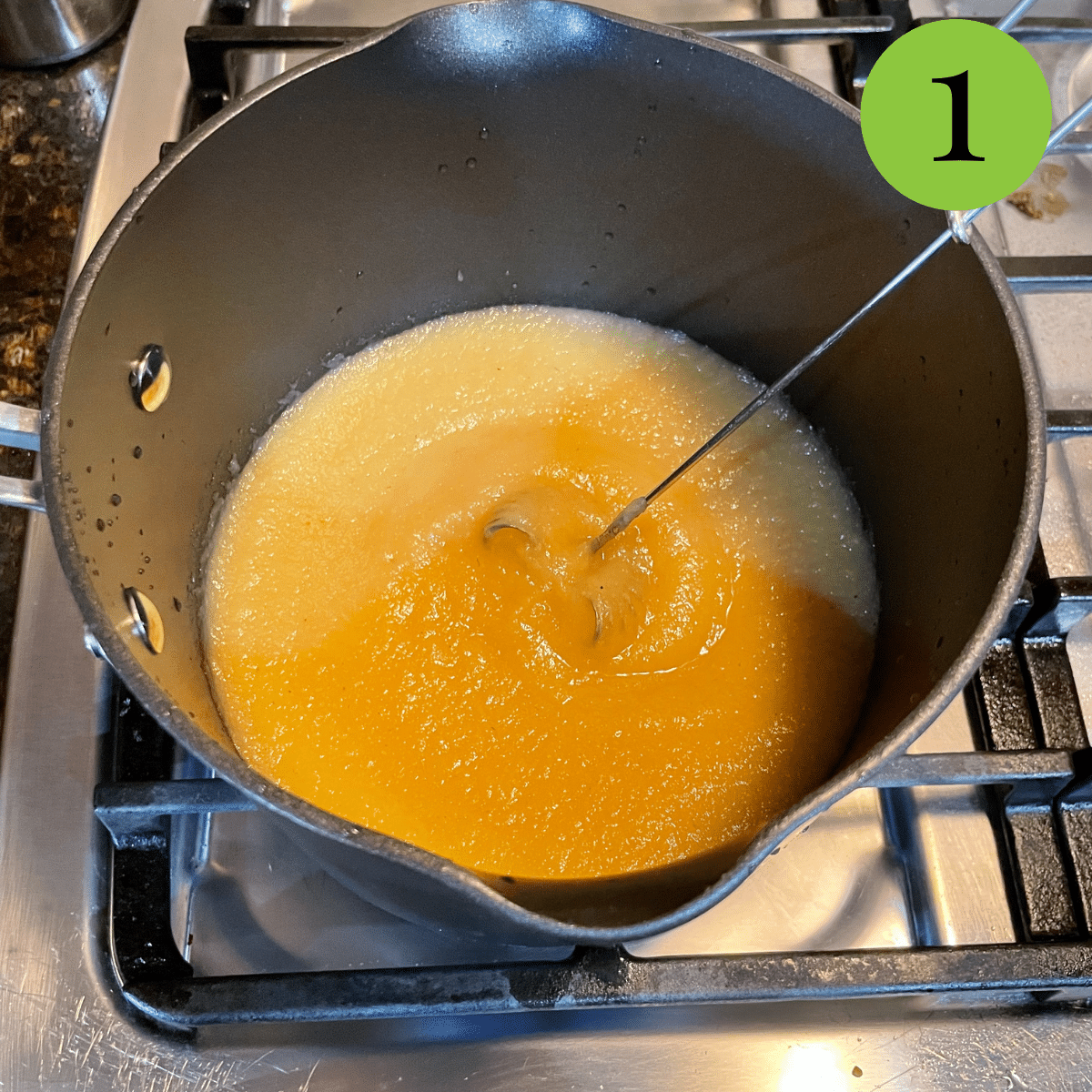 Add applesauce to pan and start to warm on low heat.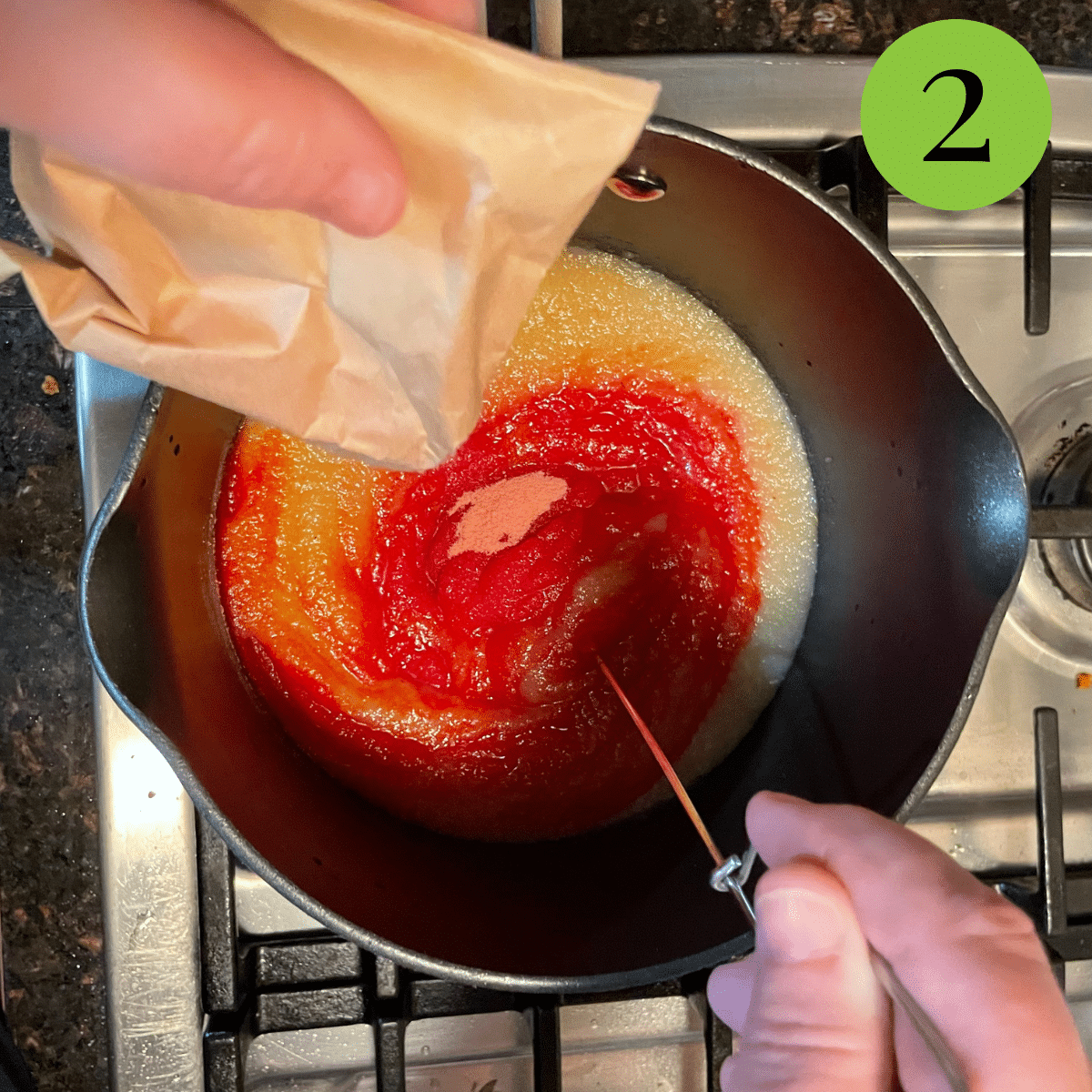 2. Add the gelatin using a whisk. Mix together and heat gently until Jell-o is dissolved - you may see a few bubbles as you stir continuously. Warming gently takes about 5 minutes on low - medium heat.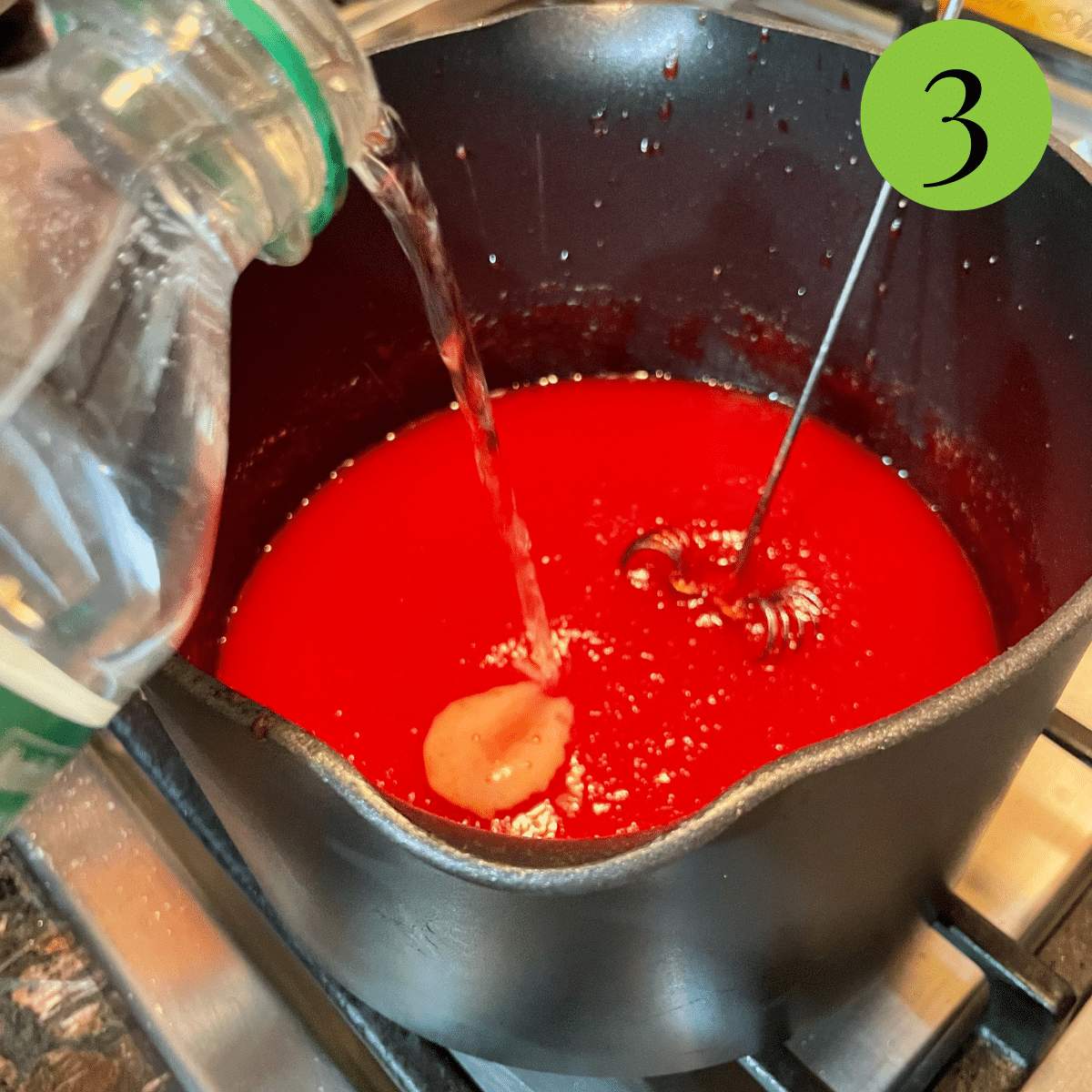 3. Remove from heat, then add the lemon-lime soda a little at a time while mixing into the gelatin.
4. Pour into the 2 quart pan - it will be a little foamy on top. Refrigerate until it sets - about 2 hours.
Hint: Using any gelatin color mix is fine, whatever flavor you want. The lemon-lime soda does not change the flavor of the product.
Storage
After cooking the gelatin, you will need to make sure that you have room to put it into the refrigerator to cool, then add whipped topping. You can cover any leftovers and store in the refrigerator for up to 5 days.
FAQs About Gelatin and CKD
Is gelatin safe for someone with CKD to consume?
Generally, plain gelatin is low in potassium and phosphorus, making it a safe dessert option for most people with CKD. However, individual needs may vary, so it's essential to consult with a dietitian or doctor.
How much potassium is in the applesauce used in the gelatin dessert?
Applesauce can contain potassium. If you're on a strict potassium limit, you'll need to monitor the amount of applesauce you consume. Unsweetened varieties typically have less potassium than sweetened ones.
Can I use a sugar substitute in my gelatin dessert?
Yes, if you're watching your sugar intake or have diabetes along with CKD, you can use approved sugar substitutes. However, some sugar substitutes can have a laxative effect, so consume them in moderation.
Can I add other fruits to the gelatin dessert?
Many fruits have varying amounts of potassium. While apples are generally safe, adding other fruits might increase potassium levels. It's essential to be aware of the potassium content in any added fruits.
Is it safe to consume gelatin desserts daily?
As with any food, moderation is key. While gelatin with applesauce can be a CKD-friendly dessert, varying your diet can help ensure you get all necessary nutrients without overconsuming any single one.
Does the type of gelatin matter for CKD?
Most commercially available gelatin products are derived from animal collagen and are similar in nutrient content. However, if considering plant-based gelatin alternatives, it's crucial to check the nutritional content and consult with a dietitian.
If you tried this Strawberry Applesauce Jello Recipe with Sprite or any other recipe on my website, please please leave a 🌟 star rating and let me know how it goes in the 📝 comments below. I love hearing from you!
Print
📖 Recipe
Strawberry Applesauce Jello With Sprite
Great dessert for the party or potluck - choose any color gelatin.
Author: Mathea Ford
Prep Time:

5

Cook Time:

120

Total Time:

125

Yield:

1

2

1

x
Category:

Dessert

Cuisine:

American

Diet:

Low Fat
12

ounces

Sprite or other clear soda beverage

2

cups

applesauce, unsweetened, without added Vitamin C

2

packages of sweetened gelatin mix

1

cup

whipped topping
Instructions
Use a 8 x 11.5 pan that is 2 quart capacity for the final product to chill in.
Put the applesauce in a 2 quart saucepan, then add the gelatin using a whisk. Mix together and heat gently until gelatin is dissolved - you may see a few bubbles as you stir continuously. Warming gently takes about 5 minutes on low - medium heat.
Remove from heat, then add the lemon-lime soda a little at a time while mixing into the gelatin. Pour into the 2 quart pan - it will be a little foamy on top. Refrigerate until it sets - about 2 hours.
Add the whipped topping once the gelatin is set and firm.  Then cut into pieces and enjoy!
Notes
This is delicious and you can do with or without the whipped topping.  Make sure you use a pan you can put into the refrigerator to chill the Strawberry Jell-O and Applesauce dessert.  You can store in your refrigerator covered for up to 5 days.  
Keywords: kidney disease diet recipe, recipe for kidney disease, renal diet recipe, renal diet dessert, gelatin dessert, jello with applesauce
Recipe Card powered by