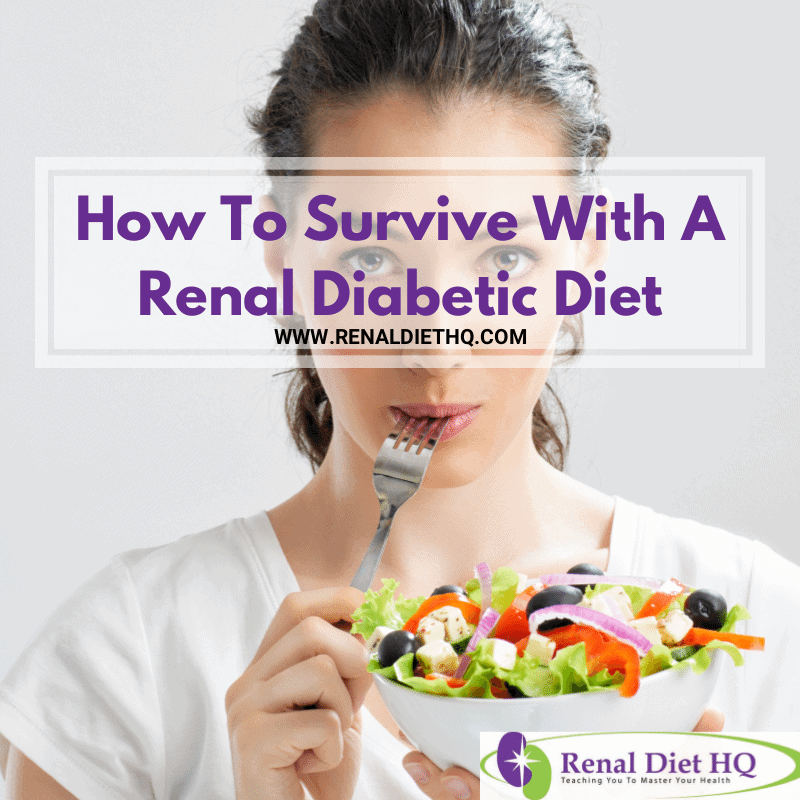 Now that you have a good idea what a renal diabetic diagnosis means from our renal diabetic article, what do you need to do about it?  I know that you are worried and maybe nervous about what a kidney diet diagnosis means in addition to you already having diabetes, but the answer is that you need to follow a renal diabetic diet. People may also be nervous about the implications of their diagnosis' on their ability to get life insurance. This is a valid concern but the information available on the internet should be able to serve as somewhat of a comfort to those with the condition because, as it turns out, they are not alone! Many people have asked the question "Is Life Insurance for Diabetics Affordable?" and, in most cases, have received satisfying and relieving answers.
What Do I Do To Follow A Renal Diabetic Diet?
So let's think about this.  You have had diabetes for a while, most likely.  You have learned about what carbohydrates are and how to eat them.  Now, if even if you were following a strict diabetes diet, and doing your best to manage your blood sugars you can get kidney problems.  It seems to be an almost inevitable part of things.  SO don't beat yourself up about it.
Diabetes is controlled by the amount of carbohydrate that you eat.  And if you limit your carbohydrate, you tend to eat more of the fat and protein types of foods in your diet.  Over time, you have learned to eat less bread, pasta and rice as part of a renal diabetic diet.  If you read what I typically write about, I discourage the use of white or processed grains.  You should work on eating more unrefined grains.  Unrefined grains are the items labeled whole grains, whole wheat or in general are not completely processed so they start digesting in your mouth.  They contain fiber.  Fiber is good for you.  You can eat fiber and it does not break down into sugars that are absorbed by your blood stream when you are trying to follow a renal diabetic diet.
Either way, you have adapted and learned to eat less carbohydrate – or you have had blood sugars in the 300's and higher.  Ask me, my mom is dealing with this and she still wants to drink regular soda.  You can't drink regular soda, nor can you eat a lot of regular candy.  You have to portion the amounts of food that you eat and make it even out throughout the day.  Carbohydrate is found in both pasta, grains, sugars, desserts and some "vegetables": – corn, peas and potatoes come to mind.  They are mainly starch and contain little fiber.
A Renal Diabetic Diet Takes Into Account Both Carbohydrate And Protein
Now that you have learned to eat only the best – in both quantity and quality – of carbohydrates, you have filled in the missing food with protein and fat type foods.  Fat does not raise your blood sugar in the same way that glucose (sugar) does.  It may, over time, be broken down into sugar for your body, but it's much easier for your body to store it – a simple reason why you should try not to eat a ton of it.
Protein used to be an easy filler for meals, because it did not add to the carbohydrate load, yet your body has to store it by breaking it down.  So it takes a bit of energy to store and that makes it less likely to be used as sugar by your body.  That was great.  Now, though, you have kidney disease.  Well, that means that you need to control the amount of protein that you can eat.  UGH!
So, protein is in a lot of foods.  Protein is (obviously) meats, pork, chicken, veal, and turkey.  Protein is also a part of pastas as well.  It's in bread, vegetables, milk, cheese and a lot of other things.  Now that you have some kidney problems you need to limit the amount of protein.  Not necessarily a lot, but it will affect you.  As you progress from stage to stage, you will have different amounts of protein that you need.  Kidneys are sensitive to protein, and as your body progresses through kidney disease, you may need to eat more or less.  As you progress from stage 1 – 4, you decrease the amount of protein that you need.  Then, when you become a kidney dialysis patient (if you do), you get to go back to a higher amount of protein.
I think this means that you need a renal diabetic diet plan, and if you want to know more about a renal diabetes diet plan, sign up in the box below for our email list and we will give you our last article about building a renal diabetic diet plan.