So, The Doctor Has Ordered A Renal Diet
Getting diagnosed with a chro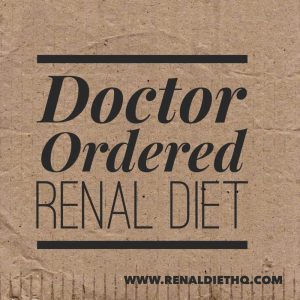 nic health condition can be pretty scary. Add to that the recommendation to change your diet and lifestyle, and it can really feel like this diagnosis has taken over your life. You have to do what you have to do though, so if the doctor has ordered a renal diet it means you need to follow through. Diet has a huge impact on your renal health and can considerably impact your health and well being with chronic kidney disease.
So, if your doctor has ordered a renal diet, here is what you need to do to make things better for yourself:
Follow Your Doctor's Orders
Generally, the doctor knows best. If you have a chronic disease such as renal disease, you would be surprised just how quickly something like that can advance and make your life truly difficult and uncomfortable. Listen to what your doctor has to say, discuss any diet or lifestyle changes you plan to make, and get a list of what foods you both should and should not eat on your new diet.
Build A Meal Plan
The easiest way to follow a diet is to build a meal plan around the parameters that your doctor has given you. Start by doing some research, such as finding kidney friendly recipes that fit into your new diet plan. Make a calendar and write in what you plan to eat for each meal, and do not forget to account for snacks. This will make your life so much easier by taking the guess work out of figuring out what you can or will eat for each meal. Do all of your grocery shopping a few days to a week in advance so you always have the ingredients you need. Also consider doing prep work, such as chopping vegetables, in advance so that each meal is made easy as possible. Following a meal plan this way makes it more likely you will follow the new diet.
Account For Everything
Another way that meal plans can help is by having a log of what you eat each day. It is a good idea to write down each and every item that you eat or drink so you can keep yourself accountable. It is also a great way to keep up with your progress and show your doctor how well you are following the renal diet plan. If you are using a meal plan where you have your meals planned and written out for you, make notes about how much you ate and if any changes were made each day. Also account for all of your fluids, as that can be very important on a renal diet.
Your doctor ordered renal diet is not at all the end of your life as you know it, but rather the beginning of a new you. You have the potential to create a whole new you, one that is so much healthier. Following your new renal diet will help you feel your best, and keep your body healthy and running smoothly for years to come. For some examples of a renal diet click here.