What Juices Are Good For Kidney Disease
Kidney disease can be a difficult thing to live with, but the right juices can help you manage your condition.
There are many different kinds of juices that are beneficial for those living with kidney disease, and in this article we'll explore what kinds of juices may be helpful and why.
We'll also look at some things to consider when selecting juices, such as the potential interaction between grapefruit juice (grapefruit and ckd) and statin medication.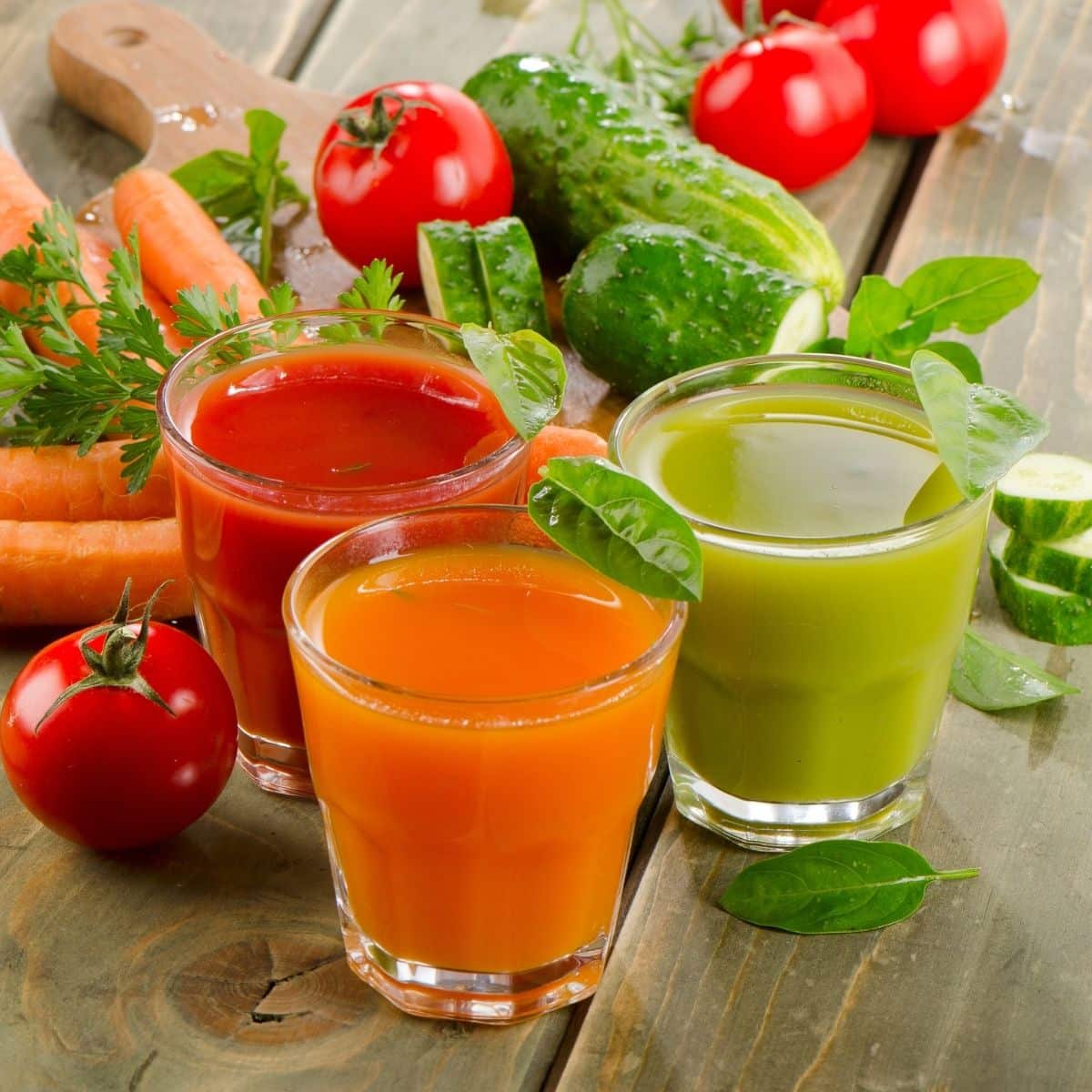 If you're living with kidney disease, read on to learn about which types of juice may be best for you!
Jump to:
Overview
In this overview, you'll get the scoop on which renal diet drinks are best for your health - and as they say, an ounce of prevention is worth a pound of cure. For those with kidney disease or at risk for developing it, it's important to be aware of how certain types of juices may affect your hydration levels and overall kidney health.
While there are risk factors that cannot be controlled, such as age or family history, diet and lifestyle changes can help alleviate the severity of symptoms associated with kidney disease.
It may be boring, sorry; however, water is easily the best beverage to drink if you have kidney disease. You should, in fact, it's recommended to drink at least 8 glasses of it daily in early stages of kidney disease as long as your doctor or health care provider hasn't told you to restrict fluids.
Staying hydrated with water helps kidney health. But what else can you drink? How about citrus juice or infused waters?
The cucumber water and fresh fruits at the spa always tastes refreshing and amazing. You can have black coffee, green tea, the occasional sparkling water or glass of red wine to reach your fluid intake.
When considering what type of juice to drink in order to maintain proper hydration levels and support healthier kidneys, look for unsweetened juices that don't contain added sugars.
Some juices like carrot juice, passion fruit juice, and pomegranate juice are typically high in potassium so should be avoided by patients with kidney disease since too much potassium can lead to heart problems.
On the other hand, cranberry juice is beneficial because it helps reduce inflammation in the urinary tract while also helping prevent urinary tract infections (UTIs).
Apple juice is also a good choice because its natural sugar content makes it easier for people with chronic kidney disease to digest compared to other beverages.
Keep in mind that while these juices may support better health outcomes for those with kidney issues, drinking any beverage excessively can lead to dehydration due to excessive urination caused by diuretics used in treating renal failure.
Therefore, speak with your doctor about how much fluid intake is safe when managing your particular condition before adding any new drinks into your diet.
For More Recipes and Ideas --->> Get Your Free Meals and Recipes That Are Perfect for Pre-Dialysis Diets, Pre-Dialysis with Diabetes, or Dialysis Diets.
Recommended Juices
For those who wish to get creative in the kitchen, there are plenty of recipes available online specifically tailored towards individuals on a kidney diet, such as apple cranberry juice or carrot orange juice blends.
Juice blending is an excellent way of creating tasty and nutritious drinks that support the nutritional needs of those with kidney disease.
What produce to eat with CKD? Choosing fruits and vegetables, look for low-potassium ingredients, such as apples, cranberries, blackberries, peaches, and pineapple. Additionally, be sure to pay attention to juice safety by always washing produce thoroughly before juicing.
For added flavor and nutrition, try adding herbs like mint or ginger, as well as spices like cinnamon or nutmeg. It's important to keep in mind that many store-bought fruit juices contain high amounts of sugar, which should be avoided if you have kidney disease.
When considering any type of dietary change, it's best to consult your doctor first and then work together with a registered dietitian who can provide individualized meal plans suited for your specific needs.
With careful selection and mindful consumption of certain juices, it is possible to enjoy flavorful drinks while still supporting healthy kidneys!
Low Potassium Juices
Individuals with kidney disease need to be mindful of their dietary potassium intake as high levels of potassium can be harmful to their health.
When the kidneys are not functioning properly, they may not be able to remove excess potassium from the body, leading to a condition called hyperkalemia. Hyperkalemia can cause muscle weakness, irregular heartbeat, and other serious health problems.
Low potassium juices can be an excellent option for individuals with kidney disease as they provide hydration benefits and essential minerals without increasing blood potassium levels.
Some examples of low potassium juices include apple, cranberry, and grape juices. These juices can help keep electrolyte levels balanced and prevent dehydration during physical activity (exercise for healthy heart) or hot weather conditions.
With so many delicious options available, low potassium juices offer plenty of ways to keep your kidneys healthy while still enjoying your favorite drinks!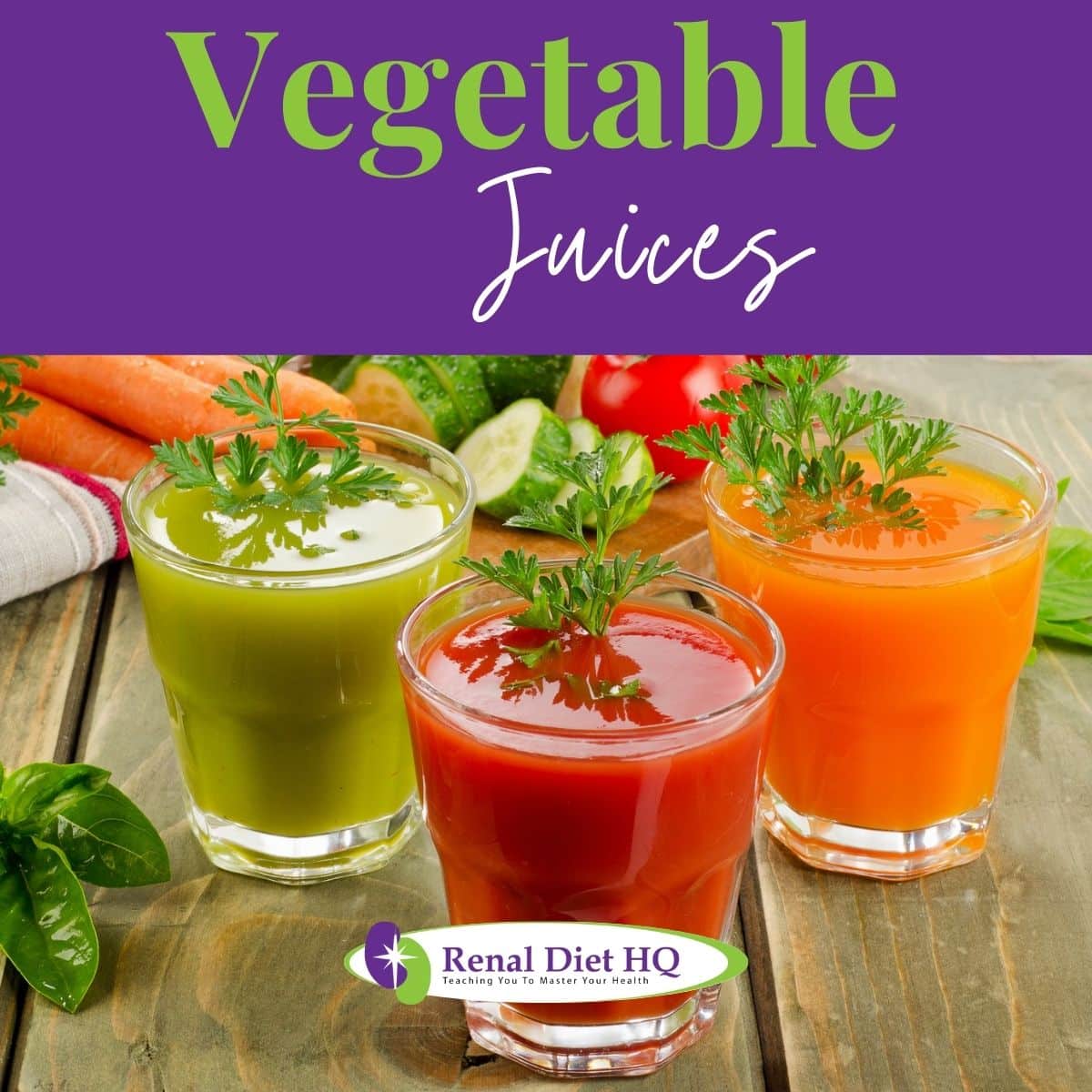 Vegetable Juices
Vegetable juices are packed with vita mins and minerals, making them a powerhouse of nutrition! For those with kidney disease, these juices can provide much needed nourishment without overloading the kidneys.
In particular, herbal tea, cucumber water, beetroot juice, apple cider vinegar (is apple cider vinegar harmful for kidneys?) and carrot juice are particularly beneficial for kidney health as they contain antioxidants which help to reduce inflammation:
Cucumber juice: Cucumbers are high in water content and low in potassium. Cucumber juice is also a good source of vitamin K and antioxidants.
Cabbage juice: Cabbage (cabbage recipes for kidney patients) is high in vitamins K, C, B6 and B9. Cabbage is also a great source of fiber.
All these juices provide essential vitamins and minerals that can improve your overall health and well being.
Green Juices and Smoothies
Enjoying a delicious green smoothie or juice is an easy way to increase your daily intake of essential vitamins and minerals. For those with kidney disease, it can be especially beneficial as you may struggle to get enough nutrition through other sources.
Green juices are made up of combinations of fruits and vegetables and can be combined with herbal teas for extra hydration. Smoothies offer additional options such as adding proteins, seeds, nuts, and other ingredients, which could help provide the necessary nutrients needed for optimal health.
To ensure that these drinks are healthy for those with kidney problems, it's important to look at the ingredients carefully and choose recipes that are low in added sugars and salts.
Water intake should also be monitored, so making sure that fruit combinations are balanced and using smoothie recipes that include rice milk or almond milk (almond milk phosphorus) instead of dairy products can help avoid the high potassium content of cow milk.
The benefits of drinking green juices or smoothies on a regular basis are numerous - they give our bodies the nutrition we need while being delicious! It's important to make sure any recipes chosen are tailored towards people with impaired kidney function in order to maximize gains while avoiding potential risks associated with this condition.
Some examples of green juices that are suitable for kidney patients are green apple and lemon juice and cucumber celery juice, as their ingredients are low in potassium amounts and are suitable for a kidney diet.
A well-rounded diet is still always recommended, but adding some natural juices into your weekly routine could certainly benefit your health in the long run.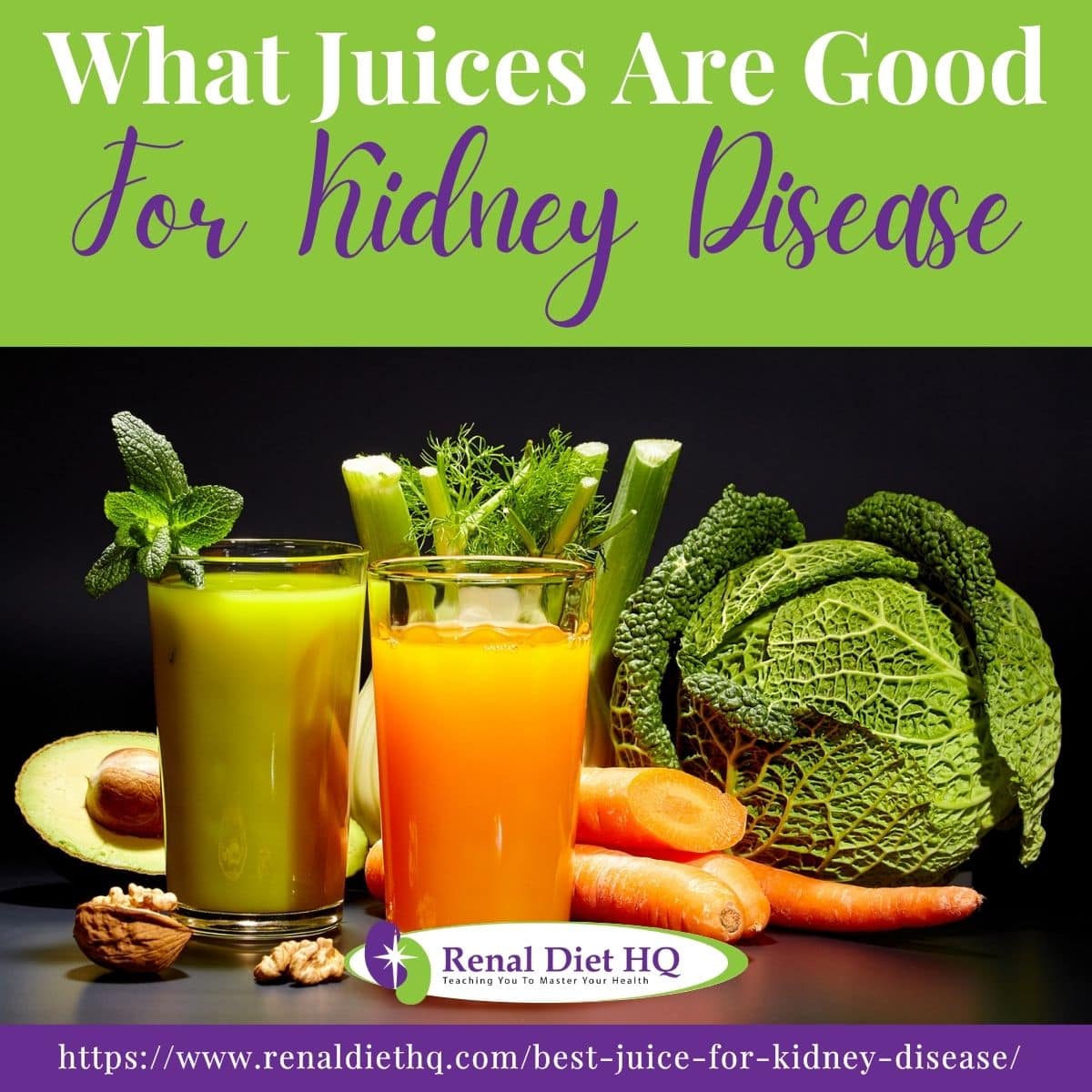 Grapefruit and Statin Medication
Eating grapefruit or drinking grapefruit juice can interfere with the effectiveness of statin medications, which are lipid lowering drugs, so it's important to talk to your doctor before consuming either.
Grapefruit is known to increase blood levels of certain cholesterol-lowering drugs, potentially increasing their side effects or leading to dangerous drug interactions.
A renal diet for kidney disease includes avoiding large amounts of potassium, which are present in many fruits and vegetables including grapefruit.
In addition to avoiding grapefruit, patients with diseased kidneys may need other dietary modifications such as limiting sodium intake.
It's also important for people on dialysis treatments or considering dialysis options to make sure their dietary choices align with their treatment plan.
Are you finding yourself saying "my doctor prescribed a renal diet?" It's always best to check with your doctor before introducing any new foods or drinks into your diet when living with chronic kidney disease.
Living well with kidney disease requires close monitoring of what you eat and drink, including being aware that some fruit juices can affect the efficacy of certain medications like statins.
Cranberry Juice Benefits
Cranberry juice is a rich source of various vitamins, including vitamin C, vitamin E, vitamin B2, vitamin B3, vitamin B1, vitamin B9, vitamin B6, vitamin K, and vitamin A.
If you're living with kidney disease, it's important to know that drinking cranberry juice may help prevent developing UTIs due to its antibacterial properties.
People who drink cranberry juice also have lower low-density lipoprotein (LDL), which is also known as the "bad" type of cholesterol. This means that cranberry juice might also be beneficial for your heart health.
Is cranberry good for kidneys? When considering drinking cranberry juice as part of your nutrition plan, be sure to get advice from your doctor or dietitian regarding proper mineral intake.
It is also important to stay hydrated by drinking plenty of water throughout the day while avoiding sugary drinks such as soda or sports drinks.
When monitored properly, incorporating cranberry juice into your diet as part of a healthy lifestyle has many potential health benefits.
| | | |
| --- | --- | --- |
| Hydration Strategies | Nutrition Resources | |
| Drink plenty of water | Eat protein-rich foods | |
| Avoid sugary drinks | Incorporate fruits & vegetables | |
| Limit caffeine intake | Get adequate vitamins & minerals | Limit sodium intake |
Lemon and Lime Juice
Replenish your body with the refreshing benefits of lemon and lime juice for a natural boost to your health! Enjoying these fruits in their juiced form can provide a variety of health benefits, particularly if you're living with kidney disease.
Here are just a few reasons to incorporate lemon and lime juice into your diet:
* Lemons are an excellent source of Vitamin C, which supports your immunity.
* Lemons may help prevent kidney stones.
* Lemons and limes may help you lose weight.
Lemon and lime juice offer an easy way to add flavor and nutrition into your daily routine while managing chronic kidney disease. Take advantage of this delicious duo now!
FAQs for Best Juice for Kidney Disease
Enjoy Drinking Juices With Your Kidney Diet
Now you know what juice is good for kidney disease and reducing kidney damage and kidney failure so you can make the best juice choice as a dialysis and chronic kidney disease patient.
Keep in mind that water is always best and juice consumption should be limited due to the high sugar and carbohydrate content on the food labels which can increase your blood sugar if you are diabetic.
However, if you're looking for a morning replacement on your kidney diet for your orange juice, there are some healthy and delicious juices to try.
From low-potassium fruit juices to green smoothies, there are many options available for those wanting to improve their kidney health. These low potassium smoothies are also fantastic!
With careful consideration and monitoring of potassium levels, you can enjoy these delicious drinks without worry - just don't overdo it!