Creating Kidney Disease Meals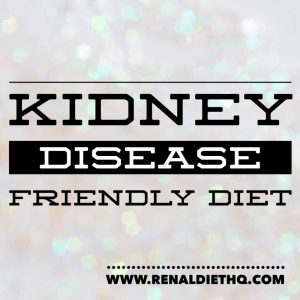 Living with kidney disease means making changes to your lifestyle, especially when it comes to your diet. There are big changes that need to be made to accommodate a kidney disease friendly diet. These changes might take a little while to get used to, but you will find that eating healthy is easy when you put your mind to it.
Kidney Friendly Foods
To get started on your new kidney disease friendly diet, you want to do some research about what foods you need to avoid. You might consider talking to your doctor to get a list of foods to avoid, or see a nutritionist to get some more specified help with creating healthy meal plans. During your research, you will learn about a few common food additives or ingredients that you should avoid. The biggest of these is sodium. In every stage of kidney disease, it is recommended that you eliminate excess sodium from your diet. Since your kidneys are not working properly, they are unable to process and filter excess material such as sodium. All that sodium build up in your system can cause fluid retention, swelling, and even more life threatening conditions that you especially would want to avoid.
Meal Planning
The best tool you can use for any new diet is effective meal planning. Planning out each week at a time will help you stick to a healthier diet plan. Start by researching recipes that you would like to eat during the week for each meal of the day plus snacks. Knowing what you're going to eat each day will eliminate last minute scrambles for meal preparation.
Do whatever you can to stick to your meal plan. After you have planned what you want eat for the week, you should make a grocery list and do your grocery shopping at the beginning of the week. If you have all of the supplies you need to make each meal, you are more likely to stick to your meal plan.
Make Everything Easier
Whatever you can do to make your meal plan easier, you will be more likely to follow through with the meal plan. Keeping an organized kitchen and preparing meals ahead of time can make your life and your new diet super simple. Make your lunches and separate out your snack servings and have them ready so all you have to do is grab and go. Set reminders for yourself if you need to leave something out in the morning to defrost so you are always prepared for the meal you planned for, instead of feeling forced to order out because of botched planning.
No matter what, make sure to follow all of your doctor's orders. Whenever you start a new diet, you should speak to your doctor to make sure you are making the right moves. Especially when it comes to a chronic disease that has the potential to worsen fairly quickly, you should follow all instructions, take medications as directed, and follow up with appointments as necessary. With these tips, you can get a good start for your new kidney healthy diet. Don't forget to check out my other blog posts.