What to Eat and What Not to Eat with CKD: Produce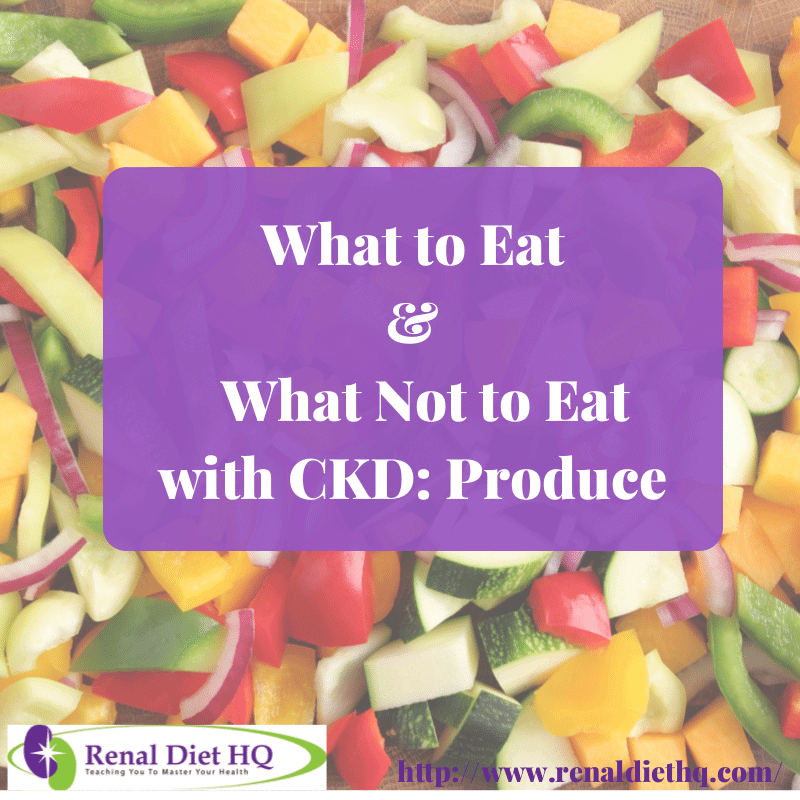 Eating fresh fruits and vegetables are typically beneficial for healthy people, but if you suffer from chronic kidney disease, you may need to avoid certain produce.
The exact foods you should eat and not eat are to be determined by your doctor. Renal diet restrictions are different for everyone, due to the differences in the stages of CKD. How well your kidneys are functioning will decide if your body can handle certain foods.
However, this article will provide you with general guidelines about what produce you should and should not eat if you have chronic kidney disease.
Red Bell Peppers: Low in potassium while also an excellent source of many nutrients, including vitamin C, vitamin A, vitamin B6, folic acid and fiber.
Onions: Low in potassium and a great source of chromium, which helps your body metabolize carbohydrates, fats and protein. Onions are also rich in quercetin, a powerful antioxidant that helps to lower your risk of heart disease and many forms of cancer.
Cabbage: Low in potassium but high in vitamin K, vitamin C, fiber, and folic acid. There are many ways you can prepare cabbage for a renal diet, including making coleslaw or a topping for fish tacos.
Green Beans: Low in sodium and potassium, and they can assist with proper urine flow to rid the body of toxins. Patients in later stages CKD may need to limit their consumption of green beans, but it can be a beneficial food for those in earlier stages.
Strawberries: Excellent source of vitamin C, manganese and fiber. They also contain several antioxidants, which help protect body cell structures and prevent oxidative damage.
Pears: Low in potassium and phosphorus, and an excellent source of iron. Pears also contain agents that stimulate the formation of red blood cells to fight anemia in CKD patients.
Blueberries: Low in potassium and phosphorus but an excellent source in many nutrients, such as Vitamin C, manganese, and fiber. Their natural compounds assist with reducing the signs of aging and inflammation.
Apples: Low in phosphorus, yet an excellent source of fiber. Apples can also help to relieve constipation, reduce cholesterol, and protect against heart disease and cancer.
Red Grapes: Low in phosphorus and potassium, and high in flavonoids, which assist with proper blood flow and protect against heart disease, cancer, and inflammation.
What Fruits & Veggies Not to Eat with CKD
It is important to avoid foods that are high in potassium, phosphorus, or sodium when suffering from chronic kidney disease. The following is a list of fruit and vegetables you want to avoid in your renal diet:
Potatoes (white and sweet)
Spinach
Artichoke
Carrots
Beets
Brussel sprouts
Tomatoes
Bananas
Oranges
Melon
Apricots
Prunes
Dates
Watermelon
Hopefully these produce guidelines will help you choose the right fruits and vegetables to eat within your renal diet. As always, it's important to understand what stage of CKD you are in when creating a meal plan for your body.
Want to make things easier on yourself? Let us do the meal planning for you! Learn more here.