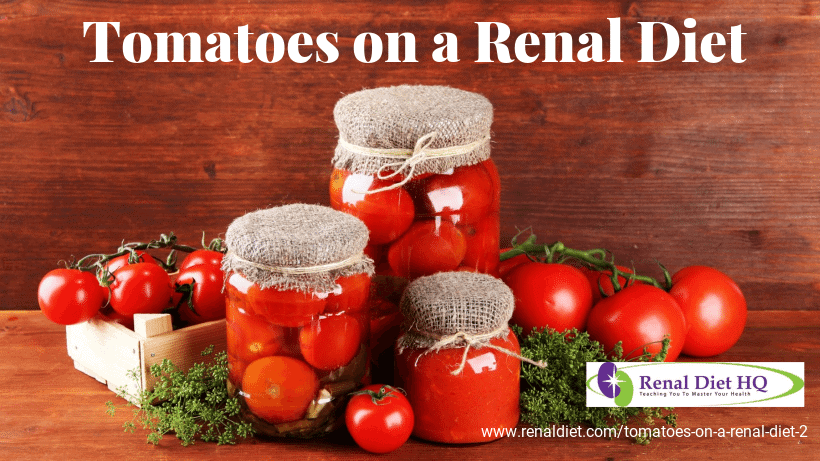 There is a lot of information available for what you should and should not eat on a kidney disease diet, but much of that information is not specific enough. Certain foods require a bit more information to truly understand the risks and benefits of eating. Plus, some foods are so prevalent that it seems impossible to completely cut them out of your diet.
Tomatoes are one of those foods that you find everywhere and in all different forms. You can find tomatoes fresh, canned, stewed, and diced. Not to mention that there are about a million versions of tomato sauces, pastes, and more. While sodium information is typically easy to find and prominently listed on the nutrition facts, the potassium and phosphorus content is not always as easy to find.
Sodium is certainly one of the most important nutrition facts to keep up with on a renal diet, but potassium and phosphorus are extremely important as well. They both have adverse effects on your kidneys if you have chronic kidney disease.
Potassium
Potassium is an important mineral that has many functions in the body. Potassium helps to maintain a healthy heart rhythm, controls nerve and muscle function, and helps to balance your electrolyte and pH levels. Potassium comes solely from the foods that you eat.
The kidneys help to keep potassium levels exactly where they need to be. Low potassium can cause weakness, fatigue, and cramping. High potassium, which is what sometimes occurs in people with kidney failure, can also be harmful. High potassium can cause weakness, nausea, numbness, and a slowing of your pulse. It can put undue strain on your heart and cause unhealthy changes in your heart rhythm.
High potassium commonly occurs in cases of renal disease because failing kidneys are often not able to keep up with maintaining potassium levels as they are meant to, which causes a buildup. It is for this reason that watching the amount of potassium you eat is important with kidney disease.
Phosphorus
Phosphorus is another mineral found in the body that is important for proper function. Phosphorus is important for bone and tissue strength and development helps to produce important hormones, and helps convert fat, protein, and carbohydrates into energy. Most of the phosphorus in your body comes from the foods you eat, and it is usually considered an important part of a healthy diet.
Many people get excess phosphorus because of the prevalence of processed foods, canned and bottled drinks, and other foods that have large amounts of added phosphorus. For many people, this excess phosphorus is not a problem because their kidneys help to filter out and remove any excess material. People who have renal disease are often not able to filter out excess phosphorus, which results in a buildup.
Too much phosphorus in the blood can lead to a lot of dangerous health issues, including hardened tissues and weakened bones, renal osteodystrophy, pain issues, and in some cases even death. This is why phosphorus will be on your list of restrictions when you have renal disease, and it is important to understand what foods phosphorus comes from and how much you should consume.
Unfortunately, potassium and phosphorus amounts are not often listed on nutrition facts. Tomatoes contain both potassium and phosphorus along with sodium, and they are such a common ingredient that it is sometimes nearly impossible to avoid.
Some Information On Common Amounts Based Where The Product Came From Are Below:
Fresh (1cup serving)
Sodium: less than 35mg
Potassium: 427mg
Phosphorus: 43mg
Fresh tomatoes are the best source of tomatoes, as they do not have any additives that can increase the sodium, potassium, or phosphorus content. Whenever you are able, you should stick to using fresh tomatoes in salads, sauces, and more.
Information for Canned Tomato Products
Diced (½ cup serving size)
Sodium: 250mg
Potassium: 226mg
Phosphorus: 23mg
Whole (8oz serving size)
Sodium: 290mg
Potassium: 426mg
Phosphorus: 43mg
Petite Cut (1/2 cup serving size)
Sodium: 250mg
Potassium: 226mg
Phosphorus: 23mg
No Salt Added Canned Diced (1/2 cup)
Sodium: 50mg
Potassium: 226mg
Phosphorus: 23mg
No Salt Added Canned Whole (1 cup)
Sodium: 24mg
Potassium: 451mg
Phosphorus: 46mg
Canned Stewed (1 cup serving)
Sodium: 563mg
Potassium: 528mg
Phosphorus: 51mg
Tomato Paste (2tbsp serving)
Sodium: 20mg
Potassium: 310mg
Phosphorus: 27mg
Tomato Sauce, Canned (1 cup serving)
Sodium: 1284mg
Potassium: 811mg
Phosphorus: 64mg
Tomato Juice (1 cup serving)
Sodium: 654mg
Potassium: 556mg
Phosphorus: 44mg
Juice, No Salt Added (1 cup serving)
Sodium: 25mg
Potassium: 556mg
Phosphorus: 44mg
Keep in mind that these amounts are approximated and different versions will have varying amounts of sodium, potassium, and phosphorus. For the purposes of this list, Del Monte was the primary brand used. The information about exact potassium and phosphorus amounts can sometimes be found on a brand's website along with other nutrition facts, or you can also call customer service to obtain information when needed.
Modifications
You can sometimes make modifications to certain products to lower the content of some ingredients. For example, whenever you are using canned products, you can usually lower the sodium content by draining and rinsing.
You can lower the amount of potassium and phosphorus in canned tomatoes as well. Drain all of the liquid out, and rinse thoroughly. This will help lower the amount of added phosphorus and potassium, but it will not completely omit them so you will still need to be careful about how much you eat.
You can also modify recipes to lower the amount of potassium, sodium, or phosphorus. You can do this by omitting certain ingredients, or by making substitutions.
Substitutions
Finding substitutes or alternatives to certain ingredients is a big part of any restrictive diet. Sometimes you need to replace the flavor, texture, or nutrition of a certain ingredient without actually using that ingredient.
The healthiest substitution for any canned, bottled, or otherwise processed tomato product is going to be to use fresh tomatoes instead. You can substitute roughly 2 cups of fresh tomatoes for each 14.5 ounce can of tomatoes, or cup for cup in most recipes. This is easiest when you are substituting diced tomatoes, but you can also substitute other versions by making your own. This certainly means more work, but the health benefits are certainly worth it.
Other times, you may want to try substituting tomatoes with other foods. This can be slightly more difficult because the taste and texture of tomatoes can be hard to imitate, but some substitutions can work well. For example, you can use roasted red peppers to make a delicious sauce that is a great replacement for tomato sauce that can be used on everything from pastas to pizza.
Aside from red peppers, you can also try using tomatillos to replace tomatoes in many of your recipes. They do have phosphorus and potassium, but contain a good bit less and are an easy substitution. Tomatillos are especially great raw or in salsa.
Kidney Friendly Marinara Sauce
Ingredients:
½ cup no salt added tomato sauce (or make your own)
½ cup roasted red peppers, pureed (or double this to omit tomatoes completely)
2 tablespoons olive oil
2 garlic cloves, minced
1 small yellow onion, diced or minced
Dry Italian spices to taste
Heat up olive oil in a saucepan, cook onion until translucent. Add garlic and cook until fragrant. Add tomato sauce and/or red pepper puree. Season with dry Italian spices, and red pepper flakes if you like a little spice. Use this simple sauce on pasta or pizza, or on top of favorite dishes like chicken parmesan.
Tomato-Free Salsa
Ingredients:
½ cup chopped onion
1 (fresh) jalapeno pepper, diced
½ cup roasted tomatillos, chopped
2 roasted bell peppers, chopped
1 tablespoon lime juice
1 tablespoon fresh cilantro, chopped
Mix all ingredients together and enjoy! To make your own kidney safe tortilla chips, simply cut some flour tortillas into strips or wedges (however you like them shaped). Arrange in a single layer on a cookie sheet, and bake at 350 degrees for about 7 minutes, or until lightly browned.
Tomatoes can be one of the toughest foods to completely omit from your diet, and they can sometimes be difficult to properly substitute as well. Overall, however, it is more important that you follow your healthcare providers' recommendations about your diet than anything else. At first, it may feel difficult or even disheartening to cut out or cut down on the foods you love, but in time you will learn how to make the right modifications and substitutions necessary, and you will be better able to enjoy your foods knowing that they are much safer to eat.
This information about tomatoes is a good starting point to learn how much and how often tomatoes are safe for you to eat. As long as you are staying within the confines of your doctor's recommendations, you may still be able to enjoy these tasty fruits in moderation. Talk to your doctor about how modifications and substitutions might help with your dietary restrictions regarding tomatoes, and be sure that you have a good understanding of how much potassium and phosphorus is safe for you to consume.
You may find a list of common varieties of tomato products with their sodium, potassium and phosphorus content. Also listed are substitution ideas as well as ways to lessen the sodium, potassium, or phosphorus content of each. Just click on the Get More Info About Tomatoes button to find out more.