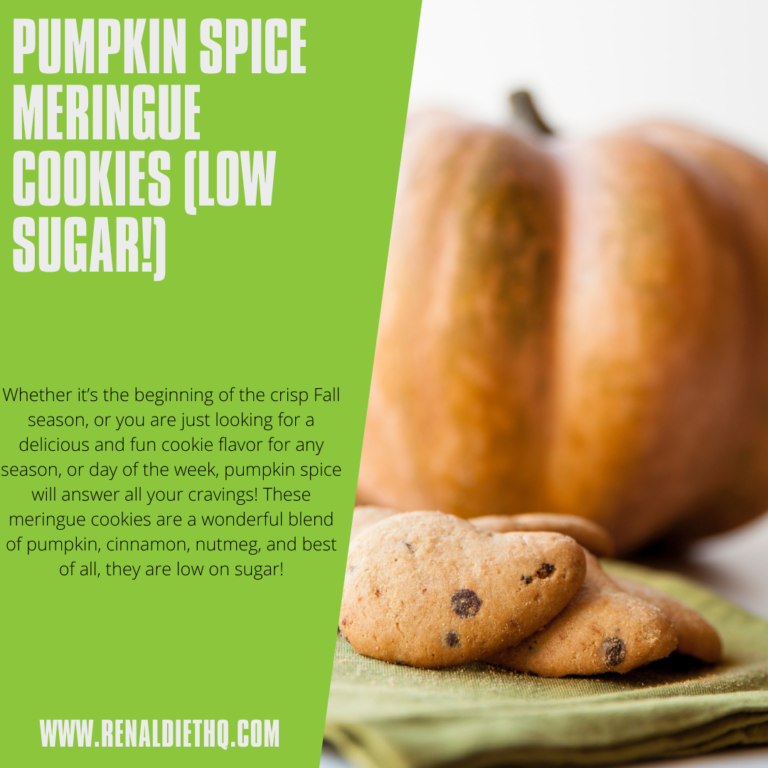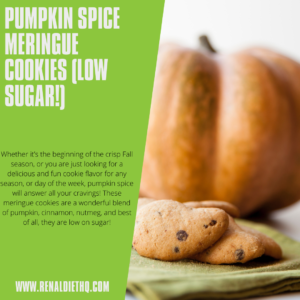 Whether it's the beginning of the crisp Fall season, or you are just looking for a delicious and fun cookie flavor for any season, or day of the week, pumpkin spice will answer all your cravings! These meringue cookies are a wonderful blend of pumpkin, cinnamon, nutmeg, and best of all, they are low on sugar!
These pumpkin spice meringue cookies are fun, easy, and have a deep cinnamon and fresh pumpkin flavor. They are light and chewy on the inside and crunchy on the outside, the best of both worlds for textures! So, keep reading to find out how to make these renal-friendly confections, and why they are a good choice for baked treats for those sticking to a renal or a diabetic diet.
What Are Meringue Cookies?
If you have never heard of a meringue or eaten one and you were to see a picture, you would probably imagine they have a marshmallow-like consistency. While both are delicious, that is actually not at all what a meringue's texture is like.
This perfect, delicate meringue is chewy on the inside and crunchy on the outside. This simple dessert is usually made with very few ingredients, the main ones being egg whites, an acid like vinegar or cream of tartar, and sugar, which are whipped together to get that pillowy look that we want!
These sweet treats are a popular dessert associated with European countries such as Switzerland and France. In this version, these pumpkin spice meringue cookies will have all of the additional flavors that we love around fall time, pumpkin pie spice.
Do Meringue Cookies Taste Good With Pumpkin Spice?
If you are a fan of pumpkin spice, you likely know that it is a flavor that goes with anything, and these meringue cookies are no exception! Pumpkin spice is a delicious, and every popular, flavor used in many coffee syrups, creamers, and various baked goods.
Since the meringue is a part of the baked good family, pumpkin spice and this traditional French treat will pair beautifully. If you are not familiar with pumpkin spice, it has a flavor similar to pumpkin pie in that it consists of the earthy sweetness that comes from the pumpkin and the various fall time spices we love, such as cinnamon, nutmeg, allspice, and cloves!
Can I Eat Pumpkin Spice Meringue On a Renal Diet?
As many of you who are cooking for, or are on a renal diet yourselves know, pumpkin can be a high potassium vegetable. However, there are many ways to make the pumpkin spice flavor without the worry of high potassium or high sodium. One way is to buy it from the store. Walmart has an affordable premade pumpkin spice blend that you can find here.
You can also make your own spice blend with freshly ground cinnamon, cloves, and nutmeg to add to your meringue mixture! You can omit the use of canned or fresh pumpkin puree if you want to, or you can include a modest ½ cup of canned or fresh pumpkin. Just keep in mind that this will add a significant portion of your potassium into this cookie.
Reasons Pumpkin Meringue Cookies Are Okay for Kidney Disease Patients
These Pumpkin spice meringue cookies are great for those on a renal-friendly diet because they are low in sugar, sodium, and potassium!
While the most potassium-rich part is the optional use of pumpkin puree itself. The other ingredients are simple herbs and spices, that can be found fresh or in-store without added sodium and sugars.
Ingredients You Need for Low Sugar Pumpkin Meringues
3 large egg whites
½ teaspoon cream of tartar
⅓ cup Splenda or other sugar substitute
2 teaspoons vanilla extract
Pinch of pumpkin pie spice
How To Make Pumpkin Spice Meringue Cookies
1. Preheat oven to 200 degrees Fahrenheit (or 180 degrees Celsius)
2. Combine all dry ingredients in a bowl
3. Beat eggs until frothy
4. Add Splenda and continue beating until stiff peaks form
5. Fold in pumpkin puree and vanilla
6. Drop by tablespoonfuls onto parchment paper lined baking sheet
7. Bake at 200 degrees F (180 degrees C) for about 15 minutes
8. Remove from oven and allow to cool completely before serving
How Do You Know When Meringue Cookies Are Done?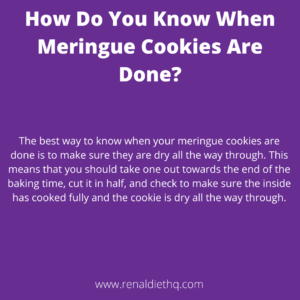 The best way to know when your meringue cookies are done is to make sure they are dry all the way through. This means that you should take one out towards the end of the baking time, cut it in half, and check to make sure the inside has cooked fully and the cookie is dry all the way through.
Are Pumpkin Meringues Cookies Chewy?
Pumpkin meringues can be chewy, or they can be crispy throughout, depending on the baking method you use! You can cook them longer on a slightly lower heat to get them fully crispy, or you can cook them at their normal baking temp for a slightly shorter time and check for a chewy but dry center when they are done.
How To Store Pumpkin Spice Meringue Cookies
If you have successfully baked these amazing pumpkin spice meringues then they will last for up to 2 weeks in an airtight container at room temperature, if you store them in the fridge, they can become soft and sticky due to condensation. If you have uncooked batter you wish to use, it can be refrigerated but should be used within 24 hours of making it, as it contains those egg whites.
Can I Freeze Meringue Cookies?
Yes, you can freeze meringue cookies! The baked cookies will keep for up to 2 to 3 months if placed in an airtight container in your freezer. They will just need to be thawed to room temperature, and they will be ready to eat again, though their texture may change slightly and become chewier.
Pumpkin spice meringue cookies are a delicious treat and snack, especially for those eating a renal diet.
If you are looking for a sweet treat that you can enjoy on a renal diet, then these pumpkin desserts are perfect for you. Filled with many flavors that remind us of the holidays or the cooler months, these cookies are easy and, best of all, a healthy alternative to store-bought cookies! These homemade meringue cookies have low sugar, virtually no sodium, and are low in potassium content, making them safe to eat for those with kidney disease.