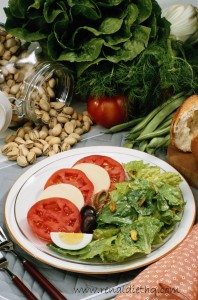 When following a renal diet, you are often walking a fine line of what is good for you and what might not be. Every bite of food, it seems, has to be a well thought out calculated action. There are so many factors in play that can make or break a meal plan.
A big question asked when planning a renal diet is: Are tomatoes harmful for kidneys
Tomatoes are a hard food to ignore. Raw in a salad or by themselves, steamed, stewed, or in sauces- tomatoes are a hard food to ignore. If you are on a renal diet, there are a lot of factors to examine before determining whether tomatoes are okay for you to eat or not.
Sodium Content-Tomatoes on a Renal Diet
When on a renal diet, keeping careful track of your sodium intake is especially important. Especially in America, people far exceed the recommended 2,400mg of sodium per day.
If you are on a renal diet, however, your sodium intake levels will be much lower. Depending on your specific case, your doctor has probably recommended half or less of the recommended dose for healthy individuals.
When asking are tomatoes harmful for kidneys, somthing to remember is the sodium content of one small, raw tomato is a slight 6mg. However, the sodium content for canned tomato products can be very high. Avoid canned tomatoes in any form- sauce, stewed, etc.
Fluid Content-Tomatoes on a Renal Diet
On a renal diet, especially for dialysis patients, fluid intake is extremely important. The main function of the kidneys is to process and eliminate waste and excess fluid. When the kidneys are not functioning properly, this function is greatly diminished.
Too many fluids for a renal patient can mean a large amount of discomfort, severe swelling, shortness of breath, and even heart failure.
Especially for dialysis patients, every morsel of moist food, as well as any beverages, counts towards your fluid intake.
Tomatoes have a very high water content. Raw, cooked, or especially in sauce, tomatoes are to be avoided for fluid restrictive renal diets.
Potassium Content-Tomatoes on a Renal Diet
One of the functions of the kidneys is to rid the body of excess waste, including excess minerals that the body produces naturally. One of these minerals is potassium.
Potassium is necessary for the body to function normally. Low potassium levels can cause weakness, fatigue, cramping, irregular heartbeat, and even heart failure.
While low potassium levels can hurt the body, so too can high levels. When the kidneys do not function properly, excess potassium builds up in the body instead of being flushed out. High levels of potassium can lead to nausea, weakness, irregular heartbeat, heart failure, and in extreme cases- sudden death.
Tomatoes are a high potassium food. If you are on a potassium restricted diet, it is not recommended that you risk it.
So, are tomatoes harmful for kidneys? Overall, tomatoes are not a desirable option for anyone on a renal diet.
Depending on how severe your case, it may just not be worth the risk. However, your doctor is the best person to talk to regarding specific dietary restrictions and he or she will be able to tell you if or how often it is okay to make exceptions in your renal diet.
Several Options you may consider from my list of great resources:
My COOKBOOK-Yummy Recipes- Click Here to View the Page
Kidney Diet Starter Kit Click Here to See it!
Join my email community for great recipes and meal plans….click here to get all my updates!