Are you working really hard to stick to your kidney disease diet and wondering if you will ever get to eat anything for dessert?  
I want you to stick to your prescribed diet but not have to compromise on everything – especially desserts for kidney disease.
Flavis is sponsoring this post, and although I am being paid for writing and evaluating these products, I would not write about them if I didn't believe they are a good option for people who want tasty foods for a kidney disease diet.
I have partnered with Flavis, a food brand by Dr. Schar USA,  that makes low sodium, low potassium and low phosphorus foods that are designed to complement the renal diet, regardless of the stage of CKD that you have.  Flavis is a specialty food from Europe and they are expanding into the US market. They make a variety of foods that are perfect for kidney disease patients and are created to help you stay on track and eat a larger variety of foods on your limited diet.
Flavis is partnering with me to provide a giveaway.  We are giving away dessert foods in this promotion. If you want to have a few more options for desserts for kidney disease, you can enter to win a set of 1 of each of their sweets that are made for CKD patients.  Keep reading to find out how to enter to win.
They are also providing a 10% off coupon for any items from their website through August 7, 2019.  That means you can grab some of their products at a discount to add more variety to your meals.  You can use code: MQV45HE6 at the website here:  https://www.renaldiethq.com/flavis to get the discount between now and August.
I personally believe in this product, and I want to talk about what I like (and don't like) about these foods as they are designed for people with kidney disease and can be helpful in the management of certain dietary restrictions like low potassium and low phosphorus diets.  Whether you have CKD pre-dialysis or are on dialysis – you can incorporate some of these foods into your meals.
Desserts For Kidney Disease Patients
Let's talk about my favorite part of the meal, shall we?  
I know that being restrictive with your diet has meant that you compromise on a lot of taste -although you don't always have to.  You just don't have the information that you need to make a decision about whether or not something fits in your diet.
Eating foods that are perfect for your diet is hard because all of the information is usually not on the label.  Not so with Flavis products. They have the nutrition information that people with kidney disease need to know to stay on their diet.  And with the ready to eat foods they make you get a full nutrition facts panel – including information about potassium and phosphorus.
Flavis makes more than desserts for kidney patients, though, they have pasta, crackers, and bread products that are also low protein and perfect for kidney disease patients.
You can use code: MQV45HE6 at the website here:  https://www.renaldiethq.com/flavis to get the discount between now and August.
Let's talk about the 3 different products that are basically the best desserts for kidney disease.  
Flavis Low Protein Fruit Bar
This fruit bar comes in a package of 5 individually wrapped bars.  The only flavor they have in this product is strawberry – which I happen to like.  It tastes like a strawberry fig roll bar and is just a little sweet. The outside coating is a little like a graham cracker crust.  They use certified gluten-free wheat in making the product but it might still contain traces of gluten.
Each box has 5 bars, and the bars weigh a little less than 1 ounce each.  They are fairly small but provide a lot of flavor and satisfy a sweet tooth without overdoing it.  (Actually, the same portion size as 2 regular fig bars) Each bar contains 0.2 gm of protein so they are great if you are looking to restrict protein in your diets like people with stage 3 – 5 chronic kidney disease.  
Best of all, they are low in potassium (20 mg) and phosphorus (10 mg).  Honestly, a regular fig bar made with strawberry filling has about the same number of calories and more protein in 2 cookies.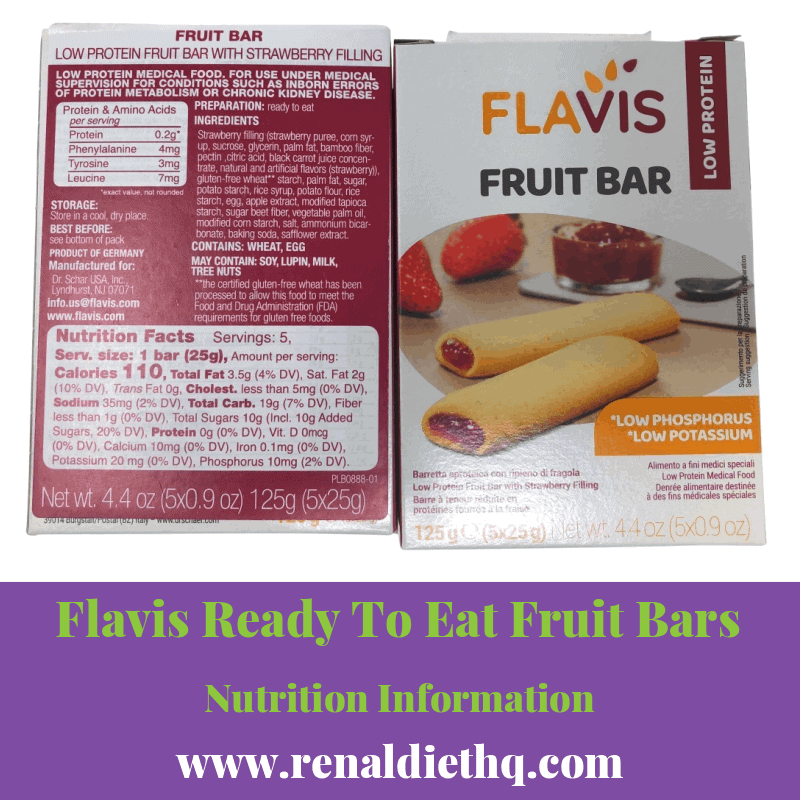 I love these to take along with you in your purse or keep at work in a drawer instead of going to the "junk food" machine where you don't know what you are getting.  The strawberry flavored fruit bar is easy to take anywhere and make perfect snacks (or desserts).
Flavis Frollini Biscotti Cookies
I personally love cookies, although I know I should not eat them all the time.  Flavis has a shortbread style cookie that is also a low protein snack or dessert.  Think of them like shortbread cookies, just a little drier. I like the idea of nibbling on them with coffee and dipping them much like Biscotti to enjoy in the morning.  
A serving is 3 cookies, and again, they are low in all the P's you worry about with CKD – protein, potassium, and phosphorus.  A serving contains 0.2 gm of protein, 10 mg of potassium and 10 mg of phosphorus. This serving size for dessert or a snack is a perfect bit of sweet but not too sweet.  
Each bag of Frollini has 7 servings.  This portion contains 24 gm of carbohydrate and would be considered 1.5 servings of a carbohydrate food if you are looking for desserts for diabetics with kidney disease.  Oh, and the sodium is also low – 10 mg per serving. Each bag has a reusable sticker to keep the bag closed and fresh between munchies.
Unfortunately, I was a bit disappointed with how many broken cookies are in the bag.  Now broken cookies taste the same as all the rest, but it seems the packaging is not quite protecting the cookies.  These bags were packed for shipping perfectly and still had about 40% of the bag broken.
The only other thing I didn't like much is how crisp and bland they are, but you might enjoy that in a cookie or dessert.  They do remind me of shortbread, just not as soft. I would love to dip them in a little chocolate or put a dab of icing on them to make them less that way, but if you like crunchy sweets you will love these.  I also think I am going to crush them up and add them to yogurt as a topping. Or dip your fruit into chocolate then roll it in some cookie crumbs. Delicious!
Flavis Chocolate Chip Cookies
Last but not least, Flavis has cookies that have bits of chocolate chips in them.  Not huge chips, just small nuggets, and just enough to give you the flavor. These come in a bag with 7 servings as well.  Each serving is 3 cookies and they are crunchy and a little sweet when you eat them. Perfect size for a little treat after lunch or dinner.  
Let's talk about details for the cookies that make them superb as a dessert for CKD patients.  Again, they have only 0.2 gm of protein per serving, and 20 mg Potassium and 10 mg Phosphorus per serving.  The sodium per serving is only 10 mg. That is very low sodium. Each bag has a reusable sticker to keep the bag closed and fresh for a long time – they have a great shelf life.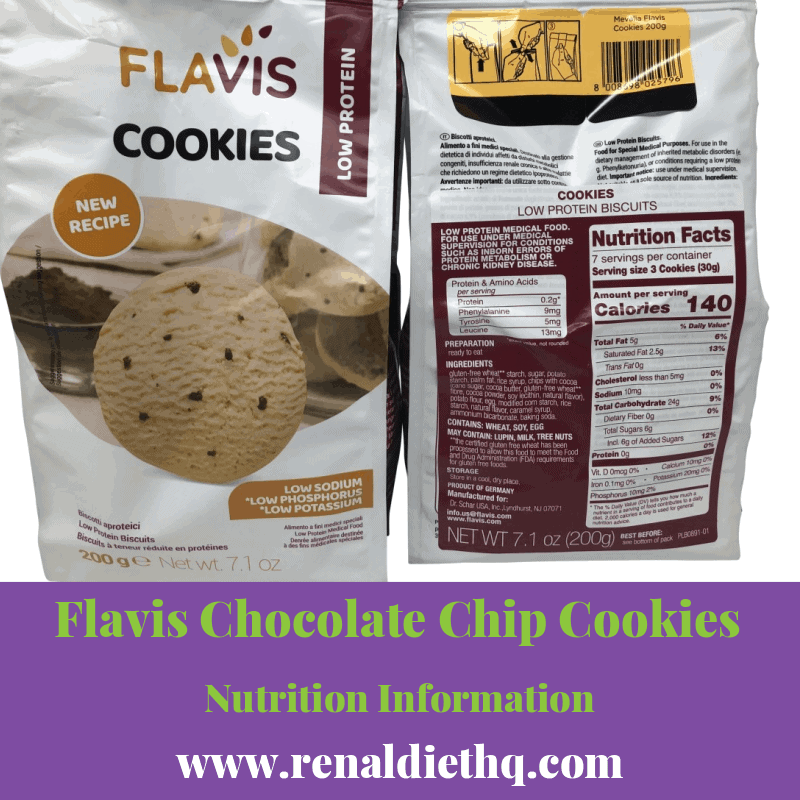 These have a little sweeter flavor but are still crunchy and a little bit dry.  I love them for the bit of sweet because I like dessert, but they are not overwhelmingly sweet.  They also contain 24 gm of carbohydrate so for a diabetic they are about 1.5 servings of carb.
Compared to regular chocolate chip cookies, they are much better for a kidney disease diet.  While both serving sizes are about 1 ounce, and the calories are about the same, store bought ready to eat chocolate chip cookies are higher in sodium, potassium, and protein.  
When you are counting grams and milligrams, every little bit helps.
Here is a picture of how the bag closes so you can keep them in the bag and eat a few at a time:
The Giveaway – And How To Enter
Flavis is providing 3 sets of 1 each from their dessert products – 1 fruit bar package, 1 Frollini, and 1 Cookie.  If you win the giveaway, I will ship you the package once the winner has been announced on May 13th, 2019.
a Rafflecopter giveaway
To enter the drawing, you can do several things.  
You can leave a comment on this blog post indicating what your favorite dessert is to eat.

You can visit our facebook page at facebook.com/renaldiet

You can repin an image on Pinterest.

You can tweet a message out about the product.
Each of those will give you an entry into the giveaway.  Don't forget there are 3 prize packages total.  If you don't want to wait you can buy some on the website and still get a discount.
You can use code: MQV45HE6 at the website here:  https://www.renaldiethq.com/flavis to get the discount between now and August.
I appreciate you and hope you enjoy these desserts for kidney disease and let me know if you try them.  Good luck on the giveaway and don't forget to use the coupon for a discount.