Fall Comfort Foods for Renal Disease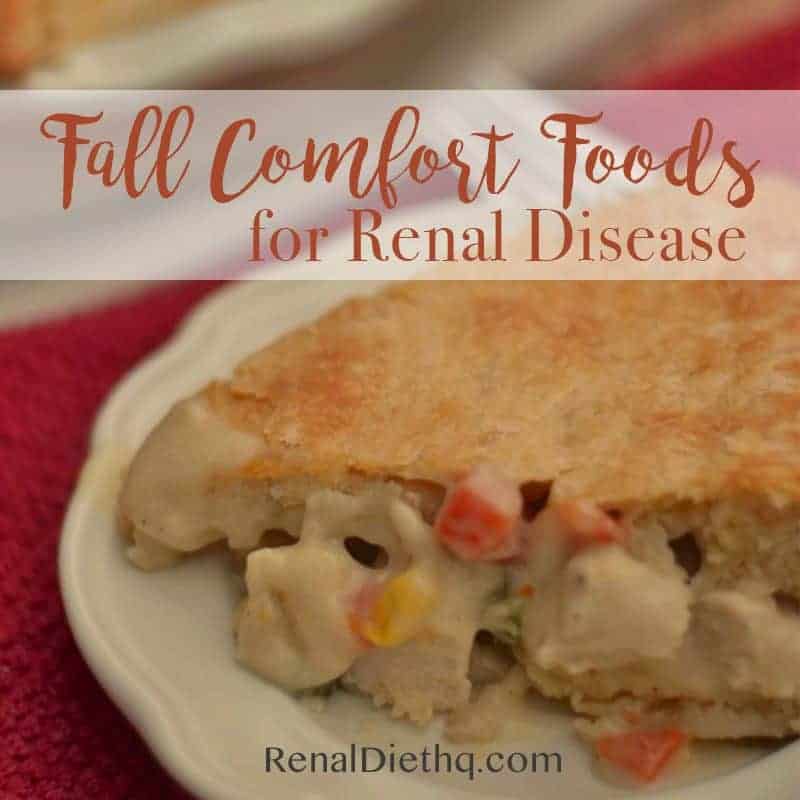 The cooler weather tends to drive people to warm, hearty, bone sticking foods that have been aptly named "comfort foods". They are called comfort foods because they warm you from the inside out, creating a sense of fullness in your stomach as well as your heart. Many comfort foods are reminiscent of your childhood, something maybe your grandmother would make on cold evenings to chase away the chill.
Living with renal disease does not mean that you have to skip out on all of your favorite comfort foods. It simply means that you may need to make a few adjustments to your current favorite recipes or find new recipes to love. Your fall comfort favorites are here to stay.
Chicken Pot Pie
Ingredients:
1 cup each of your favorite fresh or frozen chopped veggies- corn, carrots, potatoes, peas, green beans, mushrooms, etc.
2 tablespoons of olive oil
1 medium onion, chopped
3 celery stalks, chopped
1lb skinless chicken breast (baked or boiled and then shredded or cubed)
⅓ cup all-purpose flour
1 cup low or no sodium chicken broth
1 cup low fat milk
Herbs and spices to taste: parsley, tarragon, and sage are good choices
Store bought pie crust OR biscuit topping using Bisquick and water.
Heat oil in a large sauté pan. Add in onion and celery and cook over medium heat until translucent. Sprinkle in flour as you are stirring, slowly adding in the milk. Add in your vegetables and the chicken and then mix in the broth. Allow to simmer while you complete the next part.
Prep your casserole dish by spraying it with non-stick spray. If you are using pie crusts, you can choose to have a crust on the top and bottom or just the top. If you would like the crust on the bottom, go ahead and lay out your crust dough over the bottom of the dish. For the biscuit topping, mix together 1 cup of Bisquick and 1 cup of water.
Pour your mixture into the casserole dish. Top with pie crusts, making a few slits for steam to escape, or drizzle your Bisquick topping and spread it out in a thin layer over top of the pie mixture.
Bake at 350 degrees F for 45 minutes.
Beef Stew
Ingredients:
2lbs lean beef stew meat cut into bite-sized pieces
Olive oil
1 large yellow onion, chopped
2 cups chopped carrots
2 large white potatoes, peeled, chopped and soaked
3 celery stalks, chopped
1 cup mushrooms, sliced or chopped
2 garlic cloves, chopped
1 cup dry red wine (for example, a pinot noir)
4 cups low sodium beef broth
1 teaspoon of no-salt-added herb mixture (Mrs. Dash)
2 tablespoons flour.
In a large pot or Dutch oven, heat a little olive oil over medium heat. Sauté onions and celery until translucent, then add garlic and mushrooms. Add in carrots and then stir in red wine. Allow to a simmer. Coat beef in flour mixed with half of the spice mixture. In a separate pan, heat some olive oil and then brown the beef on all sides before adding it to the vegetable mixture. Add the rest of the seasoning and the broth to the pot and bring to a boil. Let simmer for one hour, then add the potatoes. Allow to simmer for another hour, stirring occasionally.
Both of these recipes are delicious examples of just how much you can still enjoy comfort food recipes on a renal-friendly diet. These recipes warm you from the inside out, and they make enough to share with the whole family. You can also make substitutions in your own favorite recipes to make them renal friendly. Talk to your nutritionist about what ingredients you should omit or substitute to make your favorite comfort recipes healthy for you.