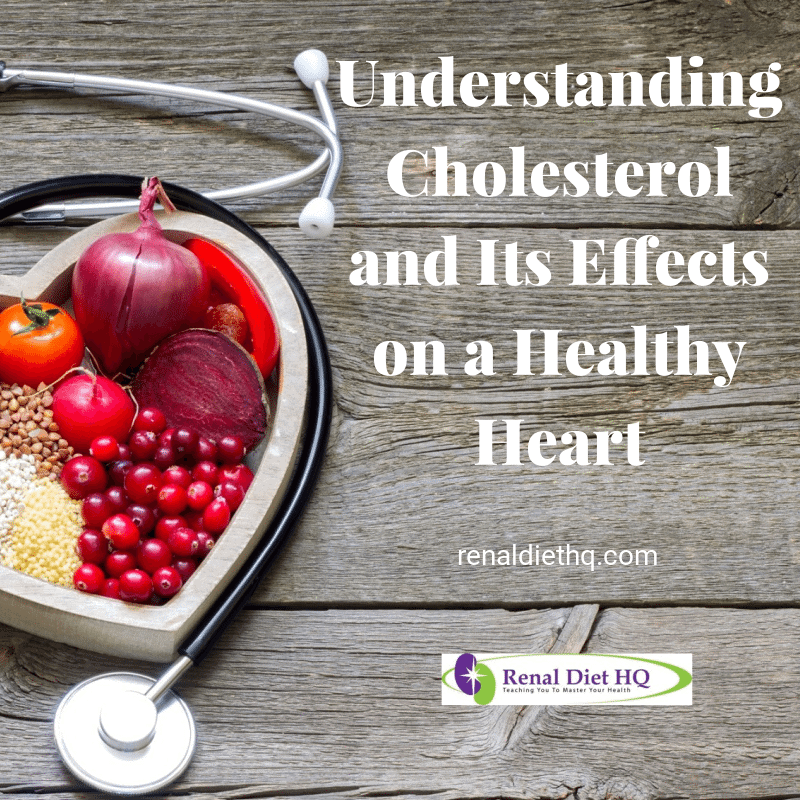 When you think of having a healthy heart, cholesterol is a word that may come up often. This is because having too much cholesterol in your body can be dangerous for your health – and your heart. A gradual buildup of cholesterol plaque in the arteries could lead to peripheral artery disease; inevitably, those with the condition will be in search of medication for peripheral artery disease, and thus medical professionals to help them with their treatment.
It's also very important that you manage your cholesterol for your chronic kidney disease. Cholesterol can have harmful effects on your renal functions, if too much is present in the blood.
What Exactly is Cholesterol?
Cholesterol is a waxy, fatty substance that comes from foods we eat. Your body does need some cholesterol in order to perform functions like cell growth and the creation of hormones and digestive fluids. A healthy liver can make all the cholesterol that your body needs to function properly. This then comes as no surprise to find that people use products like glutathione to help improve liver function. However, we also get cholesterol from the foods we eat.
There are two types of cholesterol found in the body…
HDL – This is the high-density lipoprotein cholesterol. People may refer to it as the "good cholesterol" because it works to pull the excess cholesterol from your body and return it to the liver. The liver can then eliminate this cholesterol from your body.
LDL – This is the low-density lipoprotein cholesterol. It is referred to as the "bad cholesterol" because it is the kind that can create plaque in the arteries, which can lead to a host of serious health problems.
Foods that Contain Cholesterol
A primary source of cholesterol in our diet is from animal sources. You can get cholesterol from:
Also, consuming saturated fats or trans fat help to raise your cholesterol level. They may raise the "bad" cholesterol while lowering the "good".
Foods that contain saturated fats or trans fats include:
Dairy products
Chocolate
Fried foods
Processed foods
Check the labels on products before you purchase them to check their fat content.
Other Factors for your Cholesterol Levels
More than just food can affect your cholesterol levels. For one, your age may play a role in the level of cholesterol in your body. People tend to have higher cholesterol as they get older.
Heredity is another common factor. Sometimes high cholesterol levels can run in families, even if you watch what you eat.
Your weight is yet another factor that can contribute to your cholesterol level. Those who are overweight tend to have more cholesterol that those at a healthy weight.
Monitoring your Cholesterol
With your body producing cholesterol and the foods you eat giving you more, it's possible to have high levels of cholesterol in your body. This is a medical condition that your doctor can determine by doing a lipid panel.
Your blood will be drawn and tested in a lab to determine the amount of cholesterol in your blood. You will likely get three scores: one for your LDL, one for HDL, and one for total cholesterol.
Desired ranges for cholesterol in chronic kidney disease patients include:
200 milligrams of less total cholesterol
Less than 100mg of LDL (bad) cholesterol for CKD patients
Less than 70mg of LDL (bad) cholesterol for CKD and diabetes
60mg or more of HDL (good) cholesterol to protect against heart disease
Dangers of High Cholesterol for CKD Patients
If your cholesterol is found to be high, you must immediately take steps to lower it back to the healthy levels. If not, you can be putting yourself at risk for serious health concerns.
Elevated levels of cholesterol in the blood create plaque in the arteries. The result can be high blood pressure as well as a condition called atherosclerosis.
Atherosclerosis is when the plaque buildup in your arteries hardens and makes it difficult for your heart to effectively pump blood throughout the body. It can lead to a number of even more serious complications, including:
Coronary Artery Disease – When these arteries cannot supply enough blood to your heart, you may suffer a heart attack.
Carotid Artery Disease – When these articles cannot supply enough oxygen-rich blood to your brain, you may suffer a stroke.
On top of the heart related medical conditions that high cholesterol can cause, it can also wreak havoc on your kidneys. This is why CKD patients should always have their cholesterol monitored and work to keep the levels in the healthy range.
When your cholesterol is too high, blood cannot properly flow to your organs, which includes your kidneys. This may speed up the deterioration of your kidney function.
How to Keep your Cholesterol in Check
Aside from having a lipid panel done regularly at the doctor, there other ways you can ensure that your cholesterol is remaining in the healthy ranges.
Diet Changes for Cholesterol
Eat a renal diet low in saturated fats and cholesterol. Also, stay away from trans fats in foods.
Increase your intake of soluble fiber, which is found in fresh fruits and vegetables.
Choose lean meats, poultry, and seafood. Remove any visible fat from meats before cooking.
Avoid frying foods. Instead, prepare them by steaming, roasting, or baking.
Substitute herbs and spices for butter and sauces when adding flavor to your meals.
Purchase fat-free versions of products when possible.
Always read the labels on products when grocery shopping.
Lifestyle Changes for Cholesterol
Exercise at minimum four days per week, 30 minutes per day. Physical activity will help lower your LDL level while increasing your HDL. It will also improve your heart function and help regulate diabetes.
Quit smoking, which can also make it difficult for your heart to work effectively.
Take medications. If your doctor doesn't see a substantial change in your cholesterol after modifying your diet and adding exercise, you may be prescribed medicine to control your cholesterol level.
As you can see, it is extremely important for those with chronic kidney disease to understand cholesterol and be able to effectively control it for a healthy heart. If not, high cholesterol can cause some serious health issues for you!