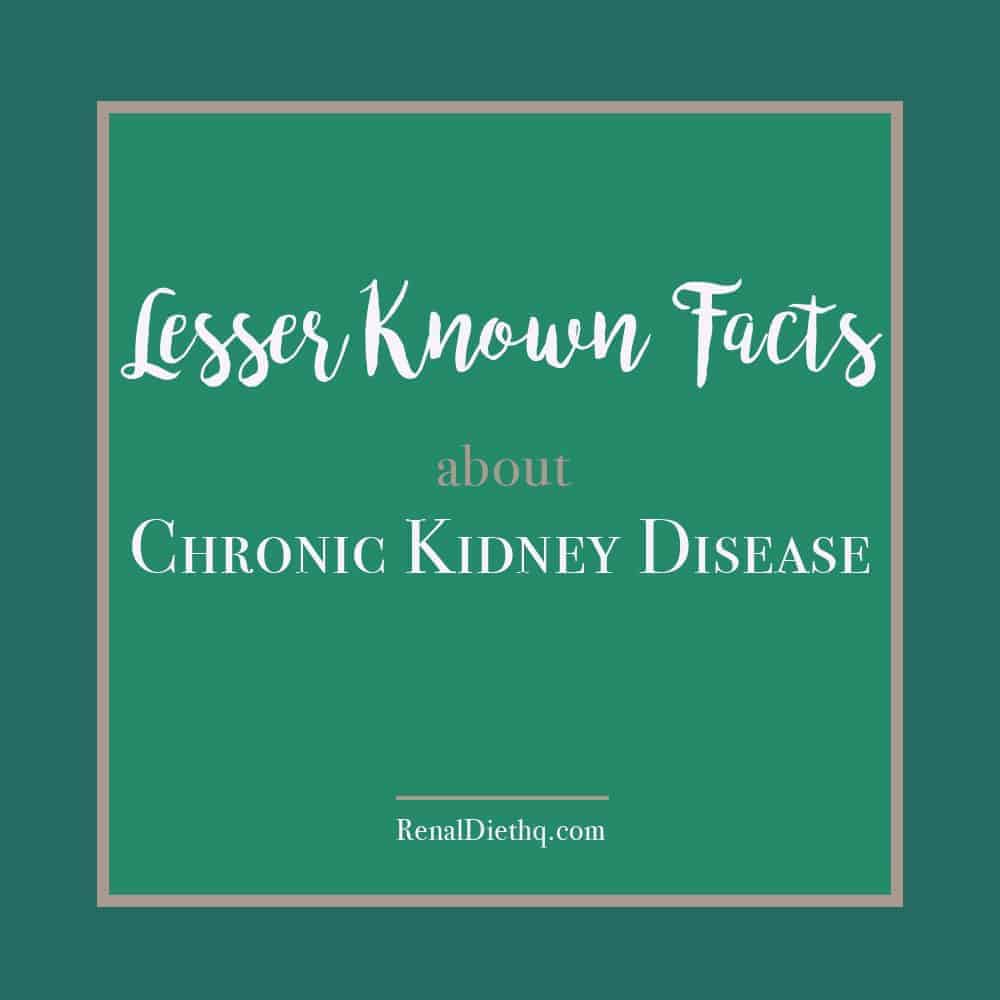 Chronic kidney disease is a mystery to many people. Unless you or someone very close to you have been diagnosed, it is unlikely that you know a whole lot about this chronic disease. A few people know the basics, that chronic kidney disease (also called renal disease) is the graduated failing of the kidneys. The rest of the facts about this disease are much lesser known.
Here are some lesser known facts about chronic kidney disease:
Not Uncommon
Chronic kidney disease is not as uncommon as many people think it is. An estimated 661,000 people in the United States alone have been diagnosed with chronic kidney disease. Roughly 1 in 3 people are at risk for developing kidney disease, and millions of people already have kidney disease and don't know they have it.
Metabolic Disorder
Chronic kidney disease is one of a group of conditions that are "metabolic disorders". These are all conditions that affect the metabolic systems of the body and are all linked. An example of this is how kidney disease and heart disease are linked- kidney disease patients are actually more likely to die of related illnesses like heart disease than kidney failure itself.
Linked To Other Chronic Illnesses
There is a strong connection between kidney disease, diabetes, and heart disease. Often, one of these diseases causes the others like a chain reaction. Kidney disease, for example, is a common result of chronic high blood pressure.
Stages of Disease
There are five stages of kidney disease. The stages range in the progression from no symptoms at all to complete renal failure. The treatment of kidney disease greatly changes with the progression of the illness. Typically, treatment starts at stage 1 with fairly simple dietary changes, and then progresses with stricter dietary changes and medications, and ends in dialysis or kidney transplant.
Can Be Delayed or Slowed
There is no cure for chronic kidney disease and damage to your kidneys can not be reversed. You can, however, slow the progression of chronic kidney disease through proper management, especially dietary restrictions.
Diet is Most Important
Although there are many factors in the treatment of chronic kidney disease that are all important, diet is perhaps the most important. This is because it is your diet that can either progress or delay your illness. The right dietary changes can slow, or potentially even halt, the progression of chronic kidney disease.
These are all lesser known, but very important, facts about chronic kidney disease. Use this information to start a conversation with your healthcare provider about how you can treat your disease. This conversation could help you avoid end-stage renal failure and help you live a healthier and more comfortable life.
It Shouldn't Be This Hard to Understand What To Eat…
Sign up and you'll get instant access to a free 7 day meal plan designed specifically for your a person with Pre-Dialysis Kidney Disease