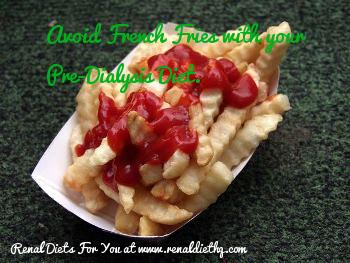 Although everyone knows fast food should usually be avoided, every once in a while won't hurt you much. As  pre-diaylsis patients sometimes you might be in a hurry and have no other option. Other times you might just really be craving some fast food and want to splurge a little
As long as it is done in extreme moderation, it is okay to eat fast food once in a while. Moderation is the key here, as well as what you decide to eat. There are some options that you should absolutely avoid, but there are fairly safe options as well.
What To Avoid
French Fries
Unless you can manage to get salt-free french fries, you should really avoid ordering fries. Not only are they deep fried, but they are absolutely loaded with sodium and potassium. Onion rings are a better option, but keep your order small.
MSG
Anywhere that uses MSG (monosodium glutamate) should be avoided at all costs. MSG is essentially concentrated sodium, and can be really bad especially for pre-dialysis patients. It is a good idea to ask before you order, or call ahead to restaurants that you aren't sure about their MSG usage. Chinese food restaurants have bad reputations for using MSG in their food.
Dark Sodas
Dark sodas such as colas should be avoided. These drinks, as well as canned teas, contain high levels of phosphorus, which should be avoided for pre-dialysis patients.
What is Okay
If you are going to eat fast food, some options are better than others. So here is a list of things that are moderately safe to eat on occasion.
A small burger with lettuce, mustard, mayonnaise and onion. Try to avoid tomato or ketchup.
Many fast food places have salad options. Limit your dressing and ask them to put everything on the side as some of the "special" sauces and ingredients have a lot of sodium.
Grilled chicken options, such as grilled chicken sandwiches.
Broiled or grilled fish options, or if fried is the only option remove the breading. The breading is where the majority of the sodium is.
Tacos with no cheese. Choose sour cream over guacamole and avoid tomatoes.
Chinese stir fry using no or low sodium soy sauce. Have steamed rice on the side instead of fried.
Sub sandwiches on white bread. Turkey and chicken breast are the best choices, and you should avoid pastrami or pepperoni as they are high sodium. Avoid cheese, sauces, or pickles to keep sodium and phosphorus levels down.
Small Concessions
Some condiments that should be avoided can be used in very small quantities. Sauces like ketchup, hot sauce, and salsa should be kept to one packet or one tablespoon total.
Everyone likes to splurge once in a while. For pre-dialysis patients, splurging is a little more risky, but it can still be done. If you are careful, you can eat fast food on occasion. Of course, you should speak to your doctor or nutritionist about your specific health needs as your situation might be different from others.
Find out more about Pre-dialyisis by clicking here.
Join my FREE email community and get your free gifts, no credit card required! Click Here