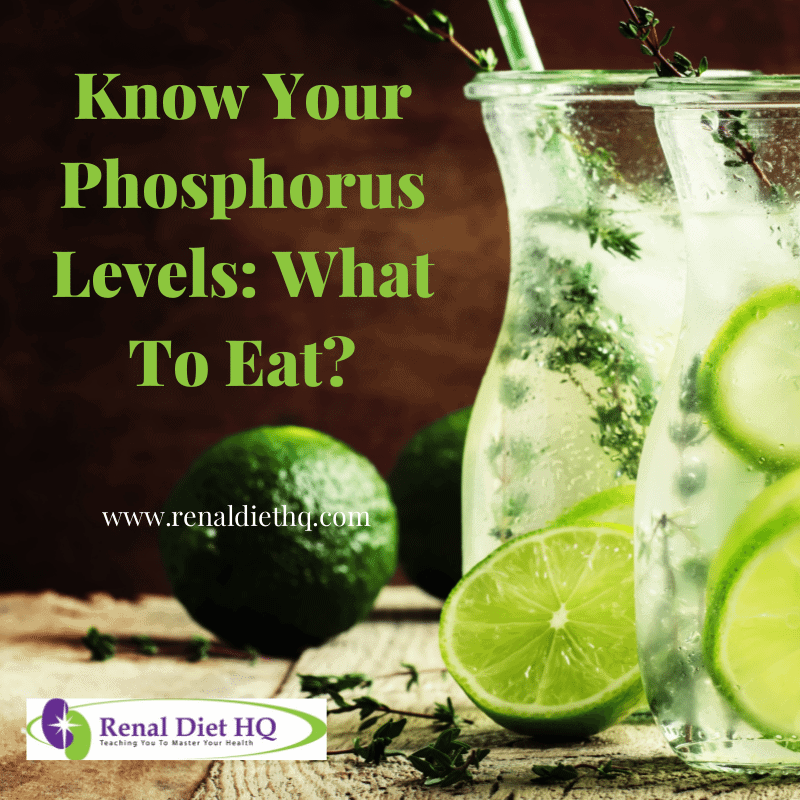 When you are living with chronic kidney disease or renal failure, there are certain guidelines and dietary restrictions that you need to follow. Often, knowing what you can eat is tough to discern through all of the many restrictions.
You can actually find plenty of options to eat despite all of the restrictions if you know what to look for. Most renal patients know that they need to monitor and avoid sodium, but there are other things to look out for as well. For example: potassium, and the lesser known phosphorus.
What is phosphorus?
Phosphorus is a mineral that is found in your body, specifically in your bones. Phosphorus is also found in many foods.
Why do I need to control my phosphorus levels?
Phosphorus is made naturally in your body and is necessary for building and maintaining strong bones. Your kidneys are responsible for filtering and flushing out excess minerals, fluid, and waste, including phosphorus.
If your body is unable to properly filter out and discard excess phosphorus, this could lead to a buildup. A build up of phosphorus can be dangerous to your health. Too much phosphorus can actually leach calcium from your bones, making them weak. High phosphorus levels can also cause bone pain, muscle fatigue, and even heart problems.
What high phosphorus foods should I avoid?
Here is a list of foods that should be either avoided or only eaten in moderation:
Dairy products such as milk, yogurt, and some cheeses
Organ meats such as livers
Shellfish
Beans and peas
Nuts and seeds
Whole grain breads
Bran and oatmeal
Dark sodas
All of these products contain high levels of phosphorus and should be avoided when possible. If you must eat them, you should only do so very moderately.
So what can I eat?
Although that list seems like it is very restrictive, there are still lots of foods that you can eat.
Light colored sodas like ginger-ale or lemon lime sodas
Cream cheese
Vegetables of all sorts
Cream of wheat cereal
There are lots of delicious non dairy alternatives out there so you can still have creamer, milk, and even puddings.
Popcorn
Sherbet or fruit popsicles
White bread, bagels, crackers
There are more foods that you still can eat on a low-phosphorus diet than foods that you can't eat.
How do I know what foods have phosphorus?
Reading nutrition and ingredient labels are extremely important. The label should list phosphorus as an ingredient, or it might say "PHOS".
Remember also that when reading ingredient and nutrition labels that the amounts listed and percent daily values are per serving, so pay attention to serving sizes as well. Otherwise you might be consuming a lot more of your restricted ingredients than you might be aware of.
Knowing about phosphorus and how to maintain healthy levels in your system is the key to living healthy. Talk to your physician and/or dietician about what your specific dietary needs are, and how much phosphorus is safe for you to consume. Every patient is different, so knowing your own specific guidelines is safest.
Find out more about phosphorus levels.
Join my FREE email community and get your free gifts, no credit card required! Click Here