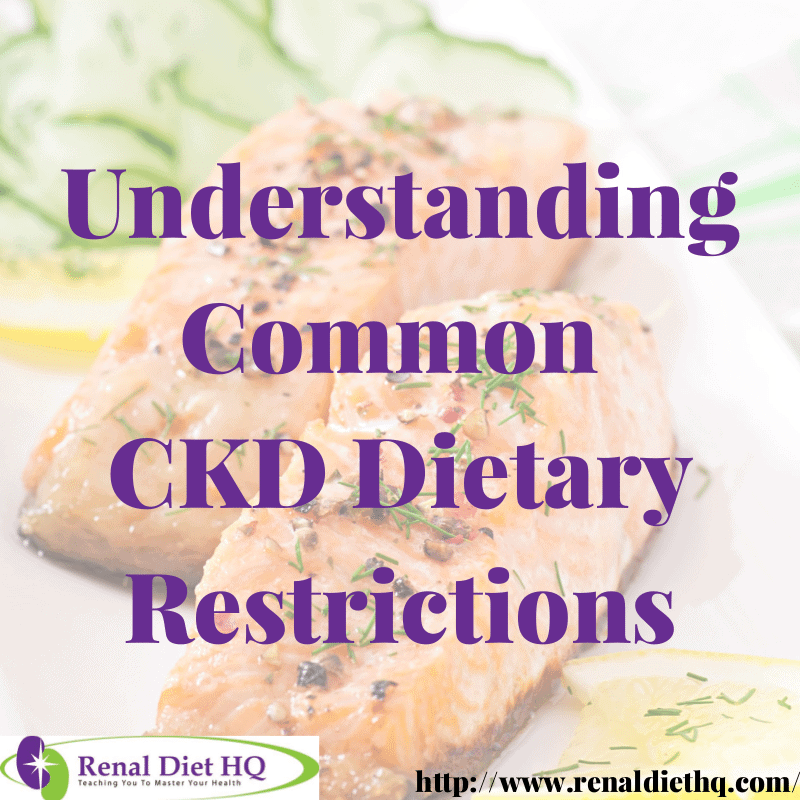 When you are put on a renal diet for chronic kidney disease, you will likely have restrictions for a few different minerals. It's important that you understand exactly why you should limit these nutrients. The following article will discuss the most common dietary restrictions for CKD and why it is vital that you limit your intake of each.
Protein
The protein we consume is broken down into amino acids that our body uses for a number of functions. When we eat too much of a specific amino acid, the excess should be filtered from the bloodstream.
For those with chronic kidney disease, this isn't always possible, since animo acids are difficult to break down if you don't have properly functioning kidneys. Too much protein in the body can cause nausea, vomiting, weakness, itching, and changes in taste. It may also increase the rate at which CKD progresses through the stages.
Because of this, many CKD patients are restricted in the amount and types of protein they can eat. The proper restrictions will be based on the stage of CKD that you are in. Limiting your protein intake to about 0.36 grams per pound of body weight is a great place to start.
Lowering your protein intake generally helps decrease other levels of CKD dietary restrictions, including potassium and phosphorus. Make sure that most of your protein is coming from high-quality sources that offer the best amino acids, including chicken, fish, eggs, seafood, and soy.
Sodium
Sodium is likely one of the first minerals that your doctor will restrict when you are diagnosed with chronic kidney disease. It's essential that even healthy people moderate their sodium intake to help prevent issues in the future.
When your kidneys cannot properly filter the wastes out of the blood, it's easy for sodium to build up in the body. Excess sodium may cause swelling, puffiness, high blood pressure, or fluid around the heart and lungs.
Finding alternative ways to flavor your food is the best first step in limiting your sodium intake. You should also avoid the common high-sodium foods, including potato chips, salted nuts, cured foods, lunch meats, and processed foods.
Potassium
When your kidney function begins to diminish, it can be difficult to keep the potassium in your body at a healthy level. When CKD sufferers have too much potassium, they may develop hyperkalemia, a very serious condition, which can cause heart damage. Symptoms that may indicate a higher than necessary level of potassium include nausea, heart palpitations, numbness or tingling, and fatigue.
Foods high in potassium include bananas, avocado, raisins, spinach, Brussel sprouts, and potatoes.
Phosphorus
Phosphorus can be a difficult mineral to remove from the blood, especially as your kidney function decreases with CKD. Important for strong bones, high levels of phosphorus in the body can increase production of your parathyroid hormone (PTH).
This hormonal increase contributes to a release of the calcium and phosphorus in your bones, causing them to weaken. Too much phosphorus in the body can also create dangerous calcifications in your heart and blood vessels.
When your levels of phosphorus are checked, it's not uncommon for CKD patients to be restricted to 800-1,000 mg of the mineral each day. Foods high in phosphorus include chocolate, cheese, legumes, nuts, seeds, milk, and yogurt.
These common CKD dietary restrictions should be followed in order to lower the work placed on your kidneys. Your doctor will be able to give you exact restrictions based on your level of kidney function. Hopefully, this information helps you understand why the restrictions are needed!
Want to make things easier on yourself? Let us do the meal planning for you! Learn more here.