Living with Renal Diet Limitations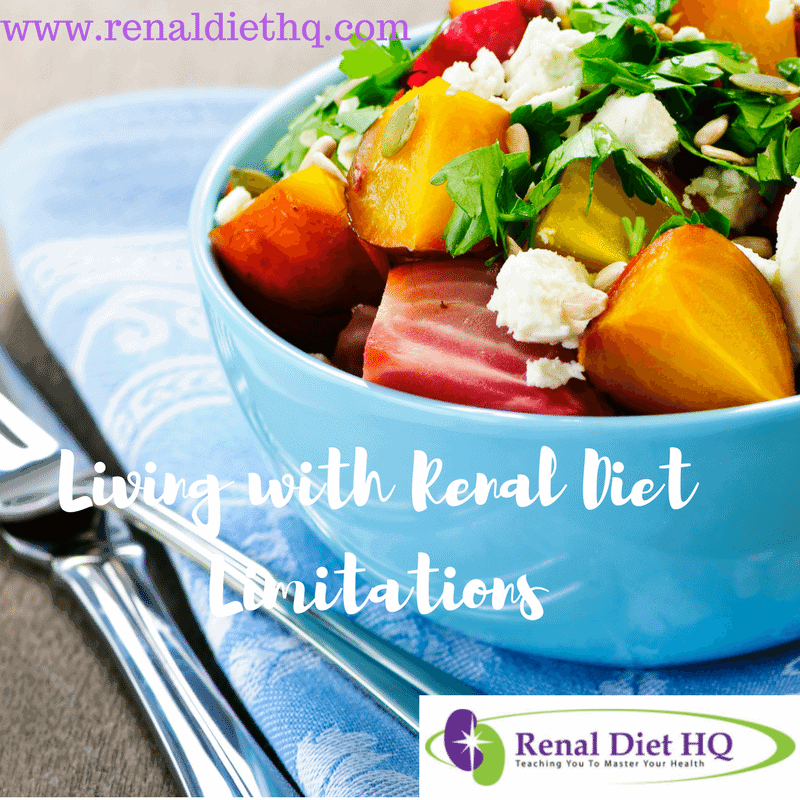 Living with Renal Diet Limitations
Like most things in life, living with renal diet limitations is largely what you make it out to be. Some people consider this diet highly restrictive. However, if you take a few moments to explore your options, you just might discover that there are many foods options still available to you. More than you may have realized at first glance. Don't give up on eating for pleasure. It's still very much possible despite perceived renal diet limitations. These tips will help you make the most of the renal diet limitations you are faced with, so that you can enjoy food as part of your daily routine.
Develop a Routine
Most people discover that even more than the renal diet limitations on food, the need for medications coupled with the restrictions on water require a little proper planning. Once you develop a routine, it all comes together like clockwork. Getting there, though, takes a little time and a lot of planning on your part.
It takes a while to create new habits and live within your renal diet limitations. At first, you may need to set a few alarms to keep it all straight. Pillboxes, notes on refrigerators, and charts are great tools for keeping it all together too. Food prep, however, is one of the fundamental changes you're going to have to make in your life.
Cook with fresh ingredients for added flavor and for more nutritional benefits. Resist the temptation to graze (eat while you're preparing your meals) and, equally importantly, to drink during meal prep. Find foods you love and look for renal diet friendly versions of those foods. Renal diet limitations may present unique challenges to the way you prepare food but they do not have to rob you of all the foods you love.
Focus on the Positive
If you spend all your time focusing on renal diet limitations, instead of exploring new food options, new recipes, and a new way of enjoying your food, you're going to end up feeling cranky, deprived, and negative. If, instead you choose to focus on what an adventure it might be to learn a new way of cooking and eating at this stage in life, you'll find that you're much fonder of the foods you prepare and happier you are in general.
Be Consistent
Getting started on a renal diet is a complex proposition for many people who haven't paid much attention to the way they cook for most of their lives. It's a new way of doing things that were once second nature. It's easy to fall back on old habits -- especially if you're struggling with renal diet limitations. However, if you are consistent in your efforts to eat foods that are healthy for you and prepare them in the healthiest possible way for your needs, then your results are sure to be much better over time.
To find out more about our diet plans, click here.
For one of my best selling books find "Living with Chronic Kidney Disease"