Renal Diet Headquarters Podcast 049 – Facts about Healthy Kidney Meals At Home
Podcast: Play in new window | Download
Subscribe: Google Podcasts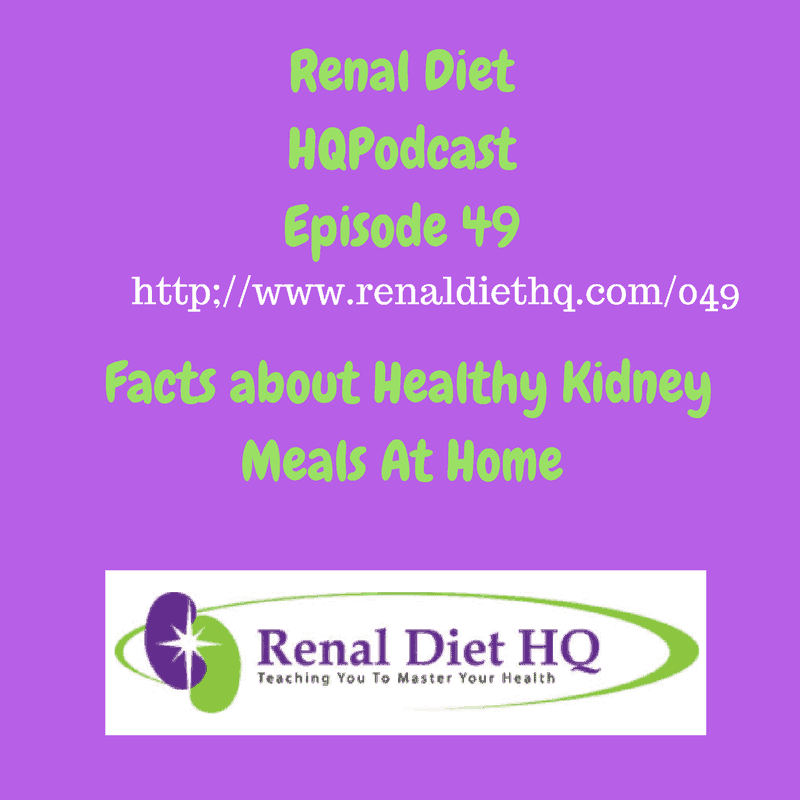 Podcast #49 Released on August 12, 2015
Send in your questions about all things related to chronic kidney disease to [email protected]
Facts about healthy meals at home that will instantly put you in a good mood
There's No Beating the Comforts of Home
While eating out is fun once in a while, there is truly no overlooking the comforts of home. When you are in your own home, you are better able to relax and enjoy your meals and the process of cooking delicious, healthy meals. At home, you don't have to worry about what you are wearing to dinner, you can talk and laugh as loud as you want to, and you can take as much time as you like without worrying about clearing up a table for someone else.
More Control over Your Meals
Cooking healthy meals at home offers you a higher level of control over the foods that you put on the table and ultimately into your mouth. When you cook your meals yourself, you know exactly how much salt, fat, and other often hidden ingredients go into your food. There is no guessing. When you eat out, even healthy options can have unhealthy additives that you might not be aware of.
Cooking As an Activity
There is a reason why so many people consider cooking to be one of their favorite hobbies- cooking can be a lot of fun and truly rewarding. Especially when you are focusing on cooking delicious and healthy meals for you and your family, you will get a sense of pride every time you sit down for a meal.
Something You Can Do Together
Cooking as a family can be a truly rewarding experience that can help you come together. Whether it is cooking dinners together before you sit down for a nice family meal, or even spending time together prepping lunches before you leave for a busy day, it allows for a little extra family time even on the busiest days. Cooking together with your spouse or partner can also be a very romantic and fun experience.
Something You Can Be Proud Of
Cooking healthy meals at home will bring you a sense of pride. The feeling of contentment that cooking meals at home, especially healthy meals that nourish your body and keep you and your family going, will truly make you feel happy. Feeding yourself and your family, after all, is one of the fundamental joys in life.
Find us on iTunes at: www.renaldiethq.com/go/itunes
Find us on stitcher radio at: www.renaldiethq.com/go/stitcher
[socialshare style="hc" title="Share This Page" facebook="yes" twitter="yes" googleplus="yes" color="FAFAFA" bcolor="DDDDDD"]