Renal Diet Headquarters Podcast 050 – Why You Should Focus on Making Healthy Meals at Home
Podcast: Play in new window | Download
Subscribe: Google Podcasts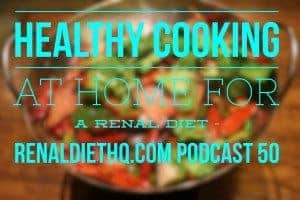 Podcast #50 Released on August 19, 2015
Send in your questions about all things related to chronic kidney disease to [email protected]
Why you should focus on cooking healthy at home for a renal diet.

It feels good:

Eating healthy makes you feel better, how you eat is how you feel. Processed food adds salt and other things that are not good for your renal disease, or other chronic diseases. You will add more fiber and things that are good for you. It will help you to feel fuller for longer.
Cooking healthy at home for a renal diet saves money:

Whether you are on a tight budget or not, cooking at home will save you money. With the extra money you save you can put it toward a vacation, buy something special or put it in savings. Fresh produce will make you feel better and you will save money. It is an extra bonus for your health and your wallet. Don't forget to plan your fresh foods, if you plan ahead, you will have less waste.
Something you can do together:
Cooking as a family can be a truly rewarding experience that can help you come together. Whether it is cooking dinners together before you sit down for a nice family meal, or even spending time together prepping lunches before you leave for a busy day, it allows for a little extra family time even on the busiest days.You can spend time with your family preparing in advance. Bulk saves money and is a great way to spend time with your loved one.
You will know more about what you are putting in your system:
When you start cooking more from home, you will be able to start feeling how much better your body looks. A bonus is that you will not have as much hidden potassium, sodium and other things so you will be able to maybe have a treat yourself more often when you want to.
Find us on iTunes at: www.renaldiethq.com/itunes
Find us on stitcher radio at: www.renaldiethq.com/go/stitcher
[socialshare style="hc" title="Share This Page" facebook="yes" twitter="yes" googleplus="yes" color="FAFAFA" bcolor="DDDDDD"]