Benadryl and Kidney Disease: Is It Safe for CKD Patients?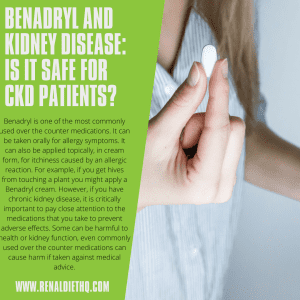 Benadryl is one of the most commonly used over the counter medications. It can be taken orally for allergy symptoms. It can also be applied topically, in cream form, for itchiness caused by an allergic reaction. For example, if you get hives from touching a plant you might apply a Benadryl cream. However, if you have chronic kidney disease, it is critically important to pay close attention to the medications that you take to prevent adverse effects. Some can be harmful to health or kidney function, even commonly used over the counter medications can cause harm if taken against medical advice.
What Is Benadryl Used For?
Benadryl is a first generation antihistamine. Which means that it's an older medication and that there have been other antihistamines discovered or created and made available. Benadryl was actually made available in 1946 and it was only available with a prescription. Today, you can buy it at your local grocery store in the cold and allergy section. Antihistamines block the histamine response which is triggered by an allergic reaction. If you are having allergy symptoms like a runny nose, sneezing, or itching than Benadryl is a commonly used drug to reduce or eliminate those symptoms. Benadryl is also taken occasionally because of its sedative effects. It makes people quite sleepy. It can be taken orally or applied topically, for example if you have an allergic skin reaction or rash.
What Is the Active Ingredient in Benadryl?
The ingredient in Benadryl is diphenhydramine. You can also find this ingredient in a number of cold and sinus medications. For example, many cold medications will have pseudoephedrine, diphenhydramine, and an analgesic like acetaminophen (Tylenol). If you are avoiding diphenhydramine, then you'll want to make sure to read the labels of the cold and allergy medications you're taking.
Is Benadryl Safe for Kidney Patients?
Benadryl, like all medications, comes with some side effects. One of the side effects of Benadryl is that it is an anticholinergic. This means that it blocks the effects of the neurotransmitter acetylcholine. Without getting too deep into the body, processes, and definitions, anticholinergics typically cause the following side effects: dry mouth, constipation, urinary retention, bowel obstruction, dilated pupils, blurred vision, increased heart rate, and decreased sweating. While none of those side effects are fun, the one for kidney patients to pay most attention to is the urinary retention.
Does Diphenhydramine Affect Urination for People with Kidney Disease?
Diphenhydramine or Benadryl causes urinary retention. This means that the body holds onto urine. You don't pee as often, and your bladder remains full. So, what does urinary retention do to the kidneys? If you are unable to urinate or don't have the urge to urinate, your bladder can become full. When this happens, urine backs up into the kidneys. When urine backs up into the kidneys it causes further kidney damage. If you are already dealing with kidney damage and/or kidney disease, then adding more damage from urinary retention worsens your condition.
How Much Benadryl Can a CKD Patient Take?
Benadryl is a highly effective antihistamine and it's terrific in an emergency. For example, let's say that you have a mild peanut allergy, and you accidentally eat a peanut. Taking Benadryl will help reduce your allergic symptoms and it works quite quickly. This makes it good in some situations. It isn't recommended to take on a regular basis for seasonal allergies. If you have kidney disease, generally speaking, you can take Benadryl if you are in a situation similar to the peanut example. If you have seasonal allergies, for example, hay fever, then it's a better idea to take one of the more recently released allergy medications like loratadine (Claritin).
How Does Benadryl Affect Kidneys & Dialysis Patients?
Benadryl is protein bound meaning that it attaches to the proteins in your bloodstream and that is how it is dispersed into your body. When you have dialysis, protein bound drugs are not eliminated. They remain in your bloodstream. This means that it is possible to get too much Benadryl into your system. It's not cleared out during dialysis and can lead to toxic levels in your body. If you are on dialysis, talk with your doctor about antihistamines that are safe for you.
Which Allergy Medications Are Safe for Those with Chronic Kidney Disease?
The good news is that there are many options for those will allergies who are also diagnosed with chronic kidney disease. And many of these medications work much more effectively than Benadryl. They don't come with the same side effects. Always discuss medications with your physician before changing or starting a new one. Some of the more common and popular, that are also safer for chronic kidney disease include:
Claritin (loratadine) is generally considered safe for people with chronic kidney disease.
Zyrtec (Cetirizine) is also considered safer for people with chronic kidney disease.
Allegra (Fexofenadine) is considered safe, however with kidney disease, your kidneys may not be able to clear it from your body. Talk with your physician before using Allegra.
Benadryl (Diphenhydramine) can be used occasionally with a physician's okay.
Benadryl or diphenhydramine is generally safe for patients with kidney disease as long as it is taken in moderation. Kidney disease means that it is extra important to pay attention to the medications you're taking and that you do not exceed the daily dose, even the over the counter medications. Always talk with your doctor about any medication and risk factors you are considering taking to prevent adverse reactions to drug interactions. Benadryl can be okay for occasional use, however if you're on dialysis, there are better antihistamines to take. And if you are taking Benadryl, pay attention to the side effects and your bladder pattern and your intake and output. If you find that you are urinating less often, it may be a sign of damaging urinary retention.