Prevent Kidney Failure with a Sensible Meal Plan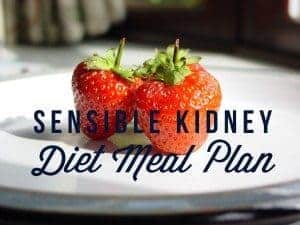 No matter what stage of kidney disease you are currently in, you have the potential to effectively halt the progress of your disease and prevent kidney failure. Yes, you read that correctly-- you can prevent kidney failure. How you can do this starts with a sensible and well thought out meal plan.
Why Meal Planning Is Successful
Meal planning helps take the guess work out of the ever present question, "What's for dinner?". Knowing what you are going to eat for each meal, knowing that you have everything you need to make each meal, and being generally prepared make it so easy to stick to a healthy and kidney safe diet. Meal planning basically gives you a schedule to live by, except it is a schedule to eat by instead.
How to Build a Meal Plan
A sensible meal plan follows a few basic principles: research, readiness, and preparation.
Research: Following a kidney safe diet can seem boring if you do not know how to create delicious meals with the right recommended foods. A great way to overcome this obstacle is to look to books and/or the Internet to find delicious and kidney friendly meal ideas. Research can also help you to understand why some foods and additives, for example salt, are not safe for kidney disease patients. Using this research, you can come up with a week or so worth of meal ideas. Make sure that you are including all meals and snacks, because the better planned you are the more successful you will be. Also keep in mind that the easier the recipes are to follow and the simpler the ingredients, the easier it will be for you and the more likely you will be to stick to the plan.
Readiness: Based on the meal plan you have made, you will then want to make lists of the foods and ingredients you will need to make these meals happen. Take this list to the grocery store and do not stray from your list. If you can avoid impulse buys, you are more likely to avoid buying foods that could be back for your kidney disease diet.
Preparation: Being prepared is a huge part of effective meal planning. Whatever you can do to make things easier for yourself is going to make it more likely for you to follow through. Simply knowing what you are going to eat, and having the ingredients to make those recipes, are huge steps that are going to help you immensely. To make things even easier, you can do meal prep ahead of time as well. You can chop up vegetables, measure out ingredients, and remember to thaw any frozen foods that need to be thawed.
A sensible meal plan can help you stick to a healthy, kidney safe diet, which in turn can help you avoid kidney failure. Of course, whenever you have questions or concerns or are making changes to your diet, you should speak to your physicians first. You want to make sure you are eating the healthiest diet for your situation, so you too can avoid kidney failure.
I just created a great way to get started with my New Kidney Diet Starter Kit!! Check it out!