The foods to avoid while on kidney dialysis are different than the foods to avoid when you're on a pre-dialysis diet or a low sodium diet. The main concerns for dialysis patients are potassium, phosphorus, sodium, and fluids. Read on to learn more about all of the foods to avoid while on kidney dialysis.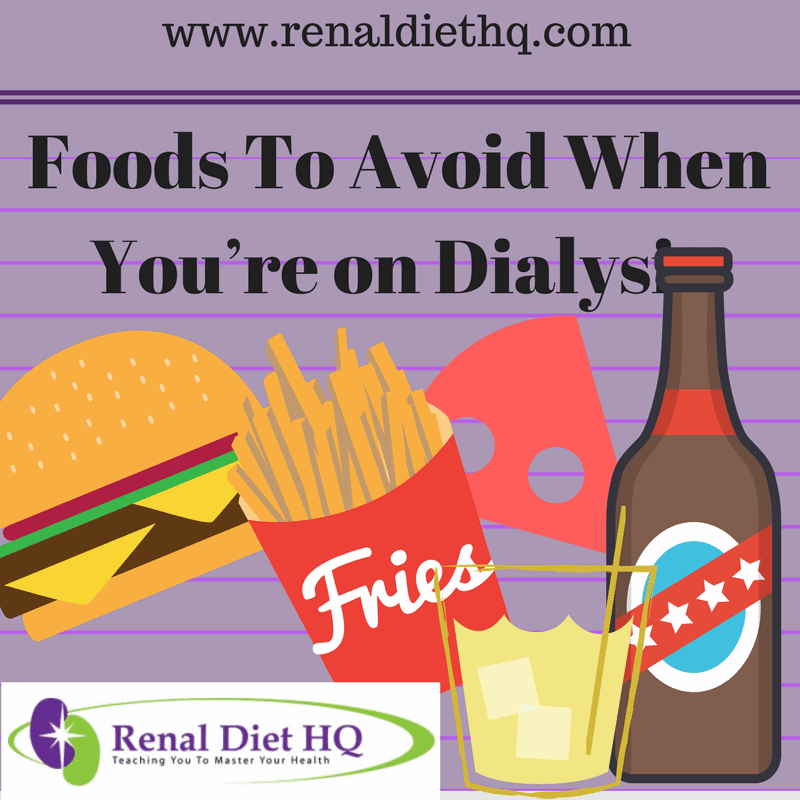 Potassium May or May Not Be an Issue
The potassium that builds up in the kidneys is removed during dialysis, so potassium foods may not be a potential problem, and possibly may be included in your diet in small amounts.
However, you'll have to have a blood test to determine where your potassium levels are while you're getting dialysis. The test can help you determine if you're on track with your potassium, or if your levels are too low, too high or just right. Both high potassium and low potassium cause symptoms and are a threat to your health.
Remembering what foods are high in potassium will help you know how to adjust your diet. The two food groups high in potassium are fruits and vegetables.
One would think that no matter how sick a person is, fruits and vegetables would always be good to eat, but in this case, they aren't and it's possible you may have to eat less of them. You can still eat the fruits and vegetables that are not as high in potassium, but they should be limited in serving size.
Here's a list of foods to avoid that are high in potassium:
• Avocado • Oranges and orange juice
• Cantaloupe • Papaya
• Garbanzo beans • Prunes and prune juice
• Black and baked beans • Tomatoes, tomato sauce and tomato juice
• Red and white beans • Nuts
• Lima beans and lentils • Potassium-based salt substitutes
Phosphorus is the Greatest Concern and is on the list of foods to avoid while on kidney dialysis
Phosphorus is the second nutrient to be concerned about. Unlike potassium, which is removed from the body during dialysis, phosphorus stays in the body. It's imperative to avoid foods high in phosphorus to avoid further health problems such as calcifications in the bones and blood vessels, muscle aches and pains, and itching.
Interestingly, the other foods believed to be good for you on a diet besides fruits and vegetables are high in phosphorus. Here's a list below. Some of the items on the list will give amounts you can eat.
• eggs – only one allowed daily
• dried beans and peas – do not eat at all
• meat, poultry, wild game meats, seafood and fish – 7 – 8 oz. allowed daily
• milk – limited to ½ cup day
• chocolate – none allowed
• nuts and seeds – not allowed
The amount of phosphorus allowed on a dialysis diet is usually only 1000 mg per day. In addition, it's important to use a phosphate binder that removes phosphorus from the body.
Anyone might think that eating a nice dinner of salmon, potatoes, beans, salad, tomato juice, whole grain dinner roll with butter, and a slice of home-baked cherry pie with ice cream would be ideal before dialysis but in reality, it can contribute to causing symptoms and making you sicker.
Phosphorus is disguised in a lot of processed foods so be wary. Read the label for preservatives such as the following:
• hexametaphosphate
• sodium phosphate
• monocalcium phosphate
• phosphoric acid
• dicalcium phosphate
These preservatives are commonly found in meats and beverages.
One of the foods limited for phosphorus intake is meat, and as long as you keep to the limit of 7 to 8 oz daily, you'll be also taking care of your protein needs.
Sodium is Always a Concern for Someone With Kidney Disease
Foods most commonly containing a lot of sodium include the following ones on the list below and should be avoided:
• Salt in the salt shaker • Bacon • Hot dogs
• Luncheon meats • Deli meats • Canned meats
• Sausage • Most canned soups • Pickles
• Sauerkraut • Olives • Foods with MSG
• Salted crackers • Salted chips • Salted tortilla chips
• Mustard • Catsup • Bacon bits
Watch Your Fluid Intake
When you're on dialysis, your renal dietitian will calculate how much fluid you'll be able to drink daily. Although it's usually a quart a day, the amount for you is customized to how much your body needs.
Following the dialysis diet isn't similar to a weight loss diet where you can cheat one day and get back on track the next day. Some of the 'boo-boos' on a dialysis diet are life-threatening. Knowledge is the key. Get professional help just to be sure.
I hope this post helped you learn more about foods to avoid while on kidney dialysis! Comment below what new food you learned about.