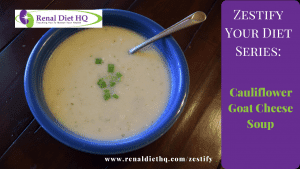 This delicious soup has lots of flavor from the garlic, onion, and goat cheese that you add.  You can make this ahead and freeze the soup for later in portion size bags.  It's vegetarian friendly because the soup uses the vegetable broth from this recipe and you can make the vegan version if you remove the goat cheese.  Enjoy the meal!  You can eat this on a cold day to feel full without much salt or potassium.
If you would like the actual recipe, enter your name and email below.  I will send you the recipe immediately, and you will be notified whenever we have a new recipe.  (Which is weekly).  Feel free to opt out anytime from the recipe emails.
Get the Cauliflower Goat Cheese Recipe delivered to your inbox right now and get all the new recipes each week.