Renal Diet Healthy Low Sodium Barbeque Meatballs Recipe - RDHQ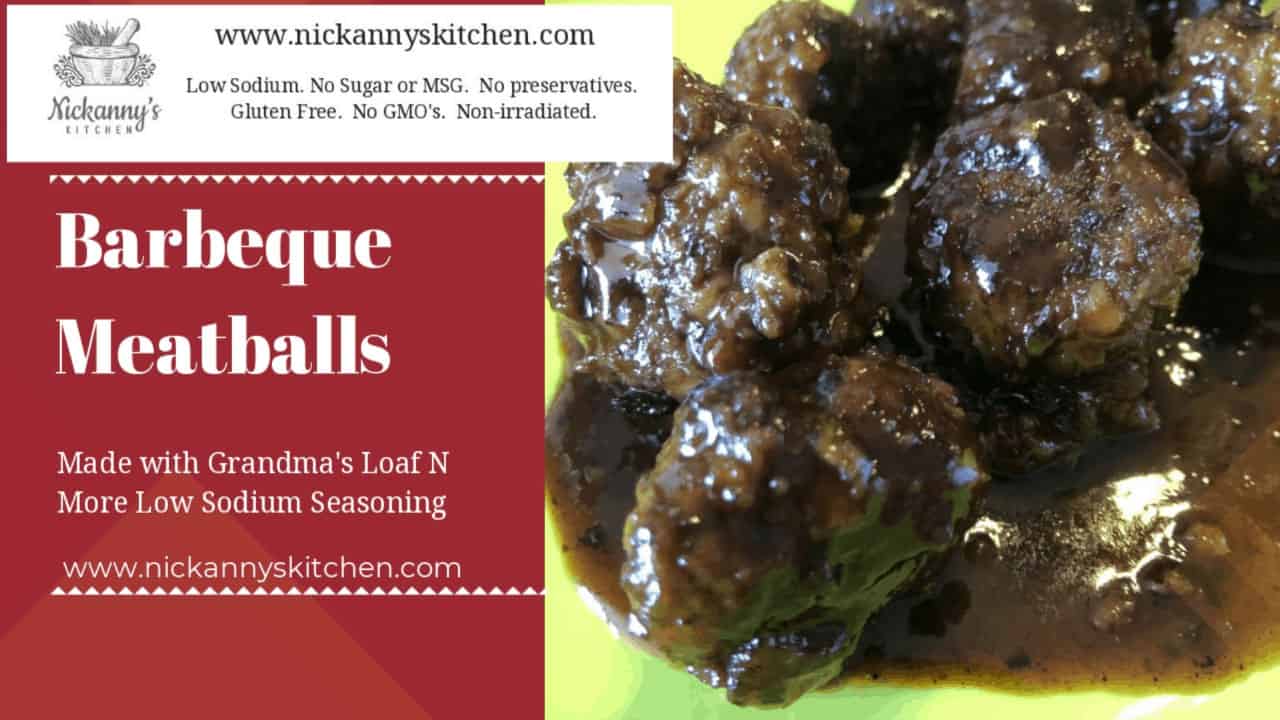 This recipe is guaranteed delicious and really good for you.
The spice used in this video is called the Grandma's Loaf and More which have a little sodium because of the dehydrated tomato granules. That's 15mg per packet. It also have garlic, mustard seeds, red bell pepper, green bell pepper, black pepper, lemon peel, parsley, green onions, coriander, marjoram and oregano.
A great mix of different spices that is also great on meat, chicken, turkey and beef.
The seasoning will surely not let you worry about your kidney disease, cardiac disease, and diabetes.
Print
📖 Recipe
Renal Diet Healthy Low Sodium Barbeque Meatballs Recipe - RDHQ
These hearty meatballs are very low in sodium and delicious
Author: MatheaW
Prep Time:

20

Cook Time:

15

Total Time:

35 minutes

Yield:

4

1

x
½cup OATMEAL

⅓cup ONION, RAW, CHOPPED

¼cup MILK, COW'S, 2% BUTTERFAT, VIT-A, fluid

1 large EGG, CHICKEN, RAW, whole, fresh

0.91 oz GRANDMA'S LOAF N MORE SPICE PACKET
½ tsp PEPPER, BLACK, GROUND

1lb GROUND BEEF, RAW, 90% LEAN, hamburger, 10%fat

2 tbsp OLIVE OIL, salad or cooking

2 tbsp TOMATO PASTE, NO SALT, canned

1 tsp CHILI POWDER

½cup WATER MUNICIPAL

2 tbsp VINEGAR, DISTILLED

10oz JELLY
Instructions
1. In a large bowl, combine oatmeal, onion, milk, egg, Grandma's Loaf N More
seasoning and pepper. Crumble ground beef over the mixture and mix well until
thoroughly combined. Shape into 32 meatballs.
2. Add oil to a large skillet and brown meatballs on all sides until cooked through.
3. Remove meatballs and drain.
4. In a bowl, combine tomato paste, chili powder, water and vinegar until thoroughly
mixed. In the same skillet, combine the mixture with the grape jelly and stir over
medium heat until jelly has melted. Return meatballs to the pan and heat through.
Eight meatballs - 1 serving.
Notes
EXCHANGES: 0.23 Starch, 3.63 Lean Meat, 0.24 Med Fat Meat, 0.58 Vegetable, 1.33 Fats 0.06Lowfat Milk, 3.16 Other Carbs
Recipe Card powered by
Go to https://www.nickanyskitchen.com to learn more about the spice used in this video and purchase the spice.