Renal Diet Podcast 081 - Newest Book Overview For Renal Patients
Podcast: Play in new window | Download
Subscribe: Google Podcasts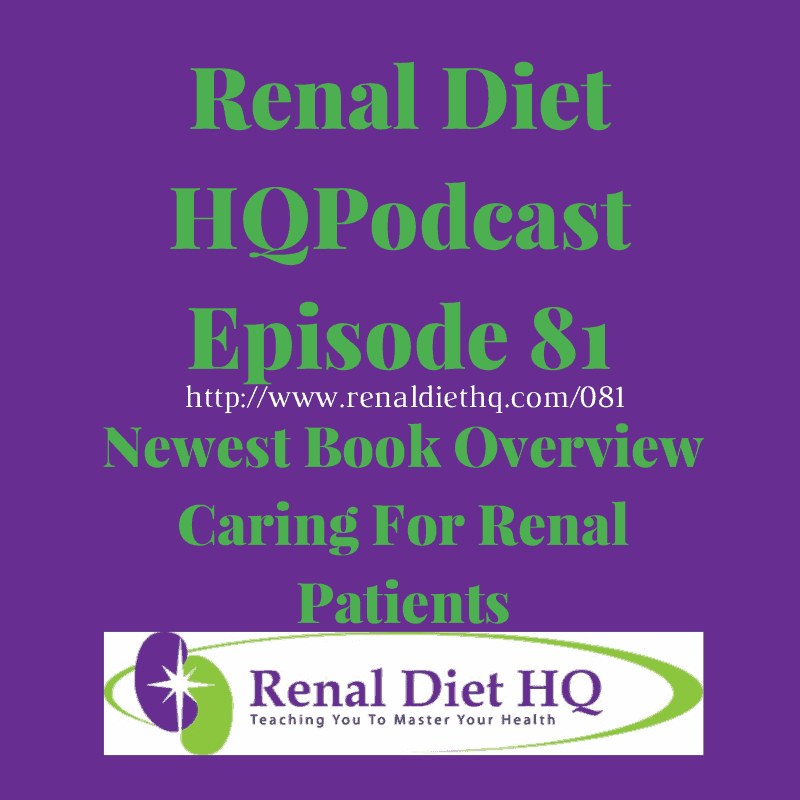 Newest Book Overview Caring For Renal Patients

Podcast #81 Released on February 5, 2018
I want you go over the latest book that I wrote, it's called Caring for Renal Patients Renal Diet HQ IQ Education Guide.  I just want to go through with you and tell you what's in it, show you the parts because I think this book is really helpful for people who both have kidney disease and/or have a family member that has kidney disease and they're taking care of them.
This book has a guide in it. It has a guide that talks about caregivers. A caregiver is the person who is taking care of the patients.  It has an overview of chronic kidney disease for caregivers so it talks about being a caregiver and somebody who is a caregiver is under just as much stress as the person you have these maybe even more than maybe a caregiver for more than just the one person may be responsible for children or other adults that they take care of.
This book just kind of gives you as a caregiver a way to understand kidney disease from that perspective - to understand kidney disease from the patient's perspective.  And some of the tips to make a role easier, learn as much as you can about your medical condition. I would say that this is a great way to do that.
Take breaks, find support, be an advocate for your loved one, find a stress outlet, take care of yourself, help them but don't do everything for them, be realistic, ask for help and keep the support network. This is an excellent guide to kind of show you, "Okay, these are normal feelings, these are things that are okay for you to feel yes it's stressful."
Yes, you need to have time for yourself. You don't need you with that person all the time. Help them they don't do for them, let them. If they are doing something and they can do it let them work through it.
If you're doing long distance care, it has some guidelines to help you to manage that a little easier.  Long distance be like if you're care giving for a parent and they're in another city or they're just is across town in here in Oklahoma City. Across town could take an hour to get there so it just goes through and kind of tells you things not say things to say, ways to help.
Then, it has a chronic kidney disease overview. You may think, "Well, I know everything about kidney disease but it just gives you some guidelines and information tell you about the different stages.
Then it goes into some other related conditions and then goes into Mrs. Murray's story so she's a fictional patient and it goes through the story of her with her children and going through the process of having a caregiver - a hired caregiver - because they're away from their family and kind of how that works and what they did. What they decided to do in the end and she goes to a decision process of different types of dialysis and what would that involve and based on her condition talks a little about the depression because that's pretty common. Talked about transplant, surgery and dialysis, what she ended up doing. And talks about the daughter and the son both their points of view and kind of how they split up their responsibilities and tells you what happened.
One of the best parts about this book is Aromatherapy For the CKD Patient & Caregiver because it tells you what essential oils you should use. It talks about how to use them in a chronic health condition. It talks about how they work in your body, how much use, how to blend them, what kind of ways you can use to add it to your body so lotions, creams in different kinds of things, how should you it.
Talks a little bit about Reflexology. Where to massage and then it talks specifically about oils for the kidneys. Oils that you can use to help with your kidneys so it gives an explanation of all of them.
Tells you some to avoid. I think this is very important. Avoid Aloe, Buckthorn, Camphor, Cupsicum, Cascara, Chaparral, Cinnamon, Comfrey, Dandelion, etc. And then it talks about the fact that ginger, Gingko Biloba, garlic, ginseng a few in your blood so be careful with that.
And it tells you how to use essential oils to use based on the condition. It tells you where to buy them, what to do with that and has a little bit of reflexology and renal disease. Tells you how to do reflexology so this could be something that you could do with your patient and/or family and how it will affect them.
Send in your questions about all things related to Chronic Kidney Disease to [email protected]
Don't forget to check out my blog.
Find us on iTunes at: www.renaldiethq.com/itunes
Find us on stitcher radio at: www.renaldiethq.com/go/stitcher
[socialshare style="hc" title="Share This Page" facebook="yes" twitter="yes" googleplus="yes" color="FAFAFA" bcolor="DDDDDD"]