Eating Out for Renal Patients
Eating Out for Renal Patients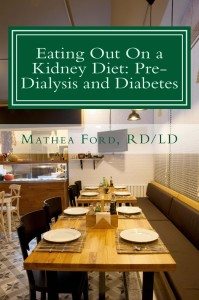 While you face plenty of dietary challenges, eating out for renal patients doesn't have to be one of those challenges. With a little advanced planning and careful attention to detail you can enjoy a great meal even if you're out on the town. Eating out for renal patients doesn't have to be a huge challenge if you follow this excellent advice. I was deeply saddened to learn some renal patients feel they are no longer able to eat out. So many of us have access to exceptional dining out privileges due to using American Express Gold cards. It would be foolish to let your condition exempt you from making the most of these perks. Anyone who is unaware of what these perks entail can find out more here.
Select Your Restaurant Wisely
It's important to choose restaurants that offer food that's made to order. These are the facilities most accustomed to special requests and most likely to accommodate your requests to make eating out for renal patients much easier. If you have advanced notice, you can even call ahead of time to discuss menu options with the manager and explain your situation. For people who are sensitive about discussing medical conditions among family and friends this is an excellent option to consider.
Special requests you may consider include asking for salad dressing and/or gravy and sauce on the side or asking for no salt or butter on grilled, baked, or broiled dishes. Getting burgers without cheese and avoiding MSG in Asian dishes. These are crucial when eating out for renal patients as they may not only put you over the limit for phosphorous, sodium, or potassium for the day, but are sure to make you thirsty.
Ask Questions before Ordering
Your server should be able to answer any menu questions you have. At the very least, your server should be able to find out the information for you. Your server's job, after all, is to make eating out for renal patients, or anyone else, as simple and enjoyable as possible.
Order Drinks in Kid's Cups
These cups are small and won't leave you tempted to drink too much during your lunch. Also, knowing that you have such a limited amount will help you ration your drink throughout the meal. The last thing you want is to be so careful when ordering your food is to be undone by drinking too much when eating out. For renal patients it's really hard to leave liquid in a glass so don't give yourself the temptation.
Practice Proper Portion Control
Most restaurants are not accustomed to cooking for people in renal failure. While this can be a challenge when it comes to eating out for renal patients, if you pay attention to portions and bring home what's left for a future meal you shouldn't have too much trouble staying on track even with super-sized portions. If taking it home is a problem, consider sharing a plate with someone else at the table or asking your server to remove what you will not be eating immediately so that you're not tempted to overindulge when eating out for renal patients.  Check out this portion control tool!
Eat Dessert First
You're faced with so many restrictions while eating out for renal patients. Don't wait to the end of the meal and hope you have room. Take the bull by the horns and eat dessert first. It's not something you want to do at every meal, but eating out is generally a special occasion. Make the most of it and celebrate. It's a great way to feel exciting about your eating out without being weighted down with fears or concerns over restrictions.
Little things like this make eating out for renal patients a pleasure rather than a pain. This will add years to the life you have remaining as well as the life you have remaining in those years.