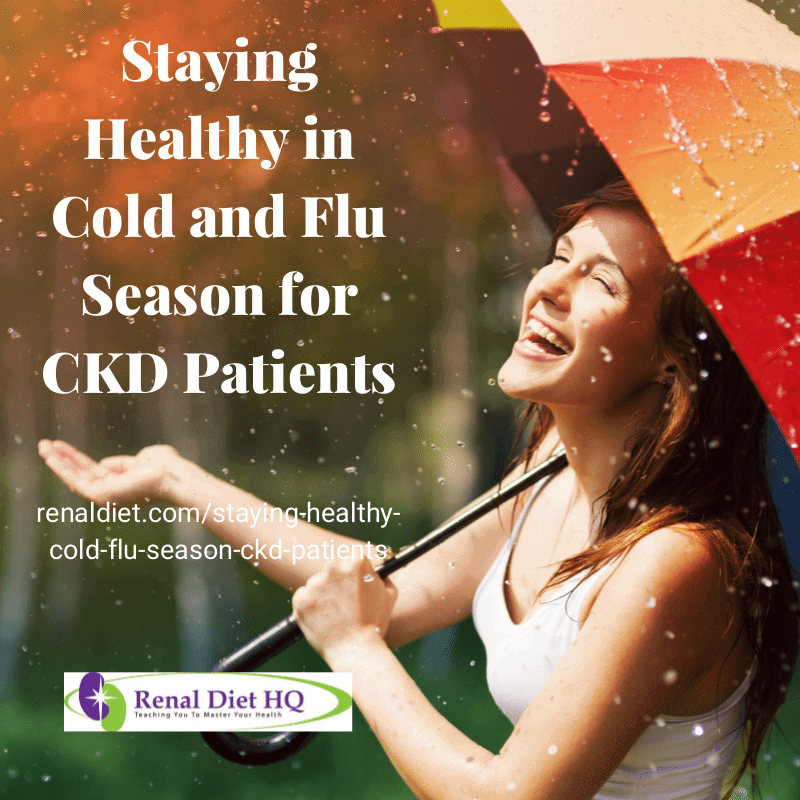 As we are in the middle of cold and flu season, it is important that patients with chronic kidney disease understand the risks to their health that this time of year brings. Running from October to March, cold and flu season offers potential health concerns to many people, but can pose even worse dangers for CKD, especially with the current coronavirus (COVID-19) outbreak. The coronavirus can cause serious health implications for anyone, but individuals with underlying health issues are more likely to be susceptible to the virus. If you have recently come back from an international trip, whether it was for business or leisure, or have come in contact with someone with the virus or virus-like symptoms, you should self isolate and reach out to a medical facility for a covid19 rapid test. If you do have the virus, the sooner it is caught, the easier the recovery will be for you. You should also avoid going out unnecessarily so that you minimize your risk of coming into contact with someone who has the virus.
It has been said that those with chronic, long-term illnesses, CKD included, are several times more likely to die from flu and its complications than a healthy adult. For this reason, you should be sure that you are doing all you can to protect yourself from these illnesses during this time of year.
Can the Flu Further Damage Kidneys?
A study published on the National Center for Biotechnology Information website found that viral infections, including the flu, can cause complications in healthy adults that may produce varying degrees of renal dysfunction.
While the evidence that the influenza virus can cause human renal disease was rated inconclusive, this still offers proof that the flu virus is no joke for CKD patients.
Tips to Staying Healthy During Cold and Flu Season
Get the flu shot ASAP. Your best line of defense for a healthy winter is getting a flu vaccination. Most CKD patients are eligible for the flu shot, but you may want to check with your doctor if you have had a kidney transplant, especially within the last six months. Try getting your flu shot as soon as cold and flu season begins – October or early November is optimal for the most protection against germs and viruses.
Wash your hands. Keep the spread of germs at bay by keeping your hands clean. Carry hand-sanitizer with you for those times you can't access soap and water. If you run a business then it may be a good idea to protect your employees or guests by installing Hand Sanitiser Stations around your premises to ensure they have somewhere they can rid themselves of any germs that may be hiding on their hands. Also, carry tissues and use them when you need to sneeze or cough…and make sure you dispose of them quickly. Stay at home. If you can, avoid crowds and public transportation as much as possible. Staying away from large groups of people will reduce your risk of coming into contact with viruses that can cause the flu or common cold.
Limit visits from family and friends. It's hard to stay away from loved ones during cold and flu season, but limiting your visits with them helps to reduce the chances of contracting a virus. When family wants to come over, ask if they have recently felt ill and make sure they wash their hands upon entering your home. If you need medication, think about going online and using a Canadian pharmacy or an online service local to your area. This way you can avoid infecting other people if you have the virus.
What to Do if You Start Feeling Yucky
You will want to consult your doctor immediately if you start experiencing signs of the cold or flu. Over the counter medications may contain sugar and other ingredients that are not suitable for your stage of chronic kidney disease.
For most CKD patients, it is okay to take Tylenol (acetaminophen) for your fever, pain, and/or headache.
You can also gargle with salt water to soothe a sore throat. You can also pick up some sugar-free throat lozenges at the pharmacy.
Conclusion
It's important that you keep yourself healthy during cold and flu season, to avoid any further problems with your chronic kidney disease. Use the tips above to keep the germs and viruses away. If you do start to feel yucky, make sure you are taking the right medication to prevent even more serious issues.